The Head And The Heart Woo At Antone's "Review"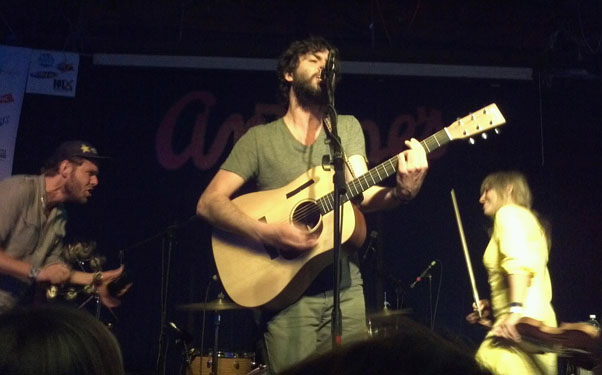 Posted by Stacey Brook on
The buzz has officially kicked in. The Head and The Heart – a band that self-released their debut album and broke big while opening for a series of Vampire Weekend dates – packed their third show at the SXSW festival with fans eager to clap along to the Seattle quintet's unique mixture of harmony-driven, indie rock, folk, and bluegrass. The group met at an open mic night, which explains the diversity of their skills and sounds, and their self-titled album, which was re-released by SubPop in January, showcases the merging of these talents into an alt-Americana masterpiece.
The group welcomed the audience to their show the only way they know how — with an effusive, three-part harmony. Co-frontmen Josiah Johnson and Jon Russell took turns in the lead vocal/guitarist role, while husky-voiced Charity Thielen peppered in her husky backup vocals and violin accompaniment. The three singers' perfectly enmeshed voices immediately telephone thoughts of Crosby, Stills, Nash and Young, as well as the larger harmonic indie groups of late, like labelmates, Fleet Foxes, but with a more overtly melodic center, a bluegrass bent, and a commitment to stage dancing and hand-clapping that inspires audience participation. Like many groups whose greatest thrill lies in vocal harmony, it's "ba da daaas" and "oooh ooohs," you look forward to most, well-mixed vocal effusions building to high crescendos that reach up and flow over into the codas like waterfalls.
The lyrics of the songs anchor them in the classic Americana space, while leaving room for stylistic genre crossover. On "Lost In My Mind," lyrics like "Is your bridge getting built? Are your hands getting filled? Won't you tell me my brother?" combined with the feverish follow-along hand claps, and Thielen's snap trap voice, brings the group into gospel. And on poppier songs like "Honey Come Home," the three vocals meld into one, while Kenny Hensley holds the infectious melodies on the keys, Tyler Williams brings a bouncing beat, and Johnson, Russell and Thielen jump up and down, intoning the repeat line, "Just want to be with the one I love. Just want to be with the one I love." Forget the corny, ten-piece cover bands singing "Turn The Beat Around" – The Head and the Heart should play at your wedding. Their happy singers would dance over to each other's microphones, shaking tambourines and whooping to the skies, and no guests would be able to stay in their seats around the tables of $100/plate chicken dinners. But at this rate, with the packed house at Antone's turning away wristbanded concertgoers by the dozens, by the time you want to hire them, they'll be well out of price range of mere mortal lovers.