"The Elephant in the Living Room," Reviewed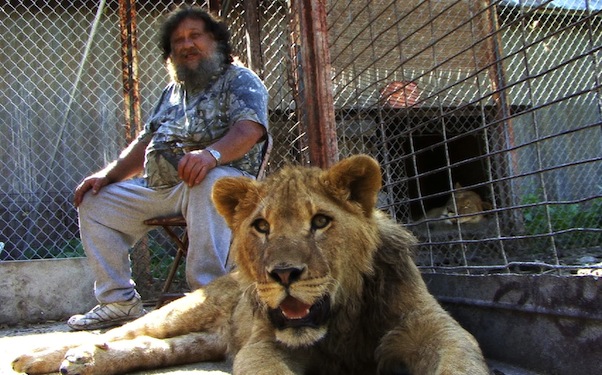 Posted by Matt Singer on
Nothing makes a better documentary subject than crazy. Whether they're about socialite shut-ins or deranged cult leaders or just some guy who decides to eat nothing but fast food for a month, documentaries are a great home for the insane. Best of all is when a documentary invites us inside the madness to experience it for ourselves, then forces to reconsider whether that perspective is really all that crazy after all. "The Elephant in the Living Room," about the danger, and also the appeal, of keeping wild animals as pets, is such a documentary.
Generally, I'm of the opinion that anyone who willingly keeps a deadly animal in their home is kind of nuts. And if said animal escapes and kills them, that's not a tragedy; that's fodder for The Darwin Awards. But sometimes these animals get loose and harm others, and that is a tragedy, one that's happening with alarming and increasing frequency in this country. The rise of wildlife television channels and reality shows like "The Crocodile Hunter" have created a huge boom in exotic pet ownership in this country. But many of these owners are inexperienced and unaware of the full extent of their responsibilities when they purchase, say, a live baby cougar. The owners bite off more than they can chew with these pets. Then the pets grow up, and they bite off lots of things and have no trouble chewing them with their giant, razor-sharp fangs.
Michael Webber's documentary shows that, yes, it can be extremely dangerous and even reckless, for people to own these creatures. But he also takes the time to consider the positive impact they can have on responsible owners' lives. His prime example is Terry Brumfield, a middle-aged man from Ohio with terrible back problems and severe depression. Brumfield guesses that he hadn't left his house for a year when he inherited a lion cub from a friend. The cub, named Lambert, helped Brumfield heal physically and spiritually, and as we can plainly see, his bond with this animal is very strong. But now Lambert is fully grown, and he's prone to escape from his pen and chase after cars on the highway. This sounds like a Marx Brothers routine ("I just saw a cougar on the road!" "Oh a Cougar, those are nice. My brother bought one used. He loved it.") but it's serious stuff.
Webber repeatedly visits Brumfield and his growing pride of lions, five in all eventually, while also interviewing and shadowing a local animal activist named Tim Harrison who helps rescue and find homes for neglected and abandoned wildlife. Harrison cares passionately about public safety and the welfare of these animals, but he's got a sense of humor too, as evidenced by the fact that he likes to wear a "Snakes on a Plane" t-shirt when he's out on a job. Harrison's essential point is this: it is easier to own a mountain lion in some states in this country than it is to own a dog. Dogs need licenses; in nine states, exotic pets don't. And isn't that kind of crazy?
"The Elephant in the Living Room" goes a bit overboard with the sensationalistic news clips about monkey attacks and snake bites and bear maulings. But Brumfield's story is deeply affecting. You might be inclined to think that a guy who can barely walk under his own power should not have the right to possess giant, deadly animals. And then you see the way one of those animals lovingly nuzzles his hand, and you think again.
"The Elephant in the Living Room" opens April 1 in Los Angeles and April 8 in New York City.