The Civil Wars Quietly Storm The IFC Crossroads House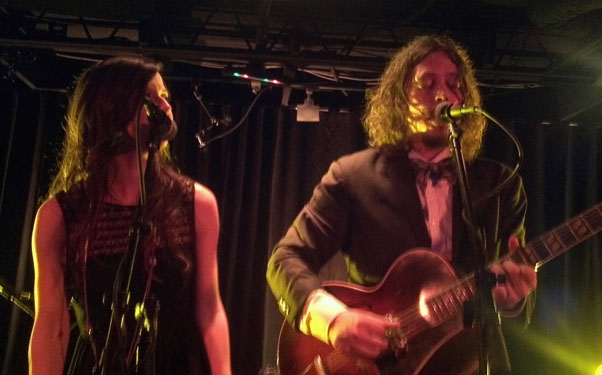 Posted by Stacey Brook on
At first glance, you would expect Joy Williams and John Paul White to be a source of stone cold severity. There doesn't seem to be room for play in a duo that names themselves The Civil Wars — she, dressed in all black, lace up to her collarbone; he, in a staid gray suit, cinched with a gentleman's bow tie. But the playfulness beneath the surface is what makes The Civil Wars' often melancholy songs of love so resonant, and their live show, performed last night at the IFC Crossroads House, ultimately mesmerizing.
In the tradition of duos like June Carter and Johnny Cash, Williams and White have an on-stage rapport there that belies a certain degree of intimacy and comfort; though like another dark-haired, country-leaning duo of red and white sartorial splendor, no they are not married, and yes, they know you're wondering. Williams and White use this intrigue to their dramatic advantage, teasing and taunting each other during their performances. She smooths his hair and straightens his collar. They throw their heads back in sync, holding notes longer than they should be held, shooting each other brazen, toothy smiles and side glances. There is a chemistry at work — a twinkle. It may not be love, but it's close enough for the audience to get giddy off the high.
Williams hails from Northern California, and White from Alabama, but Nashville is where they came together, and their songs are born of the spare clarity of the country music town's influence. The duo first gained recognition when the title track off their "Poison and Wine" EP soundtracked the final minutes of an episode of "Grey's Anatomy," but it is clear their songs are borne of the subtlety and splendor that catapults them beyond the realm of momentary TV soundtrack stardom. And though "Poison and Wine" is a particularly somber sampling of their sound, the duo is just as magnificent when they're hip swinging and foot stomping, their vocals leaping after each other, as they do on the title track of their first full-length album, "Barton Hollow," which was produced, along with their EP, by Grammy Award-winner, Charlie Peacock.
Both Williams and White wield wildly malleable voices that swing from brassy twang, to coy, breathy whisper, to bold bell-like clarity. Harmony is their entrée offering, but most interesting is how they put the meal together, beginning in glorious discord, and sliding their voices, vibratos mystifyingly synchronized, to harmonious resolution. To watch this kind of congruence manifest itself in front of you, over and over again, is as mind-blowing as watching a magician disappear a body from a hollow box. You just keep thinking, "How do they do it?"
Perhaps the most endearing songs in the hour-long set were their covers, which included a chilling version of The Smashing Pumpkins' "Disarm," and a slow, seductive interpretation of "Billie Jean," Williams playing the seductress to White's pleading narrator. Even when tackling other musicians' material, The Civil Wars can read as somber, serious, pensive – but never without a bit of light shining through. Towards the close of the set, the duo also took on "You Are My Sunshine," which, we all discovered, is one of the state songs of Louisiana. "The verses are actually quite sad," Williams said of the tune with the sunny title. "Which fits us perfectly," said White, matching his partner's warning with its complementary humorous note, and encapsulating the harmony of this special pair.