The Artists of Flatstock: Rob Jones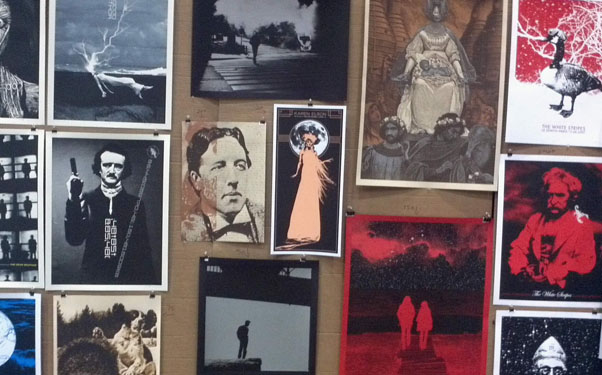 Posted by Stacey Brook on
Eight years ago Rob Jones first went out on a limb and sent some unsolicited posters he made for The White Stripes to a venue they were playing in France. The band's manager called Jones to chew him out for using band's name on a print without express permission to do so. And then he told Jones the band wanted to use the rogue poster for the rest of their American tour dates.
Since then, Jones has churned out some of the most imaginative screenprinted posters ever to be slapped to a venue wall, many of them cleverly positioned within the confines of the Stripes' peppermint candy color palate. And just this year, Jones became the first member of tight-knit poster art community to take home a Grammy for his work on the White Stripes' "Under Great White Northern Lights" box set. He accepted his award in a custom-made pink leather suit. Let's see Joan Rivers tackle that one.
Read on for more from Jones (who also designed the tote bags distributed for the SXSW Film Festival this year) on where his inspiration comes from, why you should pre-draft a speech for the Grammys, and what the maker of collectible artifacts collects himself.
How did you get started making posters?
I had a friend in a band called the Pink Swords. They were an awesome punk band. Usually my friends were in bands that were terrible. Arty bands that would play, like, children's songs or telephone messages with their girlfriends breaking up with them in the background. But these guys were awesome. I saw them over 50 times. It was the first time I got to make posters for a band I really liked, and they played out a lot – like twice a week. I did that for like a year and a half before people started knocking my door asking me, "Can you make posters for us?"
How would you describe your poster-making aesthetic back then?
Most of my posters are awful, phallic-ridden nightmares.
Your prints, especially your White Stripes series' have become very collectible items. What kind of things does a maker of collectibles collect?
I have a horrible completist nature. There's this awesome movie – it's the number one thing I collect – it's called "Cruising," starring Al Pacino. My favorite things tend to be things that shouldn't be. Things that are just horrible, bad ideas. You marvel that someone actually thought it was a good idea. I've got over a hundred posters for it. I couldn't collect for my favorite films like "Cool Hand Luke," or "Seven Samurai," I'd go bankrupt. But this stuff? I'm the only market.
How did you start working with the White Stripes?
After I sent a poster to them in France, around '03-'04 I told the band I had other ideas, and I made five posters that were approved, at which point Jack asked me to make a poster for every date that was left on the tour. After those posters were done, they asked me to do the design for "Under Blackpool Lights" They just kept coming back, asking me to do jobs.

Where does your inspiration usually come from?
Mostly from interviews I read about the band. Or like, one day I was talking to Jack and he said he liked Fritz Lang stuff. So I said, great. "Metropolis." And I started from there.
How did it feel to win a Grammy? (For "Under Great White Northern Lights")
It was amazing. When I won my head was all guitar strings. Let me tell you, if you're ever nominated for something, you're better off planning a speech, planning the smallest of thank yous and jinxing it, than winning and fucking up your acceptance speech than hearing the whole plane ride home, "you forgot to thank me…"
Did your wife help you pick out you famed pink leather acceptance outfit?
No, but she helped with the measurements. I knew I wanted a custom pink leather outfit. I knew you could get it in any color at makeyourownjeans.com. I gave them my measurements, and two weeks later I had a pink suit at my front door.