The Artists of Flatstock: Peter Cardoso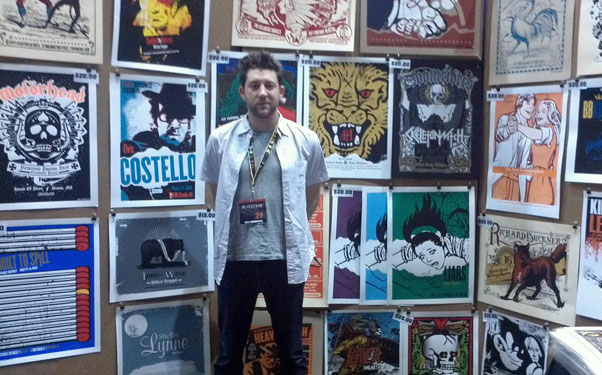 Posted by Stacey Brook on
This year marks graphic designer and poster artist Pete Cardoso's sixth time showcasing his Ghost-Town Design work at Flatstock, and when I ran into him he was celebrating, not a run in with a musician, but with another kind of rock star. "I was at The Sounds' show with my girlfriend last night and we met Jon Hamm. My wife wanted to say hi, and I was like, 'I mean, of course. It's Don Draper.'"
Cardoso strikes me as a fellow who would have done well in the Mad Men days of advertising — he is a man of varied inspiration, with diverse applications for his talents. In addition to his posters, he designs apparel, merchandise, and album covers. It's not very punk rock for a poster artist to talk about their day job, but Cardoso proudly speaks of his full-time graphic designer gig at Reebok — like Draper, he understands that behind every shiny corporate image is a valuable creative brain that helps construct the message. Refreshingly upbeat, Cardoso is an encouraging, mentorly voice in the small, competitive world of gigpostering. Talking to him, you know he believes with a little talent, and a lot of perseverance, anyone can break into poster making.
How long have you been making rock posters?
About 12 years now.
And how did you get started?
I learned from this gentleman here (referring to the man in the next booth over), Mr. Mark Medina, in a little arts community center in Rhode Island called AS220, which was one of the country's only free arts centers for a long time. It was an incredible opportunity. I think I was Mark's only student. But that was where I learned how to print.
Who was the first band you ever did a poster for?
My first poster was for the The Mr. T Experience. It has an image of Marilyn Monroe on it. I talked to Frank Portman (lead singer of Mr. T) and he said, "I found this great old image of Marilyn Monroe, lets put it on a poster," and I was sold.
How many posters do you churn out a month?
I do about 2-3 jobs a month, which is a lot, actually. I work a lot with Lupo's Heartbreak Hotel and the Met Cafe, both clubs in Providence. And I work with a variety of bands who hire me. But I try to work as much in New England as possible. I try to keep it as close to my home base as I can.

How would you describe your signature style?
Pop with a punk aesthetic in there. I think I default to design tactics, but would love to do more illustration. I usually use a combination of the two. I love the use of typography and really old imagery. A lot of my poster design heroes did that early on. Art Chantry is definitely one of my favorites. And the guys at Methane Studios — I'm really inspired by them. And Mike King. I sort of look to those guys for inspiration.
When you're making a poster for a particular band, draw the inspiration for your ideas from?
It pretty much come from the overall feeling I have about the band. I love a lot of different kinds of music, so there's not just one thing that I listen to or gravitate towards. I love folk, I love punk, I love jazz — I actually own a ton of jazz. A lot of times I just go to bookstores and the library and look through books and old catalogs of images I've never seen or are long forgotten that might match up with a feeling I have about a particular act. I have a collection at this point of images I've uncovered and thought, 'Wow. That would go great with this type, and this image, for this band when they need it.' It's definitely like a puzzle for me.

Do you have any words of advice for people trying to break into poster-making?
Definitely make friends with your local scene as far as various artists and various bands. When I started out it was just about working with the clubs close by. Because you never know — bands go on tour and they put you in touch with other bands. And all of a sudden you have groups calling you up, saying, 'We love your work — can you do something for us in Boston or New York.' Your ability to network helps you get bigger and bigger from there. And the other thing, is just study design history. Look at a lot of things form the past. Look at books and posters and paintings. I got to a lot of museums for inspiration. You should pay attention to your peers in the present too, but you know, trends are trends.