The Artists of Flatstock: Brian Ewing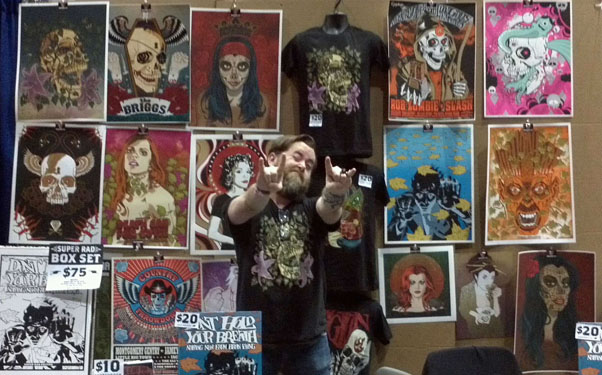 Posted by Stacey Brook on
Walking through the convention center or the streets of Austin this week, it's hard to ignore the tape-spackled, staple-ridden posters, sounding their visual siren calls, trying to reel you in amidst the crowds and visual noise. As the world goes digital it's interesting to note how much tangible objects stand out. You can't hand someone a JPEG. You can't fold it up and put it in your pocket. And while much physical guerilla marketing has been supplanted by Facebook invites and Twitter hashtags, there is, as of yet, no Facebook invite that stays at the top of your inbox long enough to remind you how much you danced at a TV On The Radio show. You don't print out emailed fliers and hang them on your walls of your apartment to silently call up an experience, or a lyric, or a defining period in your life. When you pluck an image from an artist's online gallery to use it as your desktop background, it's somehow not as satisfying as pulling something off a telephone pole or the wall of a rock show. Which is probably why, even as we discard our old CDs once and for all, enough professional poster artists are making thoughtful, handmade artifacts to fill the hall of the 29th annual Flatstock convention, which launched yesterday afternoon in the southernmost wing of the Austin Convention Center.
Flatstock is an official SXSW-sanctioned event, and plays host to a collection of the most prolific and imaginative designers, illustrators and screenprinters in the rock and roll universe. Walk through the halls and you'll find stacks of French white paper festooned with hot girls, hot rods, unicorns, detailed animal etchings, gorgeous landscapes, finely rendered, hand-drawn fonts, and perfectly executed portraits of famous and semi-famous people. You'll find humor. And irony. And sensitivity. And sadness. And you'll sense the influence of the music behind it all.
Over the next few days, we will troll the Flatstock halls, highlighting some of the artists who have made this form of music promotion a true artform. First up, Brian Ewing, a New York native and an impeccable illustrator with a knack for fan-based portraiture, pop art color palettes, and skulls.
How long have you been making rock posters?
For about 10 years. I started making them in '98 — just black and white fliers for friends' bands. I started taking poster-making seriously when I moved to LA, and hooked up with the Troubador. I was the resident poster artist there, and kind of cut my teeth doing posters that way.
Is there a certain genre or type of band you like to work for?
It can pretty much be any band – I'll work for whoever wants to hire me. But we all have dream projects we want to do. If I had a choice, the artists I would represent would be all over the map. Not just rock posters or punk posters. I would make a poster for Justin Timberlake or Kanye West, because they don't have posters, and it would kind of be cool to see posters done for them. And you know, Metallica. Stuff that appealed to me when I was 13 that is still around.
How would you define your artistic style for someone who isn't familiar with your work?
It's clean with an American comic book style, and has subject matter that appeals to 13 year-old kids, and 28-year old women. I just draw what I want to, and I'm lucky that my taste in art is similar to my taste in music, and that I can put a little but of myself into what I make for these bands.

So your thirteen year-old self really likes skulls and naked ladies?
Yup. It's juvenile.
What's your favorite new music find?
Theophilius London. Imagine a little bit of Kid Cudi, Jay-Z, and some really good production. And The Last Shadow Puppets. Imagine British pop, like Oasis or Blur, mixed with 60's Motown production, kind of like Phil Spector, or in modern day, Ric Okasek or Brian Wilson. It's a lot of fun. I also really like the Off' album – it's Keith Morris of the Circle Jerks and a couple other guys doing what they do best. Punk rock music. It's just a lot of guys who really know how to play their instruments.
What are you looking forward to seeing most at SXSW?
I haven't really looked to be honest. I just got to see J. Mascis play. I have done posters for him in the past, but I've never gotten to see him play, so I was glad I got to fulfill that. I really would like to see the Bad Brains again. And knowing that I missed Radiohead and Jack White, really bums me out. But instead of finding the most popular band, I'm just going gamble and see what I can get into. I just don't want to be nose-to-butt in the club.
How has your experience with Flatstock been?
People have been making posters to promote music events for quite a long time, but it wasn't until a couple years ago that someone actually made an event out of it. It's like a comic book convention, but with posters and artists. People collect posters, and it's nice to get to meet collectors for the first time, and for them to get to meet us. It's also a great way to legitimize us as artists. It's great that it's a SXSW event. It's an opportunity for us to get more work, and to meet our clients (the musicians) and for them to put a face to our names.

When you are conceptualizing a poster for a band, where does the inspiration come from?
It's pretty much 90 percent from the lyrics in the music, and the interpretation I get. When I'm working for a band I think about their fans more than I think about the band. The fans know more about the band than the band itself. If you've won over the fans, you've done your job.
There are fliers and posters all over South By Southwest. Do you print pieces for posting, or are your limited edition pieces used only as merchandise?
No matter what, limited edition or no, I always post my work. You allocate a small part of the edition for advertising, you give the band their copies, the venue their copies, and you make your money with the remainder. When I did work for the Troubador, I would take it upon myself to go hang the posters up at record stores. Whether it was an offset print, or a screenprint, I would hang it up. And within a couple hours, inevitably fans would tear them all down to keep them. Once I give a poster to the band or the venue or the promoter, it's out of my hands. I may not even be in the same city they're in the night of the show. Bands want posters for advertising, but they also want them just to have it as a way to remember the night.
What differentiates people who just make ads DIY for themselves from the poster makers who are displaying here at the convention?
Some of those people are in bands. It's not because DIY is the next cool thing, it's that you don't have a choice. You just want the stuff made, so you make it yourself. Or you're so enamored with the whole concept of poster art, that you go for it. My posters are usually made by hand. The majority of poster artists print themselves, or they hire a real expert to do the printing for them. It's an intensive process and there is a lot to learn. I am completely self-taught, and it's taken me many years to hone my craft. Screenprinting has been around for thousands of years, but thanks to Warhol, it's been validated as an artform in itself. The funny thing about rock posters is that they haven't changed over the years. Even though album covers have gone from 12 inches to 7 inches to JPEGS, the format of posters and the technology used to make them hasn't changed at all.

What differentiates you from the other poster artists in this room?
We're all different. We all have different styles. If we were all hired to make a poster for the same band, we would all come up with different things. And that's what makes every one of us unique, not just me.