Dave Boyle, Goh Nakamura and Lynn Chen Craft a "Surrogate Valentine"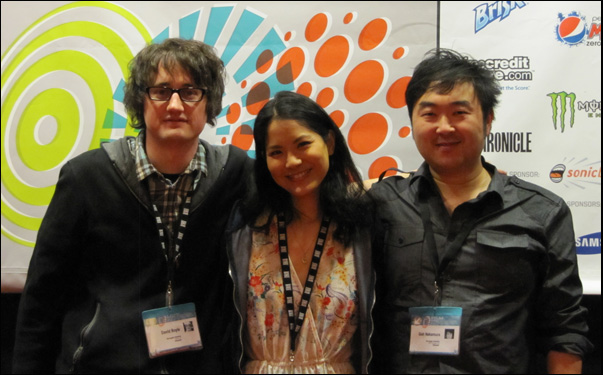 Posted by Stephen Saito on
There isn't a whole lot of imagery cooler than a man carrying a guitar case across the hills of San Francisco, unless that man is Goh Nakamura, the unconventional star of "Surrogate Valentine." Shot in black and white, Nakamura cuts the profile of a lone drifter confident in his sense of purpose as he traverses the streets of the city and…
"I was doing that around here [in Austin too] because I don't want to leave the guitar in the car," Nakamura demurred while at SXSW. Okay, so maybe Nakamura was more interested in practicality than to come off as a screen icon, but in the first role for the musician whose songs have always struck a melancholy chord between low-key nonchalance and touching humanism, it's obvious he's got the gist of this movie star thing already.
"Surrogate Valentine" has much of the same appeal as Nakamura's music — it's offbeat, a bit rough around the edges and undeniably amusing as it tells the story of a musician named Goh (Nakamura) hired to teach the guitar to a TV actor (Chadd Stoops) for his latest film role and winds up taking him on a tour across the West Coast from Seattle to Los Angeles to give an idea of the life in addition to proper chord progressions, a trip that becomes considerably trickier for Goh when he encounters a classmate (Lynn Chen) he had feelings for in high school.
Like many road trip movies, there are plenty of detours while traveling well-worn territory, but in the hands of Dave Boyle, who last directed the fish-out-of-water comedy "White on Rice," it's the kind of film you want to hug. While in Austin, I spoke to Boyle, Nakamura and Chen as they embarked on another tour, beginning with its world premiere at SXSW, that will see the filmmakers barnstorming the U.S., playing festivals and taking the unusual step of simultaneously releasing the film on DVD before making the film available on VOD, later this fall. In the meantime, they spoke of how "Surrogate Valentine" came together, the film's loosely autobiographical moments and talk already of a sequel.
How did this come together?
Dave Boyle: Actually, it kind of started at the premiere of my last movie "White on Rice." I met Goh at the afterparty and started talking to him because I knew about his music. We're both pretty quiet people and he seemed a little freaked out that I was "oh, I'm such a big fan," right?
Goh Nakamura: I wasn't really freaked out because I just saw you at the Q & A and I thought "That guy's really funny." He's a great Q & A guy. Then you came up to me and were like "Goh!" I was shocked you knew who I was.
DB: But over the course of the next year when we were doing festivals with "White on Rice" and distributing it. I was traveling all over and I ran into him a few more times, all on different stops where he was promoting his album. We just got to be really good friends and I asked him to play the lead in my next movie just because I thought even though he had never acted before, I thought he could be a really interesting character. So he ended up writing it with me and it became kind of autobiographical for both of us in a lot of ways.
How did the story coalesce? Was Goh's music a major influence on the script?
DB: Goh's music definitely had an impact on the story, mostly moodwise because we don't try and slavishly try and replicate anything he sings about necessarily, but we were trying to capture the same kind of mellow vibe that he has in his music. Storywise, it ranges from stuff being totally made up to things that are basically transcripts of real-life experiences that we had on the road or relationships going sour. So what's a good example of something that was verbatim from real life?
GN: That whole gun scene pretty much happened verbatim.
DB: The record guy [Goh and Danny] visit in Seattle, he was the bandmate of my [director of photography] and one time when we went up to Seattle to color time "White on Rice," we stayed at his house and we pretty much had that exact same experience. [The scene shows a record industry exec showing off his gun collection to the bewilderment of the main characters.] We went and he was showing us his gun collection and busted out a guitar and started playing this crazy music, so we're like man, we've got to get this guy into the movie. He's such an oddball character, so he was the main reason Seattle became a part of the plot in a lot of ways. [laughs]
GN: Dave took a lot of chances with this movie because that guy had never acted too. We were driving up, talking to him on the phone like "is this going to work?" But it ended up working really great.
Did the story dictate the road trip or was it the reverse?
DB: At first, I was really worried about making the plot all fit together, like what's going to happen in each place? But if you watch the movie now, [Goh] goes back and forth between L.A. and San Francisco a couple different times. He goes up to Seattle twice. I wanted to capture the feeling of never really knowing where you are. You're kind of discombobulated just because you're in a new place every week, which is how I feel when I'm promoting one of my films because you're moving around so much. And I think Goh has the same thing.
GN: [pointing to DB] Him more so than me. Sometimes I'll have no idea where you are and you're like "you're in L.A. again?"
DB: So I think it influenced each other, the road trip aspect and then what was actually happening with the characters. We tried to let it happen organically and hopefully it feels that way too.
Was a lot of this was shot catch as catch can?
DB: When we were scripting it, we were trying to keep location descriptions to a minimum so if something fell through, we could shoot it wherever. That's why we have so many scenes that take outdoors on the street. Plus, when you're shooting in San Francisco or Seattle, you just have naturally built-in production design if you're outside because they're such beautiful and charismatic cities, so we tried to get outdoors as much as we could. We never had permits for anywhere, but we didn't get hassled too much. There was a lot of improvisation on the production side and sometimes it even felt like we were throwing the script out the window, but when I look back at the script now, we actually held pretty close.
The wonderful thing with Goh with the guitar case trudging around, it's like instantly iconic. Plus, you get to shoot in black and white. How did you come to that decision?
DB: It was definitely influenced by films like "A Hard Day's Night"…
GN: "Manhattan"…
DB: "Don't Look Back." We wanted to have a retro vibe to it. The other part was practical because you save a lot of time and money if you're not worrying about color temperature and it simplifies production aspects. Another part of it was that I knew from the beginning I was going to self-distribute this movie and shooting it in black and white would lock me into that decision because you can't really get distribution for a black and white movie anymore. So in a sense, this was like crossing the Tiber in a way.
Did it affect how you as actors related to the camera?
GN: A little bit.
Lynn Chen: You know what was funny? Initially, Dave had done some camera tests and he was like, "no patterns!" But I already had something with stripes, so he liked the way the stripes looked, so everything I got was striped! And he's like "Okay, go easy on the stripes."