"Square Grouper: The Godfathers of Ganja," Reviewed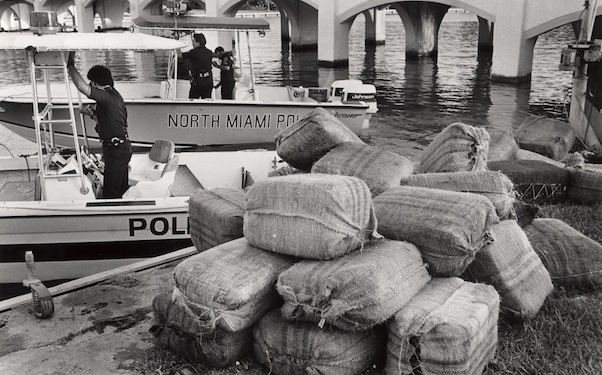 Posted by Matt Singer on
With "Cocaine Cowboys," filmmaker Billy Corben simultaneously told the story of the South Florida drug trade of the 1970s and replicated some of the scene's live-wire energy with twitchy editing and frenetic pacing. He didn't just tell you what '70s Miami was like; he gave you a tate of what it felt like too. Corben's new film, "Square Grouper: The Godfathers of Ganja," takes a similar approach to South Florida's pot smuggling trade of the same period. But in this case, Corben may have replicated his subject's pharmaceutical effects a little too well. I've heard of movies for potheads; "Square Grouper" is movie as pothead: mellow, genial, and a little sleepy.
"Cowboys" weaved a massive tapestry of crime and vice across two continents, but "Square Grouper" is a small-scale anthology, three different stories of high times in the Florida lowlands. In the first and best segment, the Ethiopian Zion Coptic Church combines intensely conservative religious beliefs with intensely liberal marijuana smoking. In the second, the "Black Tuna Gang" takes over Miami Beach with bold smuggling techniques. In the third, the residents of tiny Everglades City turns to ferrying marijuana to supplement their income after the government turned the waters around their fishing village into a protected national park. There's no character crossover, unless you count the pot itself, which is smuggled into the country by boat or plane in giant bales known as "square grouper" because they became a common sight in the waters around South Florida when they were dumped out of planes or tossed overboard by cargo boats worried about police searches. The arc of each story is basically the same: some folks start bringing weed into the country, experience phenomenal financial success, attract the attention of the media and law enforcement, and are undone by their reckless greed and high-profile spending.
Corben is a terrific interviewer and his approach to the talking heads in "Square Grouper" — long, slow, gliding tracking shots — perfectly matches his subjects' weedy, easy-going vibe. His storytelling reminds me a little of David Simon's in the TV series "The Wire:" he examines his true crime stories from every perspective, from the crooks to the cops to the journalists who covered the story. Corben combines and congeals all the different threads together effortlessly but his technique's at the mercy of his subjects, and in "Square Grouper," most of them just aren't all that memorable. There's no Griselda Blanco, the psychopathic "Black Widow" of Medellin Cartel, or Jon Roberts and Mickey Munday, brilliant smugglers who had so much money they had to start burying it in their neighbors' yards.
The Floridians of "Square Grouper" are decidedly more working class than the ones in "Cocaine Cowboys," which makes it both a more and less interesting film. More because their struggles are immediately relatable, particularly in today's economic climate, and less because their anecdotes lack "Cocaine Cowboys"' craziness. The lesson, I guess, is that there isn't anything inherently cinematic about illegal activities. You still need great characters and stories. Drugs are plentiful in "Square Grouper" but truly compelling people and moments are in short supply.