Straight to the "Source Code" With Duncan Jones and Vera Farmiga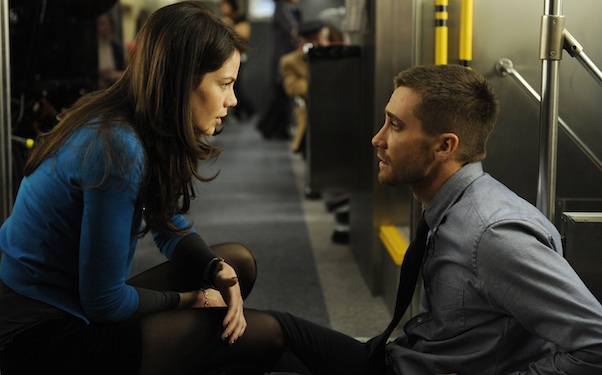 Posted by Matt Singer on
Hours before their film's premiere at South by Southwest yesterday — you can read my review here — "Source Code" director Duncan Jones and co-star Vera Farmiga (pronounced "Far-ME-guh," I learned once and for all, straight from the source [code]) stopped by the IFC Crossroads House to chat about their mind-and-time-bending thriller. Jake Gyllenhaal stars as Capt. Colter Stevens, who wakes on a train in another man's body with no idea how he got there. Eight minutes later, the train explodes. The end.
Okay, not the end. Gyllenhaal then arrives back in his own body inside a weird high-tech capsule and learns from Farmiga's Air Force Officer Carol Goodwin that a computer program called "source code" can project his consciousness inside the body of one of the victims of that train explosion, which took place outside Chicago earlier that morning. Gyllenhaal's got to go back to the train for another eight minutes, to try to figure out who caused the explosion and where they're going to strike next. And if he fails, he's got to do it again, and again, and again.
It's a fun movie, and it was a fun conversation other than the fact that Duncan, messing with me after I asked Vera for her last name pronunciation, sarcastically supplied me with a Spanish alias he would like to be introduced as. Naturally when I went to introduce them the weirdness he implanted in my brain screwed me up. As you'll see right now.