"Small, Beautifully Moving Parts," Reviewed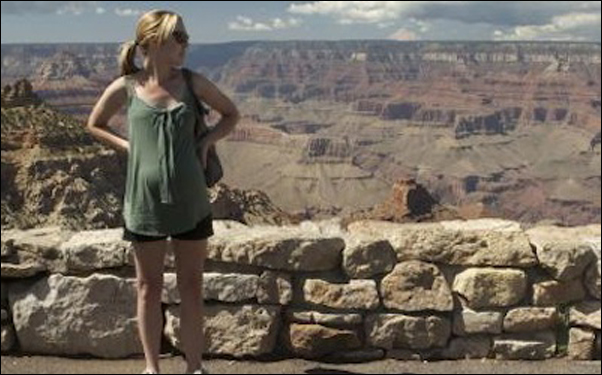 Posted by Stephen Saito on
There isn't much of a better way to describe Lisa Robinson and Annie J. Howell's "Small, Beautifully Moving Parts" than its title, which concisely suggests its size and function and though it's unmistakably human in its warmth, it's an indie road movie that runs like clockwork in the tradition of other such films.
The title is also a reference to the profession of Sarah Sparks (Anna Margaret Hollyman), a "freelance technologist" as she bills herself in the ad she posts in the opening frames of the film, a job that requires her to ask people about their connection to technology and have an insatiable curiosity about how things work. And soon after unhinging the backs of iMacs and old radios, giving the latter a come hither "well, hello there," Sarah is so obsessed with the electronic configuration of a pregnancy test that she barely notices it reads positive, setting her off on a journey across the country to visit her father (Richard Hoag) and find her estranged mother (Mary Beth Peil) to reassure her about parenthood.
It's a clever way into territory where Sarah may not have been before, but audiences likely have and while it's not as manic as David O. Russell's "Flirting with Disaster" or as melancholy as Sam Mendes' "Away We Go," Robinson and Howell mostly strike the right notes in exploring what's passed on between parents and children without ever being too on the nose. This might seem impossible when it's revealed that Sarah's mother retreated into the desert or "off the grid," as Sarah's sister informs her, far from a world of cell phones and computers, but the writing/directing duo allow the story to breathe and trusts viewers to gradually see in what ways Sarah has her parents' DNA and which ways she doesn't.
Much of the film's charm can be attributed to the film's lead Hollyman, who is indefatigably upbeat without being annoyingly so, a feat made more impressive considering she's nearly in every frame. Whether the film was actually built around the actress or not, Robinson and Howell get away a sparser screenplay just by relying on Hollyman's facility for expressing so much with just her eyes, from delight to confusion, and in exchange, the actress gets the intriguing challenge of playing a woman who embraces isolation so long as she has her gadgets nearby, yet appears to be completely comfortable in the company of others. (That dichotomy brings up the nagging question of why it's so important for Sarah to reunite with her mother when she seems so self-dependent, but the film engenders enough good will to overlook it.)
Although saying "Small, Beautifully Moving Parts" somehow taps into the zeitgeist with the ways in which we connect to each other wouldn't be completely off the mark, it is thankfully far too humble to think of itself as some great statement, settling instead for a simple story well told.
"Small, Beautifully Moving Parts" does not yet have U.S. distribution.