Schwarzen-Watch: Arnold To Unveil New TV Series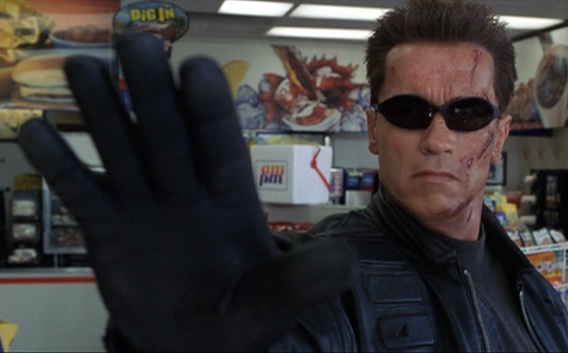 Posted by Matt Singer on
IFC.com's film writer, Matt Singer, is the biggest Arnold Schwarzenegger fan on the planet. He blogs any time any news about Schwarzenegger's return to acting, no matter how flimsy or improbable, hits the Internet.
Concrete information is in short supply on this story, but as the world's foremost (and only) Schwarzenwatcher, I have an obligation to report any Arnold news no matter how meaningless or speculative. Yesterday, The Hollywood Reporter reported that Arnold Schwarzenegger will announce a new television project at the MIPTV content market next month in Cannes.
"Details of the project, which is being kept under wraps, will be revealed April 4 at a press conference at the Riviera-side Majestic Hotel. Reps for the former California Governor — who recently announced he planned a return to movies — said only that Schwarzenegger was involved in an 'international TV series.'"
Involvement doesn't necessarily mean starring, and I would guess that whatever show this is, it won't include a regular starring gig on television for Schwarzenegger. I've read some speculation on other websites that this announcement could somehow be connected to James Cameron's upcoming TV adaptation of the Schwarzenegger movie "True Lies," and while that's certainly possible, I wouldn't bet on it. Schwarzenegger's a movie guy, and if he has any worthwhile film offers, I'd put my money on him picking one of them before he tried his hand at the small screen. My guess is that he's producing something based on another one his older movies — something like "The Running Man" or even "Pumping Iron," which could be the basis for a bodybuilding reality series. I have absolutely no information with which I make this baseless speculation, but that sort of scenario sets my Schwarzen-Sense tingling. And, yeah I do have one of those. Watch "Total Recall" more than sixty times and you can have one too.