Remembering Elizabeth Taylor: "Cleopatra"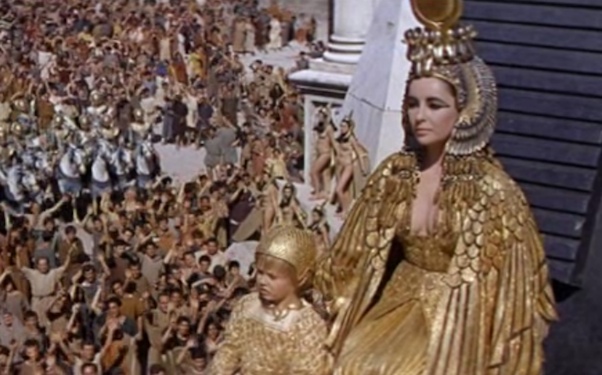 Posted by Matt Singer on
Another Elizabeth Taylor film, another Elizabeth Taylor performance as a powerful woman. Through three of these columns so far, I've been struck repeatedly by Taylor's fierce, feminist independence onscreen, first as a teenage girl who enters the greatest horserace in the country, and then later as a jilted wife who fights to reclaim her distracted husband. Now we come to 1963's "Cleopatra" where she plays the famous Egyptian pharaoh who delights in making powerful men like Julius Caesar and Mark Antony kneel before her as a display of her superiority. As Taylor's star grew, so did the stature of the women she played, until here she plays one of the most powerful people, man or woman, in world history.
Today the film is more infamous than famous. With a final budget of over $40 million — $300 million 2011 dollars — it was the most expensive film made to that date. And while the shoot dragged on for months during delays and reshoots and production relocations and directorial replacements and star illnesses, the married Taylor began an affair with her also married co-star, Richard Burton, sparking scandalous headlines around the world. The public's curiosity about the couple helped "Cleopatra" eventually break even financially, but there's little evidence of their passion in the finished film. The biggest tangible impact the two had on "Cleopatra" was its length; director Joseph L. Mankiewicz wanted to release the film in two three-hour halves: the first about Cleopatra and her relationship with Julius Caesar (Rex Harrison), the second with Burton's Mark Antony. But with so much money on the line, and audience interest so focused on Taylor and Burton, Fox ordered Mankiewicz to combine his movies into one four-hour picture.
That was probably the right business decision but it was the wrong artistic one. At 243 grueling minutes, "Cleopatra" is an epic in length only. Save one complex naval battle, and the truly memorable arrival of Cleopatra in Rome to the adoration of thousands of peasants, the film is most a procession of scenes in which people in old timey clothes bark at one another about loyalty and respect and the gods. Mankiewicz's structural preference is evident in the film's shifting focus: its initial lead is Harrison's Caesar, who comes to Egypt to settle a dispute between Cleopatra and her scheming brother, then stays after he's bewitched by her beauty. Later he returns to Rome and she follows, just in time for a recreation of the Ides of March assassination (with that great Italian icon, Carroll O'Connor, as one of the conspirators!). After Caesar's death, Cleopatra flees to Egypt; Antony then travels to Alexandria to request the queen's assistance with a food shortage, which sparks their affair and mutual undoing.
There is one argument to make in favor of "Cleopatra"'s Nile-like length. As it exists, "Cleopatra" is essentially an ode to bigness. It gives us a taste — more than a taste really, more like an enormous gorging — of Roman and Egyptian decadence, ancient civilizations that were apparently towering monuments to their own narcissism. With its gargantuan runtime and opulent production design, "Cleopatra" is essentially the exact same thing. You might even say that Hollywood, in all its bloated self-importance, and commitment to spreading its products around the world, is the true modern inheritor of Caesar and Cleopatra's wasteful greed and imperialism.
Or maybe these are just the rambling thoughts a bored man considers while sitting through a four hour film. This movie has all the subtlety — not to mention all the authenticity — of a whoopee cushion fart. There's not much else to consider, especially once Burton arrives as Mark Antony. Like so many legendary on-and-off screen romances, Burton and Taylor don't live up to their sensationalistic reputation, at least not here (Taylor actually has much better chemistry with Rex Harrison). The pair share exactly one romantic moment, the one where — HISTORICAL SPOILER ALERT!! — Antony dies in Cleopatra's arms, and he tells her, "You and I will prove death so much less than love." Most of the rest of their scenes consist of Taylor sneering at Burton and Burton shouting at Taylor. A little glimpse into their home life, perhaps? Either way, it's tiresome when repeated this often.
Their big, blustery one-note performances border on camp, and it's easy to imagine "Cleopatra" having evolved into a cult classic, if only it wasn't so goddamn long. It's sort of kitschy fun to watch Taylor get regal Rex Harrison and barking Richard Burton to supplicate themselves at her feet, basking in the glory that is Liz. Plus her thick eye makeup and hair extensions, not to mention her general air of manic superficiality, kind of make her look look like the prototype for "Jersey Shore" star Snooki. Take a look:
Though Cleopatra's royal station fits Taylor's tastes as an actress, the part doesn't provide her enough opportunities to play the sort of scenes she does best: where she's fierce and ferocious and feminine all at once. As Cleopatra, she lays about the palace, ordering people to fetch her things and run he baths. That's not the Taylor we want to see. We want her to be powerful, not pampered. One line caught my ear, though. Preparing for her death, Cleopatra asks a servant to deliver a message to Octavian (Roddy McDowell), Caesar's successor as Emperor of Rome. "Words are wasted on such a man," the servant replies. "I've wasted so many on so many men," Cleopatra says in response. More on this line, and on the metatextual interplay between Taylor and her most famous roles, in our next and final column.
Previous Remembering Elizabeth Taylor Columns
"National Velvet"
"Cat On a Hot Tin Roof"