Remembering Elizabeth Taylor: "Cat on a Hot Tin Roof"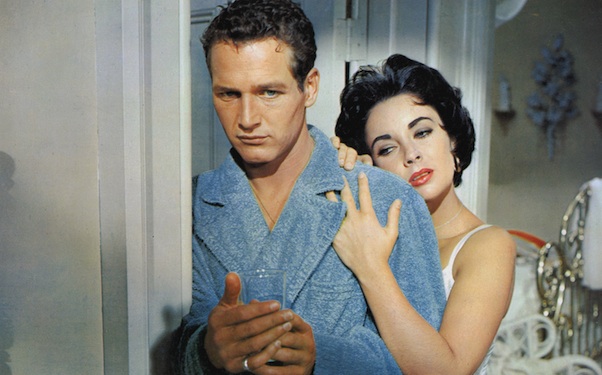 Posted by Matt Singer on
The "Cat on a Hot Tin Roof" of the silver screen is a neutered one. The characters, scenario, and rough plot of this 1958 film are all identical to the 1955 Tennessee Williams play it is based on, but many of the finer details have been smudged, obscured, or removed altogether because of the restrictions of the Motion Picture Production Code of the time. Thus, the "Cat on a Hot Tin Roof" we can watch today (it's currently available on Netflix Watch Instantly) starring Paul Newman, Burl Ives, and Elizabeth Taylor at the absolute apex of her beauty, is certainly not the one Williams' would have preferred we watch. But while the omissions and changes make "Cat on a Hot Tin Roof" a less authentic reflection of the author's vision, they also make it a more authentic reflection of the author's times and that, in turn, gives the film a kind of an unusual power. You know the expression "a love that dare not speak its name." This film works so hard not to speak its name, that it reveals it anyway through the desperateness of its evasions.
Let's begin with Taylor herself, who deserves a good deal of the credit for the film's success despite the fact that her role is supplementary to the ones played by Newman and Ives. She plays "Maggie the Cat" of the title, a woman who came from nothing to marry Newman's Brick, the favored but disillusioned and alcoholic son of an extremely wealthy Southern family. Brick and Maggie have travelled to his family's plantation on the eve of his father Big Daddy's (Ives) 65th birthday, fearfully awaiting the test results from his trip to a clinic. Even after Big Daddy returns home with a clean bill of health, Brick, who's broken his foot in a drunken attempt to recreate his past athletic glories, refuses to participate in the birthday party. Maggie, worried that Brick's greedy brother Gooper (Jack Carson) will steal their inheritance, desperately tries to coax him from boozy stupor, but Brick rejects all her entreaties.
I don't think it is an understatement to say that Taylor in "Cat on a Hot Tin Roof" is one of the most stunningly beautiful women ever photographed by a movie camera. A few scenes into the film, she peels off her already sexy outfit and saunters around in a cleavage-bearing white slip. The only word my vocabulary contains to accurately describe the sight of Taylor in this ensemble is one I learned from Tex Avery cartoons: "AwOOOOOOga." Men throughout history have fought wars just for a glimpse of a woman like this but Brick barely notices her. Which is how we immediately know there is more to his depression than frustration over his bum foot. It's how we also know, despite the screenplay's frantic attempts to suggest to the contrary, that Brick is — or has at least contemplated life as — a homosexual.
This is the material from Williams' play that the Production Code could not abide. As Big Daddy eventually confronts his wayward son about his drinking and his depression, the truth — or rather a truth — comes out. Brick recently lost a friend named Skipper, and that loss has, for some reason, sent Brick into his drunken tailspin. But why? Brick seems more emotionally invested in Skipper's death than anyone would be for a simple friend, even a good one. Williams' play never fully detailed the extent of Skipper and Brick's relationship, but it strongly hinted at homosexuality on the part of one, or perhaps both. The film version is scrubbed clean of any direct references, but there some rather obvious allusions, always in lines of dialogue that are quickly silenced, like this evocative exchange between Brick and Big Daddy:
Brick: Skipper and I were friends. Can you understand that?

Big Daddy: Gooper and Mae said that Skipper —

Brick: Skipper is the only thing that I've got left to believe in. And you are draggin' it through the gutter!

Big Daddy: Now just a minute!

Brick: You are making it shameful and filthy, you!
Censorship demanded many more changes to "Cat on a Hot Tin Roof"'s text and subtext, particularly to its ending. But whether intentionally or not, the changes to Williams' play by screenwriters James Poe and Richard Brooks (who also directed the film), turn "Cat" into an example of the exact thing that Brick rails against in his drunken argument with Big Daddy: mendacity. He drinks, he claims, to numb himself to the lies and liars of the world around him. It might have been nice to have all of the play's original homosexual content transferred to the film. But the reality of 1958 America was not a kind one to gay men and women, who often had to live unhappy heterosexual lives against their will. Hiding Brick's truth, relegating it to innuendos and entendres, reflects the sad world Brick lived in. In some ways, it makes it even sadder.
Though Taylor doesn't provide the film's best performance — that would be Ives' in my opinion, as the boisterous, menacing, charming, obsessive, and extraordinarily complex Big Daddy — she more than earns her Academy Award nomination in the role (she ultimately lost to Susan Hayward for "I Want to Live!"). Even as its treatment of Brick's possibly homosexuality date the film to the conservative 1950s, its treatment of Maggie belongs to a later, freer era. Or maybe an earlier one; in many ways, Taylor reminds me here of her character in 1944's "National Velvet." Once again, Taylor plays a self-made woman, willful and determined to carve out a place for herself over the objections of skeptical men. After watching just a few of her starring roles, it's quickly becoming very easy to see what generations of American women saw in her (my grandmother was a huge fan). She was simultaneously strong and feminine during a time when those words were too often considered mutually exclusive.
Those words certainly describe Maggie in "Cat on a Hot Tin Roof." But while the film's title suggests Maggie as some sort prowling beast, the movie ultimately shows Maggie's sexuality in a positive light. Note the way Maggie is always dressed in white, even while wearing some of the luckiest lingerie in movie history. Notice too how often Brooks lights her more brightly than her co-stars, particularly during the climactic scenes between Big Daddy and the rest of the family, where Maggie who provides the potential olive branch that will help repair Brick and Big Daddy's broken relationship. Maggie isn't a predator; she is a beacon and a healer, for Brick and for the entire family. Her ultimate effect on her husband may not be a realistic solution to Brick's emotional turmoil, but in a mendacious film about mendacious times, it feels like a hopeful one.