Premiere: Spindrift "Shadytown (Theme from Hollywood Play-Girls)"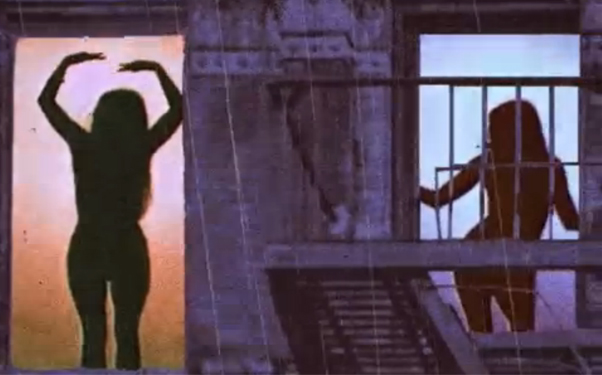 Posted by Brandon Kim on
Vigilante director J.X. Williams is best known for his 1965 "found footage" picture, "Peep Show," which made liberal use of scenes from other films in it's assemblage. Williams' story then takes a turn into shadowy late 60's conspiracies, mafia connections and other intrigues fit for the silver screen, before he flees to Zurich where he's spent the last 30-some years in hiding. However, before going rogue, he allegedly made a few other films, all since lost… until recently.
"Hollywood Play-Girls" is his lusty 1966 film, a "Sin-sational story of a private dick hired by a madam to track down a serial killer who has been offing members of her prostitution ring." The film has been missing for decades, but private collector recently came forward with the opening credits. The sequence was without sound, but The J.X. Williams Archive asked LA's Spindrift to score it, and they obliged. Here are the credits, with this track penned by vocalist Sasha Vallely titled, "Shadytown (Theme from Hollywood Play-Girls)."
J.X.Williams has recently surfaced somewhere in France, if you can believe the J.X.Williams Archive and this blog, only contacting an assistant via satellite phone, ditching his SIM cards after every call, and rolling around Europe with forged diplomatic passports, just in case.
We can only hope that Spindrift manages some cloak and dagger message exchange with the rogue director while they're in France, and let's us know how to get a hold of more of his lost prints without breaking any ground rules.
Spindrift U.S. Tour Dates:
5/3/11 Indio, CA The Date Shed w/ Gram Rabbit
9/3/11 Los Angeles, CA The Bordello w/ TBA
22/3/11 Sierra Madre, CA Cafe 322 w/ The Upsidedown
European dates:
15/04/11 : Ekko – Utrecht (NL)
16/04/11 : De Nieuwe Nor – Heerlen (NL)
17/04/11 : Roadburn festival @ 013 – Tilburg (NL)
18/04/11 : Trix – Antwerpen (B)
20/04/11 : L'Abordage -Evreux (F)
22/04/11 : Unwound – Padova (I)
23/04/11 : Tetris – Trieste (I)
24/04/11 : Init – Roma (I)
25/04/11 : Sidro – Savignano sul Rubicone (I)
26/04/11 : Lio Bar – Brescia (I) – confirmed
27/04/11 : Le Rockstore – Montpellier (F)
29/04/11 : Moog – Barcelona (ES)
30/04/11 : Mogambo – Donosti (ES)
01/05/11 : Taberna Belfast – Leon/Santa Maria del Paramo (ES)
03/05/11 : Hard Club – Porto (PT)
04/05/11 : Universidad – Vitoria (ES)
05/05/11 : Moby Dick – Madrid (ES)
06/05/11 : Le Krakatoa – Bordeaux (F)
7/05/11 : Caveau des Trinitaires – Metz (F)
09/05/11 : Hafenklang – Hamburg (D)
10/05/11 : Festsaal Kreuzberg – Berlin (D)
11/05/11 : Loppen – Copenhagen (DK)