Portugal. The Man Prog Rocks The IFC Crossroads House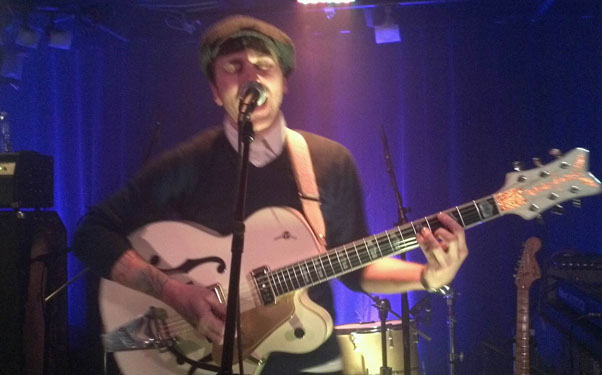 Posted by Stacey Brook on
When you're in the same room as Portugal. The Man, you notice the climate. You sense the Alaskan landscape from which the band hails. You smell the rain of Portland Oregon, where the group now resides, and where they recorded their latest LP, "American Ghetto" in 2010. And you feel warm for them in their sweaters, with the heat of the lights and the electric energy of all their fans. Portugal. The Man, it may be cold in Alaska, but you can wear short sleeves here.
At their show at the IFC Crossroads House yesterday, the band tried out some of their latest prog pop rock numbers, in anticipation of the release of their upcoming album, due out in May. Like so many other artists who were shaped in remote locations, Portugal. The Man's compositions are reflective of the landscapes of their youth, embodying both the enlightenment of isolation and the occasional heavy noise you experience when you're alone with your mind.
The group is at their best when they're singing anthemic songs like "The Sun," off their 2009 album, "Satanaic Satanist." Bright and hook-ridden, this is the kind of song you play in a '57 Chevy as you're driving down US 1 with the top down. The same goes for "People Say," the band's big hit, with its Brit rock bent. The group crafts sing-along choruses, Gourley's honey voice and hyper falsetto leading you forward. And the crowd responds with eager participation.
But what makes this band so compelling is that they are not content to sit within the confines of a simple, cleanly executed melody. Their live shows are arenas for experimentation, looping effects and pushing sound to its robust edge. One minute, soulful melodies are plotting along their course, and the next, Jason Sechrist launches into feverish drumming. Zachary Scott Carothers rips into his bass. Gourley lets his high notes loose. And is there isn't a machine keyboardist Ryan Neighbors isn't using to manipulate the band's sound from clean to grungy and bombastic. Together they create a beautiful, harmonious mess that leaves you lingering in a strange climate of the band's making.