Nicole Atkins And The Black Sea At Anton's "Review"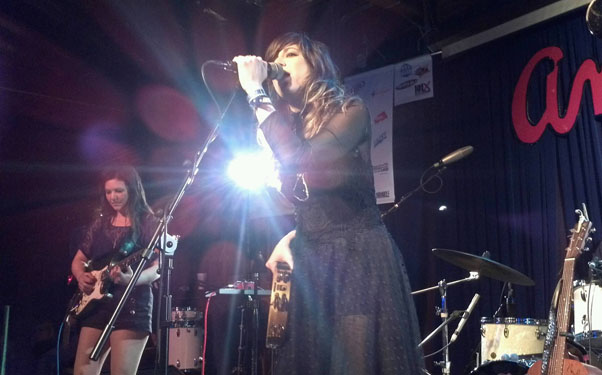 Posted by Stacey Brook on
Nicole Atkins has just had her heart broken, but you would never know it. Her waters turned from clear to dark, only recently. Formerly releasing solo records as "Nicole Atkins and the Sea," Atkins' the latest incarnation of her solo act was born during a year in which she has her heart broken, her record contract with Columbia was severed, and she was forced, at the last minute before laying down her latest record, to take on an entirely new backup band. Atkins and her new troupe of polished, black-clad musicians (The Black Sea), are now touring to promote "Mondo Amore," Atkins's third solo LP, a bluesy, psychedelic heartbreak album brimming over with the spoils of hard-earned growth. Listening to the ensemble play live at Anton's last night, it is hard to imagine Atkins playing with anyone else. With the electric fluency of Irina Yalkowsky's guitar, the precise and brooding bass of Jeremy Kay, and Ezra's Atkins' power drums, Nicole Atkins and The Black Sea combine to create a particularly hypnotic potion – a potent, bubbling concoction of seventies psychedelic rock, soulful blues, and a peppering of pure, unmitigated heartache.
"Mondo Amore," is a breakup album, but it is also an experiment in the layering of new influences on Atkins' usual 70's psychedelic rock leanings. The albums is stacked with surfy noir ballads about heartache and country/blues-tinged foot-stompers. "Cry, Cry, Cry," the first single off "Mondo Amore," is a blues romp so spirited, horn accompaniment would not be totally out of place. Set finale, "The Tower," which started out slow and spare, built to a proggy jam, Yalkowsky's precise fingerwork and Atkins' Joplineqsue howl alternately cutting through the sonic lushness.
Atkins herself is a more than a presence. She is vocal tornado. She has wind in those pipes, and if you cross her, she is not bluffing – she will blow your house down. Live, there are few who can compare to her deep, brazen alto (only Neko Case comes to mind). Combine that with her long hair, massive gemstone jewelry and, goth gypsy attire, and lyrics like, "All the hungry virgin eyes, with the scorpions in their smiles, when their greedy fingers rise, they are no match for me," and she gives off the air of a soothsayer. Though may not know where the future is taking her, towards the Black Sea seems to be the right direction.
Nicole Atkins and The Black Sea will make two more appearances at SXSW on Friday, Mar 18 (5pm) at Clive Bar, and Saturday, March 19 (7pm) at the Cedar St. Courtyard.