Out of "Nowhere," "Four Lions" Attack and More New DVDs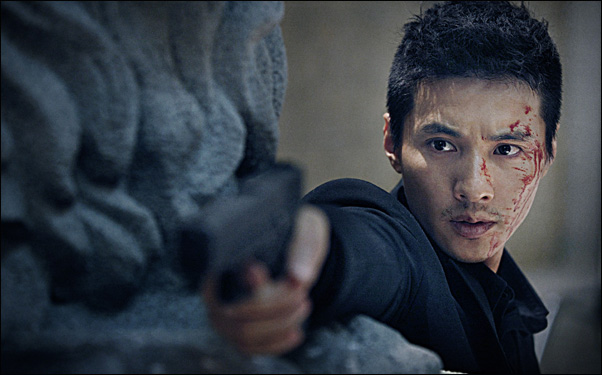 Posted by Stephen Saito on
"The Man From Nowhere" (2010)
Directed by Lee Jeong-beom
Released by Well Go USA
Matt Singer said there's a sequence in this Korean revenge thriller that has "already taken up permanent residence in the Movie Hall of Fame section of my brain," so what more do you need? "Mother" star Won Bin stars as the man who is framed by local gangsters and seeks to retrieve the young girl he lives next door to after she's been kidnapped.
"Abducted" (2011)
Directed by Jon Bonnell
Released by Brain Damage Films
Originally called "Match.Dead," this 2009 thriller details the perils of online dating when a teen girl (Kathleen Benner) arranges a date with a man she soon learns is a psychopath (James Ray). Alan Smithee is the credited screenwriter on IMDb, so one might not want to go in with high expectations.
"Babysitters Beware" (2011)
Directed by Douglas Horn
Released by Phase 4 Films
If you're the type to be intrigued by the box art for this children's film with the young "Modern Family" star Rico Rodriguez proudly hovering over a ticked-off Danny Trejo tied up in caution tape, then this comedy about a kid who wants to act so badly as to eliminate the need for babysitters in his life may be for you.
"The Chaperone" (2011)
Directed by Stephen Herek
Released by WWE Studios
WWE star Paul "Triple H" Levesque stars in this comedy as a former getaway driver for a bank heist crew who leaves prison and faces the decision to get behind the wheel once more for his old thieving pals or be the chaperone for his daughter's field trip to the Natural History Museum.
"The Dorm that Dripped Blood" (1982)
Directed by Jeffrey Obrow and Stephen Carpenter
Released by Synapse Films
A very young Daphne Zuniga appears in this low-budget indie slasher flick that is getting the Blu-ray treatment to make the kills particularly bloody in this story about a dorm set for renovation with the young women residing there getting some help from a killer in clearing the place out first.
"Every Day" (2010)
Directed by Richard Levine
Released by Image Entertainment
Back during the premiere of this dramedy at Tribeca, "Defiance" star Schreiber said he was drawn to role of a harried family man in the middle of a midlife crisis because "it's a simple story and simple stories are often overlooked." He wasn't the only one pulled in by this debut from former "Nip/Tuck" writer/producer Levine, who mines his past for this story of a TV showrunner (Liev Schreiber) who feels the pressure of a relationship with his wife (Helen Hunt) that's descended towards routine, a son (Ezra Miller) who's gradually coming out of the closet, a cranky father-in-law (Brian Dennehy) who moves in when his health is on the wane and a comely co-worker (Carla Gugino) that suggests the grass is greener on the other side of the fence. (My review of the film is here.)
"A Film Unfinished" (2010)
Directed by Yael Hersonski
Released by Oscilloscope Laboratories
Tel Aviv-based filmmaker Hersonski's visit to a Berlin film archive led to her first feature documentary, this investigation of a 62-minute piece of Nazi propaganda, shot by German soldiers, that presented Jews living the high life in the Warsaw Ghetto when in fact the Holocaust was well underway. Using personal diaries and interviews with some of the survivors, Hersonski gives context to what was really going on behind the scenes.
"Four Lions" (2010)
Directed by Chris Morris
Released by Magnolia Home Entertainment
After spending three years doing extensive research, Brit improv vet Chris Morris makes his feature directorial debut with a script co-written by "In the Loop"'s Jesse Armstrong on this comedy that shows the lighter side of Jihad, tracking the movement of four British Islamic extremists who can't get their act together. (Bilge Ebiri's interview with Morris and Alison Willmore's review of the film are here.)
"Half Moon" (2010)
Directed by Jason Toler
Released by Vicious Circle Films
Porn star Tori Black crosses over for the horror film about a prostitute's encounter with a man she suspects to be a serial killer, only to discover he may actually be another kind of monster entirely.
"Helena From the Wedding" (2010)
Directed by Joseph Infantolino
Released by Film Movement
It's chilly in upstate New York and not just because of the snow in Infantolino's directorial debut. "Oz" star Lee Tergesen stars as a playwright named Alex, whose recent marriage to Alice (Melanie Lynskey) takes a backseat to bad reviews for his latest production as the couple heads up north from Manhattan to host a New Year's Eve retreat for his friends, though once at his cabin, he quickly finds that he isn't at home when a comely stranger to the group ("Community" star Gillian Jacobs) draws his attention and the relationships of those around him all seem to be in flux.
"Inside Job" (2010)
Directed by Charles Ferguson
Released by Sony Pictures Home Entertainment
Fresh off its win for Best Documentary at this year's Oscars, Ferguson's documentary about the financial meltdown with interviews with many of the major players is arriving on DVD and Blu-ray. (My review of the film is here.)
"Jackass 3D" (2010)
Directed by Jeff Tremaine
Released by Paramount Home Video
Although only 3D-enabled TV sets will be able to show off the stunts and stupidity of Steve-O, Wee Man, Bam Margera, Chris Pontius, Ryan Dunn and of course, Johnny Knoxville in their full glory, everyone will now be able to enjoy the small pleasures from the comfort of home of seeing a man's tooth being pulled out with the help of a Lamborghini, a poop volcano, and if you stay for the end credits, Jeremy Renner being launched up into the sky in a port-a-potty. (Matt Singer's review is here.)
"Letters to Father Jacob" (2009)
Directed by Klaus Härö
Released by Olive Films
A veteran of film festivals as varied as Camerimage in Poland to Pusan, this small Finnish tale of a recently paroled woman (Kaarina Hazard) who finds a job working for a blind priest who answers people's letters to give them comfort, but must find a way to help the priest when the letters stop.
"Morning Glory" (2010)
Directed by Roger Michell
Released by Paramount Home Video
Rachel McAdams stars as a producer who hopes to resurrect a basement-dwelling morning TV show with a legendary anchorman considered past his prime (Harrison Ford) in this comedy from "Notting Hill" director Roger Michell. Patrick Wilson and Diane Keaton co-star.
"Mystery Science Theater 3000 Collection: XX"
Released by Shout! Factory
Crow T. Robot, Tom Servo and Joel Robinson host another batch of schlocky gems in this latest collection that compiles their takes on "Project Moonbase," "Master Ninja I," "Master Ninja II," and "Magic Voyage of Sinbad." In addition to the running commentary provided on the films, this box also includes an interview with "Master Ninja" star Bill McKinney and a documentary with the show's cinematographer Jeff Stonehouse on creating the look of the show.
"The Next Three Days" (2010)
Directed by Paul Haggis
Released by Lionsgate
Though it arrives in the thick of awards season, the latest from "Crash" director Haggis appears to have only pure entertainment on its mind. An adaptation of the 2008 thriller "Pour Elle," this thriller stars Russell Crowe as a professor who must use his wits to hatch a prison escape plan for his wife (Elizabeth Banks) when she's accused of murder. Liam Neeson puts in a cameo as an escapee who teaches Crowe the tricks of the trade.
"Off Limits" (1953)
Directed by George Marshall
Released by Olive Films
Mickey Rooney and Bob Hope match wits in this comedy about a boxing manager (Hope) whose prize-fighter (Stanley Clements) is drafted into the army and decides to enlist himself to keep an eye on him, though an aspiring pugilist (Rooney) threatens to divide his attention.
"On the Double" (1961)
Directed by Melville Shavelson
Released by Olive Films
Danny Kaye stars as an American soldier whose ability to impersonate a British colonel is of great use to his home country, though it puts him directly in the line of fire in this World War II-set comedy.
"Pelt" (2010)
Directed by Richard Swindell
Released by Osiris Entertainment
A group of girlfriends don't have such a great time during their camping trip in the woods in this horror film from Richard Swindell.
"Rage" (2011)
Directed by Sebastian Cordero
Released by Strand Releasing
Like Cordero's last film "Cronicas," Guillermo del Toro produced this thriller that tells of a construction worker (Gustavo Sanchez Parra) who's involved in the accidental murder of his boss, but whose desire to remain close with his girlfriend, the live-in maid for a well-to-do family, keeps him in hiding on their estate as he's pursued by investigators.
"The Shriven" (2010)
Directed by Brian Schiavo
Released by Shriek Show
Ah, there might just too many obstacles to overcome in this low-budget sci-fi flick revolving around Ben, a man who finds out the woman he loves is a shape-shifter who hunts humans at night to subsist.
"Son of Terror" (2011)
Directed by Antony De Gennaro
Released by Midnight Releasing
Billed as "a horror thriller black comedy from Seattle," Antony De Gennaro's directorial debut covers nearly all the bases with this story of a mentally ill man who finds that the world around him may be crazier than he is.
"Tales from Earthsea" (2006)
Directed by Goro Miyazaki
Released by Disney Home Entertainment
Based on Ursula K. Le Guin's epic fantasy series, Hayao's son Goro Miyazaki makes his feature debut on this animated film about a wizard and a prince who team up to save the prince's homeland which has come under siege by dragons and internal strife.
"Zombie Farm" (2009)
Directed by Ricardo Islas
Released by Maya Entertainment
With that kind of title, there isn't a lot left to the imagination, especially when you consider director Ricardo Islas' previous body of work including "Night Fangs" and "Headcrusher."
New to Blu-ray: "Excalibur", "Exit Through the Gift Shop", Hayao Miyazaki's "Nausicaa of the Valley of the Wind", the Andy Goldsworthy doc "Rivers & Tides"
[Additional photos: "Four Lions," Drafthouse Films, 2010; "Letters to Father Jacob," Olive Films, 2010; "Pelt," Osiris Entertainment, 2011]