A Week Of Discoveries on DVD* (Not Requiring a Gun to Find Them)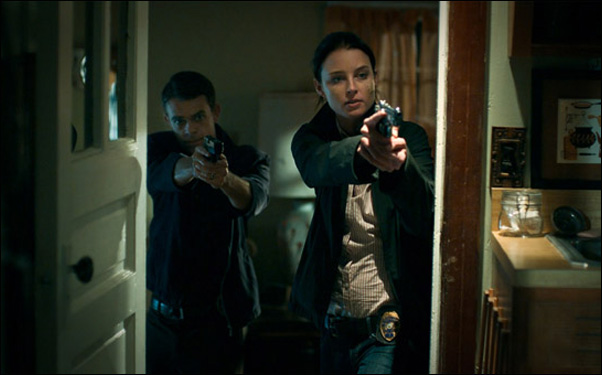 Posted by Stephen Saito on
A look at what's new on DVD today:
"Meskada" (2010)
Directed by Josh Sternfeld
Released by Anchor Bay Entertainment
When this thriller premiered at Tribeca this past spring, Alison Willmore wrote, "the second film from writer/director Josh Sternfeld ("Winter Solstice") has ambitions reaching beyond being a straightforward police procedural," though critics, including her, were mixed about the end result. Nick Stahl and Rachel Nichols star as small-town sleuths who investigate a botched home invasion case that claims the life of a young child in an affluent community and enflames class divisions when the main suspects are from the poorer community nearby. Grace Gummer, Meryl Streep's second daughter to go into the family profession, makes her film debut.
"Anywhere USA" (2008)
Directed by Chusy Haney-Jardine
Released by Cinevolve Studios
Winner of a Spirit of Independence prize at the 2008 Sundance Film Festival, Chusy Haney-Jardine's collection of three comic vignettes involves a relationship that threatens to go sour when a woman consistently beats her boyfriend at tennis, an elder gentleman's epiphany, and a young girl whose curiosity gets the best of her. Writing for Cinematical, James Rocchi approved quite heartily of the film back during its debut, though it may have been too absurdist for a wider release.
"The Associate" (1979)
Directed by Rene Gainville
Released by Pathfinder Home Entertainment
This French comic thriller stars Michel Serrault as a down-on-his-luck businessman who finds success after creating a fictional partner only to become jealous when his wife and child become infatuated with the partner they've never seen, leading Serrault to plot a murder of the man who doesn't really exist.
"Battle of Los Angeles" (2011)
Directed by Mark Atkins
Released by The Asylum
Kel Mitchell and Nia Peeples headline this disaster flick that has completely, absolutely, positively nothing to do with the Aaron Eckhart blockbuster "Battle: LA," though both share a premise of aliens descending upon Los Angeles and the words "Battle, Los, and Angeles" in the title.
"Bedrooms" (2010)
Directed by Youssef Delara
Released by Osiris Entertainment
"Dexter"'s Julie Benz, Xander Berkeley, and Moon Bloodgood are all part of this ensemble drama featuring several couples facing make-or-break moments in their relationship as a married couple (Benz and Berkeley) grapple with one sleeping with the pizza delivery man, an older couple (Dee Wallace Stone and Barry Bostwick) who are threatened by a past relationship, and a younger couple (Jordan Belfi and Bloodgood) who are having problems connecting to each other intimately.
"The Big I Am" (2010)
Directed by Nic Auerbach
Released by Entertainment One
Nic Auerbach's first feature fits nicely into the tradition of British crime dramas as it features a low-level hood (Leo Gregory) on the rise if only he can come to terms with how ruthless he must become. Michael Madsen co-stars because why not?
"Blood" (2010)
Directed by Ten Shimoyama
Released by Well Go USA
A vampire (Aya Sugimoto) bewitches both a swordsman (Jun Kaname) and a detective (Kanji Tsuda) looking into a murder committed at her home in this Japanese thriller with a horror twist.
"Consinsual" (2010)
Directed by Paul Hannah
Released by Entertainment One
Director Paul Hannah explores the aftermath when a woman accuses her husband of rape in this martial drama.
"Dark Fields" (2009)
Directed by Doug Schulze
Released by Entertainment One
The slow march of the late David Carradine's final films continues with Doug Schulze's horror film (originally called "The Rain") about a family farm cursed over three generations to sacrifice one of their own to bring rain. Dee Wallace Stone and Richard Lynch co-star.
"Devolved" (2011)
Directed by John Cregan
Released by MPI Home Video
The much-beloved cult DVD label Severin dipped their toe into first-run distribution with this teen comedy about a group of high schoolers whose spring break doesn't go according to plan when their cruise ship gets lost off the Mexican coast and the already existing tensions between two cliques deepen further between those who are ready to leave high school and those who are afraid to face the future. At least they have kegs and Chris Kattan to keep them company.
"Eclipse Series 26: Silent Naruse"
Directed by Mikio Naruse
Released by Criterion Collection
Despite being nearly as acclaimed in his native Japan as the internationally worshipped Yasujiro Ozu, Mikio Naruse's character studies aren't nearly as well known, yet Criterion aims to change all that with this collection of the director's only five silent films to survive, which have never been released in the U.S. on DVD before, including "Flunky, Work Hard," "No Blood Relation," "Apart From You," "Every Night Dreams" and "Street Without End."
"Family Secret" (2010)
Directed by Geno McGahee
Released by Tempe Video
The grandmother in Geno McGahee's horror film is not kind.
"How Do You Know" (2010)
Directed by James L. Brooks
Released by Sony Pictures Home Entertainment
James L. Brooks' much-maligned romantic comedy may get a second life on home video where the more eccentric charms of this Reese Witherspoon-Owen Wilson-Paul Rudd love triangle. Witherspoon stars as a softball player who's set up on a blind date the same day she gets cut from her team, which coincidentally is also when the man she's going to meet (Rudd) becomes the target of a massive criminal indictment. Jack Nicholson co-stars.
"Kluge in the Beginning"
Directed by Alexander Kluge
Released by Facets
Facets' dedication to the pioneering German director continues with this four-disc collection of his earliest work including the features "Part-Time Work of a Domestic Slave," "Artists: Under the Big Top: Perplexed," "The Big Mess," and "Willi Tolber and the Decline of the 6th Fleet," in addition to six of his short films.
"Looking for Palladin" (2009)
Directed by Andrzej Krakowski
Released by Monterey Media
Ben Gazzara stars as an ex-pat movie star enjoying life in Guatemala who needs to be wooed back to Hollywood by a young agent (David Moscow) in this comedy that also features Talia Shire and Vincent Pastore.
"Our Hospitality" (1923)
Directed by Buster Keaton and Jack Blystone
Released by Kino
In addition to already sterling editions of "Steamboat Bill Jr." and "The General" on Blu-ray, Kino is releasing yet another Buster Keaton classic in high definition with this comedy where he takes a train ride to claim his inheritance and discovers it is nothing like he thought it would be. There's a score by Carl Davis, a making-of documentary, a 49-minute alternate cut of the film called "Hospitality" and more.
"The People I've Slept With" (2009)
Directed by Quentin Lee
Released by Maya Entertainment
"My So-Called Life" star Wilson Cruz stars in Quentin Lee's ensemble comedy about a woman (Lynn Chen) whose promiscuity leads to a pregnancy where she doesn't know who the father is.
"The Perfume of the Lady in Black" (1974)
Directed by Francesco Barilli
Released by RaroVideo
Another rarity brought to you by the folks at RaroVideo, Barilli's giallo stars Mimsy Farmer as a chemist named Sylvia who is haunted by the titular "Lady in Black" that appears in mirrors, though Sylvia doesn't know who she is and must recall some particularly painful moments in her past to figure it out.
"The Quiet Arrangement" (2009)
Directed by David C. Snyder
Released by HWIC Filmworks
Chuck D puts in an appearance in this thriller from David C. Snyder about an attorney frustrated by efforts to retrieve his wife from a kidnapping plot who takes action to get revenge.
"Sasha" (2011)
Directed by Dennis Todorovic
Released by Strand Releasing
Dennis Todorovic's drama centers on a young gay pianist (Sascha Kekez) who hides his sexuality from his father, though his secret may be revealed when his best friend who pretends to be his girlfriend starts an affair with his brother.
"Siren" (2011)
Directed by Andrew Hull
Released by Lionsgate
Andrew Hull's British thriller starts as many do, with a group of vacationing pals who make the mistake of following a beach babe to their potential demise when they reach a set of islands where they're not alone.
"Skyline" (2010)
Directed by Greg and Colin Strause
Released by Universal Home Video
Don't be distracted by the Universal logo or the Strauses' inauspicious directorial debut on "Aliens vs. Predator: Requiem" — their second feature was purely independent, financed and created by their special effects shop Hydraulx, which has worked on films ranging from "2012" to "Avatar." Inspired by the success of "District 9" and "Paranormal Activity," the brothers set out on their own to make an alien invasion tale with a small crew and big "crazy shit that when you try to get it through the 20 other producers and studio people, everyone always filters down," as Colin told audiences at Comic-Con. The result is a film no one knows much about yet, other than it's a race-against-the-clock thriller for a group of Angelenos who fear being sucked into the sky by ginormous spaceships.
"A Streetcar Named Desire" (1995)
Directed by Glenn Jordan
Released by Image Entertainment
This much-hyped TV adaptation of Tennessee Williams' drama that featured Alec Baldwin as Stanley Kowalski and Jessica Lange as Blanche DuBois, not to mention John Goodman and Diane Lane in supporting roles, will finally make its debut on DVD after more than 15 years.
"The Tourist" (2010)
Directed by Florian Henckel von Donnersmarck
Released by Sony Pictures Home Entertainment
Now best known in the U.S. as one of Ricky Gervais' most wicked punchlines on the Golden Globes, this Angelina Jolie-Johnny Depp throwback to the globetrotting thrillers of the 1960s wherein a chance encounter on a train between the two leads to Depp's American adventurer unwittingly being caught up in a web of international intrigue. Paul Bettany and Timothy Dalton co-star in the latest from "The Lives of Others" director Florian Henckel von Donnersmarck.
"The Twist" (1976)
Directed by Claude Chabrol
Released by Pathfinder Home Entertainment
Bruce Dern and Ann-Margret appear in this comedy about a poet (Dern) frustrated by both his work and his wife's sexual fantasies that the French master Chabrol considered to be one of his lesser works, perhaps explaining why it's taken so long to see an American DVD release. Stéphane Audran, Jean-Pierre Cassel and Sybil Danning help fill out an all-star cast.
"Vanquisher"
Directed by Dean Gold
Released by Magnolia Home Entertainment
Writer/Director Dean Gold's low-budget sci-fi flick is set in the future where a salesman (Ben Seton) comes to confront the technological virus he once sold and becomes the charge of a stealthy, ass-kicking agent (Dominika Wolski).
"The Windmill Movie" (2008)
Directed by Alexander Olch
Released by Zeitgeist Films
A New York Film Festival selection in 2008, this documentary is the end product of Alexander Olch's attempt to finish what his mentor, the late filmmaker Richard P. Rogers, had started by collecting over 200 hours of footage from his life to make his autobiography.
"Women on the Verge: Rembetiko / Another Sky" (1983/1954)
Directed by Gavin Lambert and Costas Ferris
Released by Facets
For this decidedly estrogen-heavy double bill, Facets pairs Ferris' 1983 Greek drama "Rembetiko" about a blues singer who channels her struggles into her music and Lambert's 1954 British drama "Another Sky" about a governess who travels to Marrakesh and becomes enchanted with the exoticism of Morocco.
"Yogi Bear" (2010)
Directed by Eric Brevig
Released by Warner Home Video
Sadly, Warner Brothers probably isn't including that awesome (fake) alternate ending where Boo Boo reluctantly puts an end to his relationship with Yogi in no uncertain terms, but instead you can see Dan Aykroyd and Justin Timberlake yukking it up as the voices of the CG-animated bears who find their beloved Jellystone Park under the threat of closure until a documentarian (Anna Faris) and Park Ranger Smith (Tom Cavanagh) team up to try to keep the park open.
New to Blu-ray: The Jeff Bridges-Rachel Ward romance "Against All Odds", the 1997 animated flick "Anastasia", "Awakenings", Wayne Wang's 2005 children's film "Because of Winn Dixie," John Huston's "The Bible", the Eddie Murphy remake of "Dr. Dolittle,", "Ernest Goes to Camp/Ernest Goes to Jail", "Flicka", "Random Hearts", the 2005 CG animated "Robots", "Scary Movie 4", "Stand by Me", "The Times of Harvey Milk" (Criterion)
[Additional photos: "Devolved," Severin Films, 2011; "The People I've Slept With," Maya Entertainment, 2009; "The Tourist," Sony Pictures, 2010]