Henry Silva is Coming For You, and More New DVDs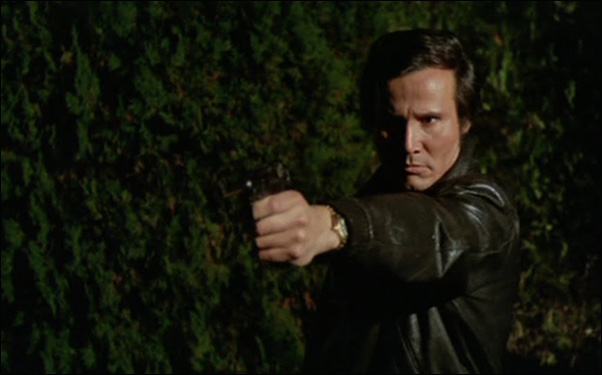 Posted by Stephen Saito on
A look at what's new on DVD today:
"Fernando Di Leo Crime Collection"
Directed by Fernando Di Leo
Released by RaroVideo
Fans of badass '70s cinema and the stoic Henry Silva rejoice! Underappreciated Italian crime master director Fernando Di Leo finally comes to the U.S. via this set of four films — "Caliber 9," "The Italian Connection," "The Boss," and "Rulers of the City" — that shows what made him an influence of filmmakers such as Quentin Tarantino and John Woo.
"The Absent" (2011)
Directed by Sage Bannick
Released by Passion River
Twin brothers are bonded by the experience of having their parents try to kill them for insurance money, only to become killers themselves in this slasher film from Sage Bannick.
"Be My Teacher" (2011)
Directed by Lakisha R. Lemons
Released by Maverick Entertainment Group
A student's (Derek Lee Nixon) flirtations with his English teacher (LaTeace Towns-Cuellar) has serious implications for her career as she debates whether to pursue an illegal relationship with him in this drama.
"BMX Bandits" (1983)
Directed by Brian Trenchard-Smith
Released by Severin Films
This '83 Aussie kids' flick is best known for as Nicole Kidman's first performance, but no less an authority than Quentin Tarantino has called it one of the gems of Ozploitation, centering on a trio of bike-riding pals who are being pursued by bank robbers after they discover a box of walkie-talkies. The new disc includes a commentary from director Brian Trenchard-Smith (worth it just for the stories of stunts on the set alone), the film's trailer, a making-of featurette and more.
"The Fighter" (2010)
Directed by David O. Russell
Released by Paramount Home Video
With Oscar-winning performances from Christian Bale and Melissa Leo, "I Heart Huckabee's" director Russell gets into the ring once more with Mark Wahlberg for this biography of underdog boxer "Irish" Micky Ward who has an easier time knocking out opponents than he does dealing with his drug-addicted brother (Bale) and momager (Leo), though he finds some support in a new girlfriend (Amy Adams). (Matt Singer's review of the film is here.)
"Freestyle" (2011)
Directed by Kolton Lee
Released by Phase 4 Films
This British teen drama stars Lucy Konadu as a straight-A student with plans for Oxford until she meets a scrappy b-baller (Arinze Kene) on the court near her school and teams up with him to compete in an upcoming tournament, naturally leading to a decision of whether to defy her mother and her scholastic career to pursue a different path.
"Gamera vs. Zigra"/"Gamera: The Super Monster"
Directed by Noriaki Yuasa
Released by Shout! Factory
The final two flicks featuring the gigantic Japanese flying turtle have been remastered for this double feature which sees Gamera running rampant through cities to protect them from a host of monsters that seek to destroy the world.
"Hemingway's Garden of Eden" (2010)
Directed by John Irvin
Released by Lionsgate
"Widow's Peak" director Irvin's drama concerns an American writer (Jack Huston), his wife (Mena Suvari) and the woman (Caterina Murino) with whom they both become romantically intertwined, based on the novel completed after Ernest Hemingway's death, which has long been a source of controversy since it was edited posthumously.
"Hereafter" (2010)
Directed by Clint Eastwood
Released by Warner Home Video
Matt Damon can commune with the dead in this drama from Clint Eastwood penned by "The Queen" writer Peter Morgan that criss-crosses the lives of a British boy who loses his brother, a French journalist (Cecile De France) that barely escapes a tsunami and Damon's medium who lives in San Francisco and does his best to hide his communicative abilities from others.
"Hidden Love" (2009)
Directed by Alessandro Capone
Released by Cinema Epoch
A Toronto Film Festival selection in 2007, Alessandro Capone's drama starring Isabelle Huppert and Melanie Laurent as a mother and daughter with a terrible relationship will finally arrive on DVD in the States. Greta Scacchi co-stars as their psychiatrist.
"The Human Trace" (2008)
Directed by Jason Satterlund
Released by Celebrity Video Distribution
A recent spate of murders confounds a cop who can't find any cause of death in Jason Satterlund's 2008 thriller.
"Interplanetary" (2008)
Directed by Chance Shirley
Released by Shock-O-Rama Cinema
Brimingham-based filmmaker Chance Shirley's sci-fi comedy takes place on Mars where a group of desk jockeys don't know what to do when they're attacked by aliens as well as a group that resembles them.
"A Marine Story" (2010)
Directed by Ned Farr
Released by Wolfe Video
A hit on the gay festival circuit where it won the audience award at L.A.'s Outfest for best dramatic feature, Farr's drama concerns a Marine officer (Dreya Weber) who runs afoul of the military's "don't ask, don't tell" policy and gets discharged early, leaving her to return to her conservative hometown where she trains a wayward teen (Paris P. Pickard) to follow her path, though their respective pasts threaten to haunt them both.
"No One Knows About Persian Cats" (2009)
Directed by Bahman Ghobadi
Released by MPI Home Video
"A Time for Drunken Horses" director Ghobadi goes to the Tehran underground music scene to follow two recently released prisoners (Negar Shaghaghi and Ashkan Koshanejad) who were incarcerated for performing Western music as they reclaim their lives and attempt to get passports so their band can skip to Europe to rock out at will. (Matt Singer's interview with Ghobadi is here.)
"The Parking Lot Movie" (2010)
Directed by Meghan Eckman
Released by Passion River
After making the rounds of the festival circuit last year, Meghan Eckman is parking her doc on DVD where audiences will be able to observe a group of parking lot attendants in Virginia who are stuck at a crossroads in their lives.
"Sharktopus" (2010)
Directed by Declan O'Brien
Released by Anchor Bay Entertainment
While it may not play as well as it did during Fantastic Fest at the Paramount Theater in Austin, this Roger Corman production will arrive on DVD, continuing the producer's crimes against biology for the benefit of a good time and bringing along Eric Roberts for the ride.
"A Shine of Rainbows" (2009)
Directed by Vic Sarin
Released by Fox Home Entertainment
A selection of the 2009 Toronto Film Festival, this family film based on Lillian Beckwith's novel stars Aidan Quinn and Connie Nielsen as a couple that takes in a child who has trouble conquering his stutter, but must if he's to impress his uncertain father-to-be.
"Spooner" (2009)
Directed by Drake Doremus
Released by Maya Entertainment
Before last year's "Douchebag" and this year's "Like Crazy" made Drake Doremus a staple of Sundance, the writer/director first went to Slamdance with this comedy starring Matthew Lillard as a 30-year-old underachiever who still lives with his parents that finally finds some initiative to get off the couch when he instantly falls for a young woman (Nora Zehetner) who unfortunately is en route for the Philippines.
"Step Off" (2011)
Directed by LaRon Austin
Released by Lionsgate
Conrad Clifton stars in this hip-hop drama about a struggling music producer starting over after a robbery who overcomes the odds to compete in a beat battle championship in Atlanta.
"Sugar Boxx" (2009)
Directed by Cody Jarrett
Released by Entertainment One
With Russ Meyer's frequent collaborator Kitten Navidad, the late Tura Satana and legendary exploitation director Jack Hill onboard, Jarrett's low-budget
women-in-prison flick is a throwback to '70s films like "Caged Heat" and Hill's own "The Big Doll House"
"The Switch" (2010)
Directed by Josh Gordon and Will Speck
Released by Lionsgate
An underrated romantic comedy that got lost in Disney's unloading of Miramax, the sophomore film from "Blades of Glory" co-directors Gordon and Speck is an adaptation of "The Virgin Suicides"' author Jeffrey Eugenides' short story about a man (Jason Bateman) who worries he impregnated his best friend (Jennifer Aniston) after he drunkenly knocks over a sperm sample and replaces it with his own when she's trying to get pregnant.
"Thunder in the City" (1937)
Directed by Marion Gering
Released by VCI Entertainment
In this rare comedy featuring Edward G. Robinson, the tough-talking star plays an American who seizes upon the discovery of a worthless mineral in Africa that no one in England can identify and passes it off as a valuable export to the British.
"Urgency" (2010)
Directed by Kantz
Released by Entertainment One
Brian Austin Green strikes his best badass pose as a pharmaceutical exec who learns his wife has been kidnapped and he has just a half-hour to figure out how to get her back and why he was targeted. It's directed by a man who goes only by the name of Kantz.
"Waste Land" (2010)
Directed by Lucy Walker
Released by New Video Group
The latest from "Countdown to Zero" documentarian Lucy Walker features a score from Moby to underline her exploration into the world of recycled art through the perspective of Vik Muniz, a Brazilian photographer who snaps pictures of the catadores who go through the world's biggest landfill in Rio de Janeiro and come out creating things of beauty.
"The Wildest Dream: Conquest of Everest" (2010)
Directed by Anthony Geffen
Released by Virgil Films and Entertainment
Liam Neeson, Ralph Fiennes, Alan Rickman and the late Natasha Richardson lend their voices to this documentary that chronicles the climb of George Mallory, the mountaineer who was the first to conquer Mount Everest, and Conrad Anker, who made the same trek 75 years later to find Mallory's remains.
New to Blu-ray: Louis Malle's "Au revoir les enfants" (Criterion), the 2006 Andy Lau starrer "Battle of the Warriors", "Yi Yi" (Criterion)