Look Who's Stopping By The Larry Sanders Show Tonight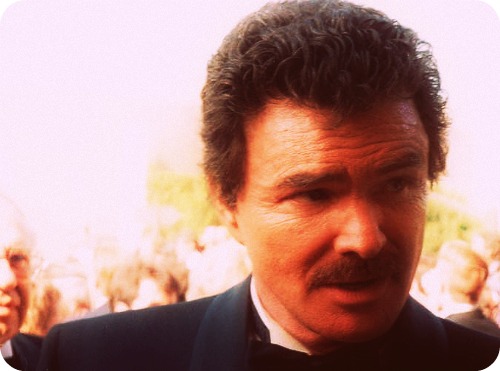 Posted by Melissa Locker on
One of the best things about The Larry Sanders Show is that along with the usual cast of Garry Shandling, Jeffrey Tambor, and Rip Torn, viewers get a cavalcade of guest stars who are a veritable who's who of 90s pop culture. On tonight's episode, though, the guest star is not just a 90s icon, but a living legend. He's been gracing screens large and small since 1959. He starred in pretty much every iconic movie of the 70s and 80s including "Cannonball Run," "Smokey and the Bandit," "The Best Little Whorehouse in Texas," "Stroker Ace," and "All Dogs Go To Heaven." Plus, he was the dad in "Out of This World" and he hit the big screen with a (literal, fictional) bang in "Boogie Nights". Yeah, we're talking about Burt Reynolds. He's stopping by The Larry Sanders Show tonight. So what is Burt Reynolds like as a guest on a late night show? To the YouTube!
Here's Burt Reynolds in head-to-toe leather on Johnny Carson's Tonight Show in 1974. You'll want to watch because whipped cream is involved:
And here he is gracing The Tonight Show couches when Steve Martin is filling in as host. Mustaches for all!
And here is Burt Reynolds behind the big desk, hosting The Tonight Show back in 1971. Charo ahoy!
Photo by Alan Light via a Creative Commons license. Thanks!
The Larry Sanders Show airs Monday-Wednesday at 11 p.m. ET