Little Scream's "The Golden Record"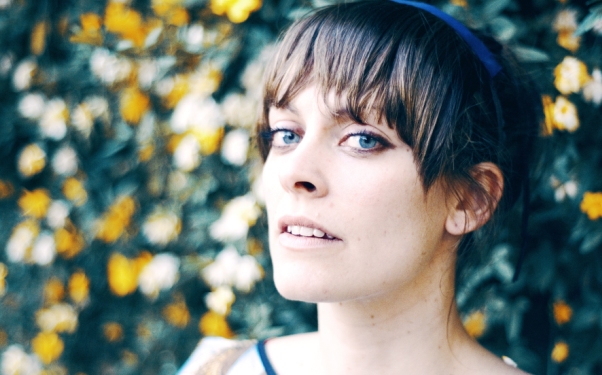 Posted by Brandon Kim on
Quebecois crooner, Little Scream, left a warm impression on me after watching a fog on the windows performance of her first single, "The Heron and the Fox," in a station wagon in the middle of January. Her second single, "Cannons" premiered today on RCRD LBL, which you can check out below.
Her album "The Golden Record" is her astonishing debut. Produced by Arcade Fire's Richard Reed Parry, I think it's going to inspire more sentient creatures than the 1977 Voyager Space shuttle's time capsule/golden record after which she named it.
"Cannons" by Little Scream by DOJAGSC
Download "Cannons" from Secretly Canadian.
"The Golden Record" is out today on iTunes and physically released on Secretly Canadian April 12th. Little Scream will be performing at SXSW later this month and then hitting the road with Sharon Van Etten on tour. I highly recommend watching this impromptu performance of "The Heron and the Fox."
SXSW dates:
03/16/11 Austin, TX – SXSW: Red 7 (Dead Oceans/Secretly Canadian/Jagjaguwar showcase)
03/17/11 Austin, TX – SXSW: The Liberty (Rawkblog / 24Bit) 2pm
03/18/11 Austin, TX – SXSW: The Spill (Pop Montreal Party) 12:40pm
03/19/11 Austin, TX – SXSW: The Spill (Planet Quebec) 11:00pm
US Tour Dates:
03/22/11 Tucson, AZ – Solar Culture w/ Sharon Van Etten
03/23/11 Phoenix, AZ – The Rhythm Room w/ Sharon Van Etten
03/24/11 San Diego, CA – Soda Bar w/ Sharon Van Etten
03/25/11 Los Angeles, CA – The Satellite w/ Sharon Van Etten
03/26/11 Costa Mesa, CA – Detroit Bar w/ Sharon Van Etten
03/27/11 San Francisco, CA – The Bottom of the Hill w/ Sharon Van Etten
03/29/11 Vancouver, BC – The Media Club w/ Sharon Van Etten
03/30/11 Portland, OR – Doug Fir w/ Sharon Van Etten
04/01/11 Boise, ID – Neurolux w/ Sharon Van Etten
04/02/11 Salt Lake City, UT – The State Room w/ Sharon Van Etten
04/03/11 Denver, CO – The Walnut Room w/ Sharon Van Etten
04/04/11 Omaha, NB – Slowdown w/ Sharon Van Etten
04/04/11 Iowa City, IA – The Mill
04/06/11 Minneapolis, MN – The Cedar Cultural Centre w/ Sharon Van Etten
04/07/11 Milwaukee, WI – The Pabst Theater w/ Sharon Van Etten
04/08/11 Madison, WI – The Rathskellar (U. of Wisconsin – Madison) w/ Sharon Van Etten
04/09/11 Chicago, IL – Lincoln Hall w/ Sharon Van Etten