Watch "Limitless"' Amazing Opening Titles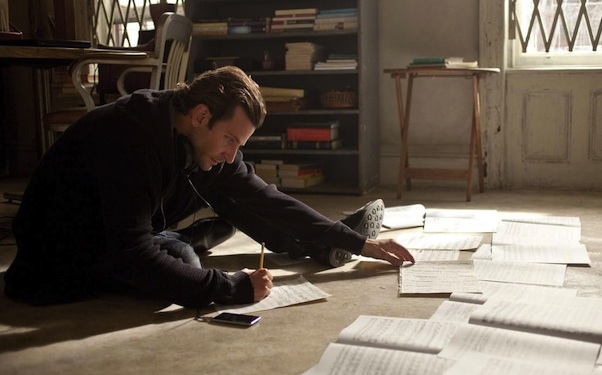 Posted by Matt Singer on
Three days.
That's how long it took after we put the finishing touches on our massive list of the greatest opening titles in movie history for me to want to revise it. That's because three days after we published the list, I saw Neil Burger's "Limitless."
Here's how I laid out our criteria for a great opening credits sequence in the introduction to that piece: "Bold graphic design and impressive cinematography are important, but how the design and cinematography is used is more important. These fifty films have style and substance. While they dazzle our eyes they're also busy engaging our brains and our hearts, establishing mood, presenting characters, and introducing themes."
All of that applies to the opening of "Limitless," 80 seconds of dynamic imagery that also serves to establish many of the film's recurring visual motifs and ideas. This visceral sequence sends us hurtling through the skies and streets of Manhattan as we get a taste of what Bradley Cooper's Eddie Morra feels on the brain-boosting drug NZT: an exhilarating sense of freedom mixed with the terrifying realization that said freedom might be uncontrollable. The ride is amazing, but there doesn't seem to be any way to make it stop.
I'm delighted to present the complete opening title sequence to the film, along with an interview I conducted just a few hours ago with director Neil Burger about the inspirations for, and execution of, this fantastic sequence.
Matt Singer: Where did the idea for the titles originate? Was it in the original script when you got it?
Neil Burger: It wasn't in the script. It was something that I wanted to do. I had this idea of visualizing the way Eddie's mind worked, how he looks at the microcosm and the whole at the same time. He's seeing the atoms and the planets simultaneously, if you will. So I started looking at fractals, because that's how fractals work. The part looks identical to the whole. Like snowflakes: if you look closely at one little twig of a snowflake it's the same structure as the larger branch, and if you keep going deeper and deeper into it, it's always the same.
And there are these things people have animated called "fractal zooms." But they're always done with amorphic shapes or abstractions. I wanted to bring it into the real world of New York City. I wanted to move down the street in an infinite zoom, where these shapes and buildings and structures kept seamlessly regenerating themselves.
I had the idea initially for Eddie's time-skipping blackout sequence, as a way of showing how his mind's moving through space and time. And then I thought that I would use it in the title sequence as well to create a kind of visual overture for the movie. Because the visual effects don't pop in until ten or fifteen minutes into the movie, and I wanted to make sure viewers were aware that the movie was going to go in that stylistic direction.
These fractal zooms are also a clever play on the way most movies begin, which is with some kind of big establishing shot that zooms in on a setting or character we're going to follow. You've taken that to this crazy extreme, which makes perfect sense for this movie, which is about a character whose brain goes to this crazy extreme.
Yeah that's right. In a way it does. It starts with what could possibly be his point of view jumping off this building, and we go into this reflection in the windshield of the cab and we keep going deeper and deeper. So, yeah, it is a play on that kind of movement. It goes seamlessly from the street into the brain and then the segments of the brain turn into the boroughs of New York and then we come down into Chinatown where Eddie lives.
So those fractal zooms: did you shoot them yourself or did you hire a effects company to make them for you?
I drew out this very specific idea I had and then we took the idea to a number of different visual effects companies. Everybody was game, everybody liked the idea, but nobody could figure out how to do it. And then they always tried to reduce it! They'd say, "Well what if it was just this one part?" So we went into production without a visual effects company. And it wasn't until after we finished shooting that I finally hooked up with this guy Dan Schrecker from Look FX, who I'd once talked to about an early incarnation of the job like two and a half years ago. We talked about it and then he and his team came up with a method to get what I was after. So it was designed by myself and Dan and then it was executed by Tim Carras from a company called Comen VFX.
How many drafts of the sequence went back and forth between you and the designers until you got exactly what you wanted?
Well the first thing they brought back was really just a test. It works by using multiple cameras chained together. You place them at different stations at very specific heights — I'm not going to say much more than that because it's a secret.
[laughs] All right.
I think the very first test was a bunch of little pieces of different stuff. I watched it and told them "Well this part is what I'm after." And then maybe the second or third go-around something very cool happened, where suddenly the sidewalk just seemed to go on forever. And I knew: that's what we're doing. But even then, we still had to test everything at different speeds and things like that. So it was a number of drafts, let's put it that way.
The score fits the scene perfectly. Was it written to the visuals?
Yes. In fact: there was no money for this title sequence. So when I went out and shot the time-skipping stuff that occurs later in the film — zooming through the night and the subway and all that stuff — I made sure that I grabbed some stuff that we could use for the opening. But we were working like crazy; we only finished the movie about three and a half weeks ago or something. So then I was like, "I want this title sequence," and it was already February. So we put it together very quickly and then sprung it on the composer, Paul Leonard Morgan. We were like, "Look we need an additional two minutes of music. Now." [laughs] And he not only had to compose it, he also had to graft it to the existing music in the scene. And he did.
Watching the clip again, the other thing I became cognizant of is how important the placement of the actual text is on the screen is, so that it's readable without being disorienting or distracting from the zooms. Was it a trial and error process to find that perfect placement?
Yes it was. I had a bunch of different ideas about that. I wanted the text to feel like it was kind of burned into the film a little bit, like almost branded into it. I wanted it really big, but I also wanted to be able to see the background. And I found the font we used in the original book [that "Limitless" is based on] in the chapter headings.
Are you a fan of title sequences in general?
I love cool title sequences when they feel organic. I think the trap with title sequences is if they feel like the beginning of a TV show, like its own little advertisement for the film.
One of the things I liked about what you did for these titles is that it felt fresh and different, but were there any classic sequences that you held up as inspirations?
Frankly, I hadn't seen anything quite like it before. In "Fight Club," obviously, the camera pulls out through the brain and then out through [Edward Norton's] pores but this is different from that. I wanted this to not be abstract. The whole movie has this crazy pace where you're cartwheeling forward in this feverish way, and I wanted an expression of that in the beginning of the movie.