Have a Little Faith in "Kumaré"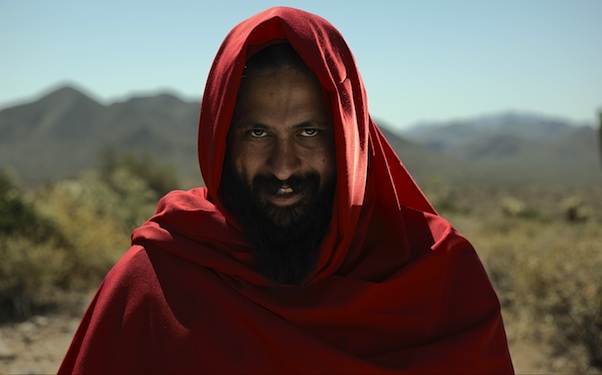 Posted by Matt Singer on
It's a provocative question: what gives a spiritual leader any more holy than the rest of us? It was that question that prompted Vikram Gandhi to create his film "Kumaré" in which Gandhi plays a fictional religious guru named, yes, Kumaré. Disturbed by the commercialization of yoga in America and the proliferation of charlatans posing as holy men, Gandhi conceived a "Borat"-style performance art piece. He grew his hair and beard, threw on a fake Indian accent, and became Sri Kumaré, the leader of an imagined spiritual movement that preaches the same philosophy that Gandhi set out to prove with the film: that all of us are equally spiritual and don't need a guru to tell us what to do. Gandhi and company decamped to Phoenix and installed themselves in the local yoga scene; before long, Kumaré was acquiring followers who were coming to him for guidance and advice.
"Kumaré" is a fascinating film. Sometimes it's very funny; other times it's downright troubling. Gandhi and his crew are perpetrating an enormous hoax on everyone and unlike the people Sacha Baron Cohen was punking in "Borat," these aren't racist bigots: they're sweet-natured, emotionally damaged people who are just looking to improve their lives. That uncomfortable tension is very much present in the film, though. As Gandhi grows closer and closer to his disciples, he struggles with his secret and how to reveal it. In the end, Gandhi may end up proving the very beliefs he initially set out to debunk.
It's a conversation starter, for sure. So we had lots to talk about when Gandhi and producer Bryan Carmel stopped by the Crossroads House for a chat. We dove into these issues, as well as some of the technical challenges of maintaining the Kumaré facade. And then at the end, they slapped a temporary tattoo on me which still hasn't washed off. Maybe the guy has spiritual powers after all.
Part 1:
Part 2: