Josh Radnor Talks "Happythankyoumoreplease"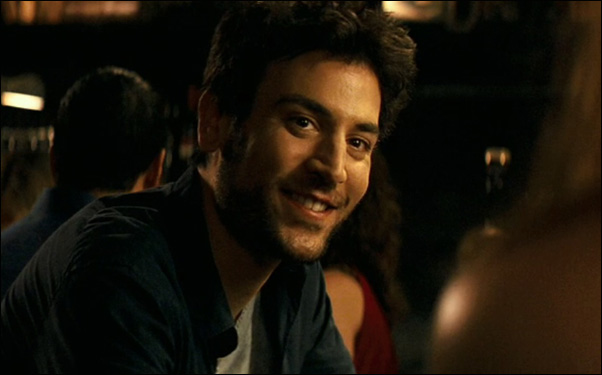 Posted by Stephen Saito on
No sooner than I sat down with Josh Radnor does he tell me that he's going to give me an exclusive, as he scrolled through his smartphone. "I just found out I've been named to my high school's hall of fame," he says, clearly taken by the honor with a smirk that suggested a mix of nostalgia and bemusement. Oddly enough, it's somewhere in between where "Happythankyoumoreplease," Radnor's debut as a writer/director, resides.
Not easily described as either a comedy, a drama or the usual variation thereof, Radnor's graduation into film after years of starring on "How I Met Your Mother" is a bit more melancholy than one would expect from its emphatic title, tracking the lives of five New Yorkers all having to let go of considerable baggage if they are to face the commitments standing in front of them. Since Radnor wrote the film to star in himself, naturally he has the most on his plate as a creatively-blocked novelist who takes in a young boy he sees abandoned on the subway around the same time he becomes smitten with another stray (Kate Mara), a waitress he meets at a local pub. Meanwhile, his alopecia-stricken best friend (Malin Akerman) fights off the advances of a well-meaning but plain-looking co-worker (Tony Hale) and his sister (Zoe Kazan) fears her longtime boyfriend's desire to move to Los Angeles.
Whether they're successful at charting a new direction for their lives is something that needs to be seen in the film, but it's clear Radnor's own turn behind the camera has been, already having garnered an Audience Award at last year's Sundance Film Festival. Thankfully, after a yearlong delay that can be attributed to a change in distributors [from the nascent Hannover House to Anchor Bay], audiences outside of Park City will have the chance to see it and I caught up with Radnor recently to talk about what went into making his directorial debut.
Are you relieved the film is finally coming out? It seems like it must be frustrating to do everything right, coming out of Sundance, and then discovering you need to find another home for your film.
I always had great faith that it would come out. I knew, given the Sundance reception and we kept winning audience awards at festivals, I felt like this is a movie that audiences respond to and someone's going to want to put this out and get it to an audience. So there was confusion in the midst of it, but Anchor Bay picked us up a few days after we left the other distributor, so it was kind of immediate. It was a very smooth passage into this other [distributor]. Then the delay happened, which has actually been fine — it's almost like you get to spend another year at home with your kid before he gets to go to school. There's a sweet time before it's released before the world gets ahold with it, so I got to spend a little more time with the film, which was okay with me.
The end credits note a bunch of actors (including Chris Messina, Rosemarie DeWitt, Jennifer Westfeldt, Sarah Chalke, among others) that "participated in readings of the script…and helped immeasurably in its development." As an actor yourself, do you think you developed the film in a different way than if you were strictly a writer and how did those readings impact the film?
The first reading I did was in New York with, I think, I had 80 pages or something. It was like two acts of the movie and every time I would hear it out loud, I would hear what was working, what wasn't working, what needed to be addressed and then actors actually have really good instincts about story and about structure because they're inside the script and kind of feel like "oh that didn't feel right." So I ended up doing about seven readings and they were all so helpful, both in New York and L.A. — it was really fun too, to gather all these great actors together and just hear this thing you had written take on some other life in the room. But the process of doing the readings was so invaluable to me that I felt like I wanted to thank them at the end. No one obviously did it for anything other than some wine and some crackers, but I wanted to tip my hat to that whole process because it felt important to me.
It just seemed like a different way of approaching a film.
It's more because I come from the theater where you do a lot of readings, you do a lot of workshops. Before it's on its feet, you might do like a one or two-week workshop where you just show it to people where you still have scripts in your hand and it's a more fluid process where you allow it to be in process rather than a finished product, so I just learned a lot about the movie and I learned that I should probably direct a movie from those readings.
The script made the Black List and there's usually some frenzy surrounding that. Were you hearing versions of it from other directors that made you think I really should do this?
I never had an extensive conversation with a potential director on it, so I didn't really hear about other people's visions. It was more my vision of it was so strong and so sharp that I felt it was probably best for me to assume to reins of the whole thing.
Other actors sometimes describe the transition from doing comedy on TV to film as being a bit rough since it's a different rhythm. Did you actually find that affecting what you did as a director or writer?
It's hard for me to say what this is. It's certainly not a straight-up comedy because there's moments of real genuine feeling and anguish and all those things and it's also certainly not a tragedy. There's a happy ending to the whole thing. So as a writer, if a scene was a little mopey, I would feel it was time for a joke and if a scene was really funny, I would try to end it on maybe a more somber note. But that was more reflecting what I feel what life is, which is both tragic and comic in equal measure on some level.
On a multi-camera sitcom, you're beholden to a certain rhythm when it comes to laughs. Like 20 seconds go by, you're going to have a laugh. I think one of the things "How I Met Your Mother" does really well is it balances that, where we'll go to some really serious terrain and we'll let it live there for a while. And it's bold in the world of sitcoms for a show to do that. That said, a movie gives you a lot more latitude in that I didn't have to have laughs in a scene at all. And that's okay because things aren't funny all the time.
After seeing the film, the title makes perfect sense, but did you worry with something quirky announcing your film like that, along with some of the other superficial elements of the plot that scream "this is an indie film" that you were putting a target on your back?
I don't know because I don't feel like a great student of indie film. It's not like I thought, "Demographically, I think there need to be more films about young people in urban environments!" I didn't think that and I don't think that. But I knew this was a story I wanted to tell and I'm not a cynical person. I think a lot of indie films get really dark and if I was doing any kind of subversion, it was flipping that on its head. But I think a lot of people go in expecting the film to be one thing and it's really not that thing and most of those people are pleasantly surprised by that.
"Happythankyoumoreplease" opens in New York and Los Angeles on March 4th.