Joe Cornish and Edgar Wright's All-Out "Attack" on SXSW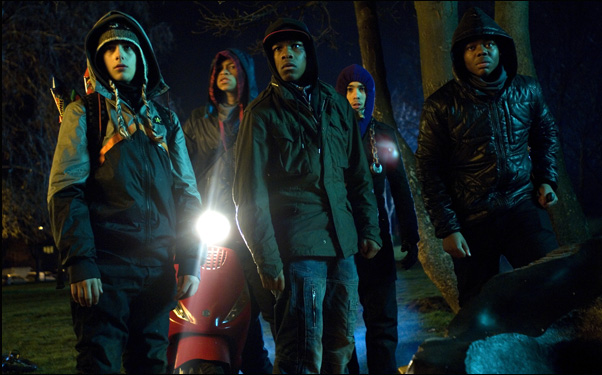 Posted by Stephen Saito on
The only invasion more impressive than the wildebeest-like aliens that descend on a South London street corner to terrorize its denizens in Joe Cornish's "Attack the Block" is the way in which the film itself came in and conquered SXSW. Deep in the heart of geek culture…err, Texas, the debut appeared to be one of the surest bets of the festival, given the involvement of executive producer Edgar Wright and that Cornish's arrival in the States comes after years of being a favorite in his native England as a radio host on the sketch comedy program "The Adam and Joe Show" and his work on two scripts with Wright for two of the more anticipated films around, Wright's "Ant-Man" and Steven Spielberg's "The Adventures of Tintin: Secret of the Unicorn."
It's probably no coincidence then that Cornish just made a film that thrives on the wit and joy that permeates Wright's work, hearkens back to the heyday of when Spielberg was producing seamless blends of science fiction, adventure and fantasy during the early '80s, and yet is something entirely unique unto itself as it takes a group of untested group of young actors who seem more likely to be cast in the next Ken Loach film and turns them into a group of teen ruffians who must protect their apartment building, armed with little more than bats and fireworks, from aliens with glowing green teeth. It's rare when a movie can have it both ways, but "Attack the Block" manages to be realistically gritty while simultaneously indulging in all the reasons we escape to the movies, pumped up with a simply awesome soundtrack by the Basement Jaxx, fearsome creatures, and as one character says in the film, "Too much madness to explain in one text." So in addition to Matt Singer's recent chat with Cornish and co-star Nick Frost, who appears in the film as a pot dealer under siege, in the IFC Crossroads House, I sat down with Cornish and Wright to discuss the origins of the film and their friendship, as well as Cornish's rare ability to treat teens with a proper amount of gravitas, the dearth of genre film in the UK and the anxiety of his SXSW premiere.
How did this become the film you wanted to make as your debut?
Joe Cornish: Well, I've always wanted to make a film. I went to film school after I left school in Britain, the same place Edgar went to actually in a seaside town called Bournemouth in the south of England and then my career path was weird really. I worked as a production assistant on feature films in London and then I got a break to do a TV show called "The Adam and Joe Show" in the UK and I developed stuff for years and this was just the one that kind of came to fruition. I pitched a whole lot of ideas and this was the one that everybody leapt on.
You mentioned the other night how it was a bunch of first-timers working together – the cinematographer Thomas Townend, Basement Jaxx, many of the young actors in the street gang are all doing their first films — how did that manifest itself into the type of atmosphere you had on the film?
I'm sure Edgar will agree on your first film, it is difficult because everyone around you has more experience. The lighting guys will have done five films a year and you're the guy who's in charge but yet you're the guy with the least experience. Plus, I think actors who will agree to do a first film usually are probably a particular type of actor, do you think? A little bit generous, prepared to take a risk, prepared to put their reputation on the line. I think it's a particularly good type of actor who will take a risk on someone like me or maybe -[pointing to Edgar] you'd done "Spaced," so you had more authority maybe, but I certainly felt that.
Edgar Wright: We both have come from a TV background before our films and sometimes in lots of different ways, you're made to feel like you're not worthy of doing a film.
JC: Yeah.
EW: [laughs] It still feels like a big leap, doesn't it?
JC: Very much so, between TV and film, absolutely. But the nice thing about those kids were they were as inexperienced as I was and it was like we were all going on an adventure together and they were so enthusiastic. They were just so excited about being in a film about fighting aliens. They couldn't believe it. I think they expected to be, if they got their break, their break to be some gritty, depressing crime drama and to be asked to be in a film with chases, aliens, explosions, motorbike stunts and effects, CGI? That was exciting as well because these kids are the target audience, so to know that they're just excited by the premise before you've even started shooting was really cool.
I have to imagine that you had to be excited by those things as well as film geeks – what's it like when you get to create your own monster or do the makeup tests for the first time?
JC: It was exciting. It was super exciting to get Terry Notary, who was our creature performer, he was in on the ground floor and he worked with Spectral Motion based on my design and yeah, the whole thing's amazing, man. To have an idea, to have someone have the confidence to give you the money and particularly as a first-timer with something this ambitious, I still don't quite believe that they had confidence in me, especially in Britain because we don't make films like this very often. So hats off to Film Four, to Optimum and big hats off to Edgar, really, because if Edgar hadn't made "Shaun of the Dead," and that hadn't been successful, I don't think I would've been able to make this film. He opened those doors that I, with a bit of luck, have gone through.
Edgar did forge something quite unique with "Shaun of the Dead" and "Hot Fuzz" in particular where the genre was obviously where the ideas sprung from, but he's created a genre of his own where it doesn't take itself too seriously, and it's not parody, but at the same time it's very funny. Did you feel you had those type of expectations on this film, given he was an executive producer?
JC: Well, I made a very silly TV show, with a lot of stupid sketches and animation and yeah, I was concerned that people would expect me to do a kind of…I flatter myself by saying a "Team America"-type thing because that's a fantastic film. But I think people maybe thought I would do something sillier, but for me, my favorite comedy films aren't out and out comedy. They're something else plus comedy. And comedy's the bonus. For me, comedy works best when it's a drama with laughs, a thriller with laughs, a horror film with laughs. And for me, the key is to be dramatic or scary and then the laughs come from that.
EW: I think we both came from a TV comedy background. I don't think people necessarily thought my first film was going to have a horror element. I think probably me and Joe were, when we were doing TV, frustrated genre directors. [laughs] So I think our start in comedy comes through in Joe's film and my first film. But I think both of us are at a similar age where we grew up in a period in the UK where there's quite a dearth of genre films and all of the ones that we would be watching that were on general release were all American, occasionally some international ones, but not usually at the cinema. [Looking at Joe] Would you agree those were the films growing up that both of us as we had come to get our first opportunity to make one of the films we wanted to make whilst we were growing up?
JC: Definitely. Yeah, I think our generation, we had Spielberg and Lucas making the best kids' adventure cinema there's ever been. In England, there was a particularly amazing period when home video first started when we were children where there was no certification. So you could go to the cinema and watch these incredible, historically good kids' films and you could go to a video store and we could watch "Zombie Flesh Eaters," "The Exorcist," and "The Exterminator" and then be completely traumatized by that stuff. So we grew up in a cool time in pop culture when none of it was really being reflected in our home culture. There's a lot of good genre stuff on TV in the UK, but for some reason in the '80s and '90s, it seemed to be abandoned. There's loads of good shit in the '60s and '70s in the UK, but for some reason, the '80s and '90s is a bit of a dead zone. [looks over to Edgar] Is that too much of a generalization?
EW: No, I think that's fair and one of the things I think is a lot of genre films in the UK were lauded in retrospect. I don't think many people were proclaiming the original "Wicker Man" as a classic when it first came out or even the Hammer Films. I think they're looked back at fondly rather than necessarily being [having] any kind of real critical support at the time. And then what happens in the '80s and '90s, the British genre film had gone completely.