James Wan and Leigh Whannell Creep Back in With "Insidious"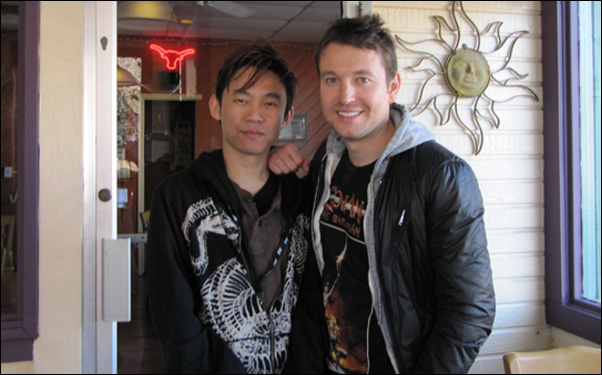 Posted by Stephen Saito on
Shortly after ordering a stack of pancakes on the morning of the his film's premiere at SXSW, James Wan is explaining how he much prefers the "sugary crap" to maple syrup, a notable precursor to our conversation since the half-hour that followed was a demonstration of how sweet he and longtime collaborator, actor/screenwriter Leigh Whannell, can be. In each other's company, the two giggle as they kid each other about Uwe Boll movies and enthuse about Barbara Hershey in a way only film buffs can. Which is why it remains something of a mystery why these two kindly kids from Melbourne, Australia always aim to scare the bejeezus out of audiences, though it's one with considerably less intrigue than their latest film "Insidious," a thriller that operates like a Rubik's Cube of horror subgenres where once you've unscrambled one side, it's onto the next.
This mashup stars Patrick Wilson and Rose Byrne star as parents who have recently moved into a new home when their older son (Ty Simpkins) falls into a coma after hitting his head, leading Byrne's Renai to believe their new digs are cursed, only to discover after moving across town that while the kid's body may be at rest, he may be running amok elsewhere as a result of astral projection. As you may have heard, the film was produced by the creators of "Paranormal Activity," which isn't only interesting as a marketing hook, but as a union of the two parties most responsible for the direction of horror films in the last decade, considering that Wan and Whannell's debut "Saw" would eventually popularize the gore-heavy leanings of the genre in the years that followed despite the fact the initial film in the franchise induced far more chills with its wits than severed limbs.
Although it's no less terrifying, there are no body parts flying in "Insidious," either, but the film does share the go-for-broke abandon that made "Saw" such a success as well as the fact that for the first time since then, Wan and Whannell have made a film completely independent of the studio system, which the two talk about, in addition to how they got into the supernatural and their friendship, in the interview below.
Leigh has said before that this was the right time for this movie to be made, so why now? I imagine it had to be a difficult film to pitch to people.
Leigh Whannell: We didn't actually pitch the story to anyone. The producers of "Paranormal Activity" came to us and said we want to make a film with you and that sparked the idea for the film. It was like we were ready to take it easy and do nothing. [laughs] Then all of a sudden from nowhere, it was like bang, let's make a movie and next thing we know, I was writing and then by the time I got back from Australia, they were in pre-production.
James Wan: We started making the film without him. It's like, "Hey guys, but I want to make the film!"
LW: I came back they had finished shooting.
JW: We had to digitally insert Leigh in the film.
In a strange way, "Saw" and "Paranormal Activity" came to represent the opposite extremes of the horror genre of the last decade, which made it easy for people to suggest there was a rivalry between the two in the media. Were you actually surprised when "Paranormal"'s Oren Peli and Jason Blum reached out to make this?
JW: Actually, all the made-up competition came along after Leigh and I had already befriended the producers of "Paranormal Activity" and so when all that stuff was happening, it was more "huh" – one of those things that came along after. But like you say, it really was made up by the media because we all get along really well.
LW: It's funny. We never mentioned "Saw" or "Paranormal" throughout the entire making of this film. We just talked about this film, that was the priority. They definitely love it as much as we do, so unless they're doing some sort of drawn out conspiracy to ruin us, then they're onboard with this film.
JW: There's no need for them to do that, right?
LW: We did it ourselves. [laughs]
Were you a little frustrated by what you were seeing in the horror genre?
LW: We didn't think there was anything scary out there.
JW: That was our thing. At the end of the day, Leigh and I just wanted to make something that was unique and scary, but yet people go in there and they're familiar with it. We picked a particular story structure within the horror world, which is the haunted house subgenre that everyone gets, right? And possession. So we combined those two elements, but then within that, that's where Leigh and I always had fun with our project – that's where we take what you think you know about the film and then we just start twisting and spinning the film around.
Speaking of twisting, it seemed like the camera was always moving, which seems like a break from other films like this where there might be long panning shots, but the camera still might be shooting from a stationary position.
JW: Even though the camera moves a lot, I think it's there to slowly build the tension and they're not fast camera moves at all. They're very controlled. I definitely wanted to make a very classical, old fashioned horror film based on very classical, old fashioned filmmaking. If you go back and see what Spielberg did with the first "Jaws," it's all very controlled camerawork – or "Duel."
LW: I read one review that said your direction was very reminiscent of "Dressed to Kill." That's pretty cool. Is that something you noticed at all [with the camerawork]?
JW: I look back at my body of work and I definitely see things that excite me in the same way that excite Brian DePalma for sure.
LW: The way he loves to move the camera in…
JW: It's not just that. He moves his camera, but he does it in a really interesting way.
LW: That opening shot of "Insidious," to me, is a very DePalma-esque shot. [The camera] comes in upside down and then twisting around.
JW: I was very inspired by someone like [Roman] Polanski as well, [in how] he takes slow, brooding movies that are made in such confined spaces and just builds on that and builds on that and builds on that. That's what we want to do. But instead of paranoia that we're building on, we're building on supernatural things.
One of the best things about the film is that you don't feel manipulated by the frights, which seems to derive directly from having more control over the picture – like editing yourself. What was it like to make an independent film again?
JW: Definitely from our conception of the project to Leigh writing it to me making it, shooting and editing it, post-production and music, I would not have been able to have done all that if I had done it through the studio system. If I had funneled it through the studio system, the movie would have a very different flavor to it.
LW: If we hadn't been given creative freedom, I think the movie would've been different in ways subtle and big. When I was writing, the freedom we were given didn't manifest itself in me thinking, wow, I can do anything. I can have pink elephants dropping out of the sky.
JW: You could.
LW: I wanted to. That scene's actually on the disc's deleted scenes. [laughs] The freedom we'd been given meant that I felt freer with the details. Things like taking time with the characters, being able to establish who they were, having a scene there that may not necessarily advance the plot in a huge way, but it says something about who the characters are. Those were the ways I used this filmmaking capital that had been given to us, not by going and making the craziest thing ever, but by actually taking this rigid form and inserting things into it that you haven't seen in awhile like getting to know the characters.
Think of "The Exorcist." How much time was spent in the opening scenes of "The Exorcist" just getting to know the family? I feel like if "The Exorcist" had to be made today, I think they'd say we don't need this stuff at the start with the mother being an actress. Why do we need to see her on a film set? That's not important to the possession story. But in the '70s, you had that room. So in our own small way, we wanted to hearken back to that.