Bob Forrest and Keirda Bahruth Capture the "Monster"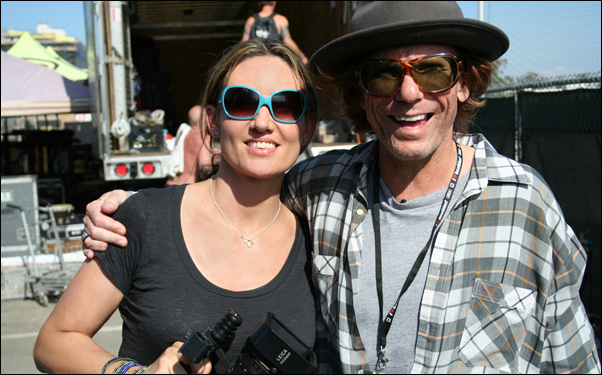 Posted by Stephen Saito on
In the midst of one of the biggest music festivals in the world, Bob Forrest wanted the music to be shut off. "Look at this fucking thing that's going on," he asks me, gazing back in the direction of Austin's infamous 6th Street. He laughs, "Do you want to be over there in that fucking thing?"
Though Forrest is still an active musician, there was a time when he was right in the middle of the fray. As the frontman of Thelonious Monster, he came up with a group of Los Angeles bands including the likes of Red Hot Chili Peppers and Fishbone (also the subject of an excellent documentary at SXSW called "Everyday Sunshine") that ruled the L.A. scene in the early '80s with a sound that found the rhythm in chaos described as "drunk rock" by one critic. And Forrest was drunk, and high for most of it, alienating bandmates, missing in action for his immediate family and failing upward as Thelonious Monster became coveted by major labels, even though the band would never hold together long enough with a tempermental lead singer to ever see mainstream success.
However, where "Bob and the Monster" differs from most documentaries about burnt out musicians is that Forrest ultimately traded one art for another, becoming a drug counselor with an unusually compassionate touch. Some may know this already from "Celebrity Rehab," the VH1 show where he's often been a shoulder to cry on and without a doubt the calmest person in the house. (Outside is another matter since as he told the audience at the film's premiere, "lf you're a fan of that show, I appreciate it, but I'm not.")
Still, what director Keirda Bahruth captures in "Bob and the Monster" is the wild streak that fueled Forrest's early days as singer/songwriter who found eloquence in the mundane to his crusade against the accepted treatment of addiction, which trades out injections and inhalations for prescription pills in favor of a more human, compassionate approach. As the film demonstrates, none of this came easy to Forrest, who had to endure some unusual discoveries in his family tree, a post-rock life flipping burgers in the L.A. coffee shop Millie's, and a particularly ill-conceived cover of Jimmy Ruffin's "What Becomes of the Broken Hearted" on his way to becoming a confidant to the likes of Courtney Love and opening his own shop, Hollywood Recovery Services, to practice the treatment that helped him recover from his own demons. A day after the film's premiere at SXSW, Forrest and Bahruth sat down to discuss his remarkable story, as well as some of what wasn't in the film, the ways the music industry and the drug industry are quite similar, and why there really are second acts.
How did this documentary come together?
Keirda Bahruth: I have been aware of Bob since I was a teenager through his band Thelonious Monster. I was a fan of his band and through that, I came across a record that he put out called "The Bicycle Thief" in 2000. When I heard that record, I was really moved. I knew Bob had a drug problem back in those days and "The Bicycle Thief" is a very autobiographical record, so you could hear a lot of his story. And I became very intrigued with wanting to make a film about him. I knew that there was a really compelling, interesting story, and Bob is very likeable, so I approached him.
Bob Forrest: The Bicycle Thief record really is a document of what happened after the crash – it has a song about the first time I picked up a guitar sober, like really sober after years of trying. And I always feared getting back into music because I thought it would lead back into drugs. A lot of that is on there – that hesitancy. It's a pretty honest document of what it's like to survive drug addiction and what it's like to try to create a second happier life. Then [Keirda] came and asked about the story and the story hadn't been written yet. That's why the film kind of ends like what is he doing? [laughs] I like that feeling because I don't know what I'm doing. I've got a company. I know that. I'm barely breaking even, I know that. I've got a philosophy that's not very popular, I know that. [laughs]
KB: But you know what, Bob? One of the things that he said to me when I said I want to make a documentary about you, and he said, "that's great. There's been a few people that have tried already." So what had happened there?
BF: There was more of a kind of biopic version of it and then people were compiling things, but why I think the film is so compelling is that there is a developing second act of my life. F. Scott Fitzgerald said, "There's no second acts in American life" – that's because he's an alcoholic who died of alcoholism and never had a second chance at life. So my getting sober then is in the process of becoming. And I think that's documented well in the movie.
I'm not an expert about anything. Anybody who says they're an expert about addiction – how can you be an expert about something so vague? You can generally educate and say this is generally what happens, but I've just seen too much [to standardize] what is the thread that goes through this process that people – drug addicts and alcoholics – transform themselves — it's indefinable. So how can you be an expert about something that's indefinable? You can be an expert about describing it and describing generally what happens, but there is no cookie cut formula and that's my problem with the industry itself that says there is a cookie cut formula.
This film also isn't a cookie cutter documentary, using claymation to depict some of Bob's drug use and since it was filmed over many years, the film's interviews look to be conducted on several different types of cameras, which give it an interesting texture. Was that something you embraced or was it frustrating over time?
KB: I started to embrace that. I think as time went on, I really had a desire for the film to want to look better, but I really embraced the formats of the '80s too. I really love the way VHS cam looks. I really love the way Super 16 looks. And it really was just a collective of all these different formats, so the Panasonic camera, the SD camera that we used to shoot Anthony [Kiedis] and a couple of those interviews on, that was the popular camera in 2006. Cut to 2010 when we interview Courtney Love and we're shooting on an HD cam, then you up-res it all to HD, which is the format now, it's the great sum of the SD cam that used to look really good. So it was a process that could've been disheartening, but I learned to embrace it. And so you know what? This is a story that was told over 30 years and at the end, it gets super clean because we're in present day and in the '80s, it was really gritty.
BF: Just as a viewer, I think it's like the memories of things. Some are cloudy, some are distinct – that's how I see it. I don't mind that it shifts all around. It seems to bother film people more than just fans of film. [Pointing to Keirda] She saw some blurriness and I'm like the whole thing is memories and ideas and trying to recapture and trying to show [what happened]. [laughs]