In San Francisco, a Battle Between Nintendo and Apple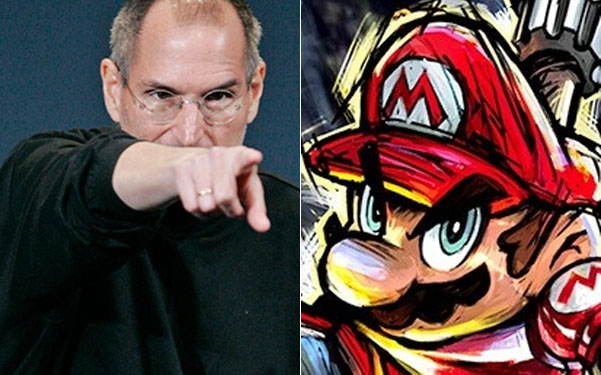 Posted by Chris Plante on
At 9 a.m. this morning, Satoru Iwata, the president and CEO of Nintendo, stepped onto the stage in the South Hall of San Francisco's Moscone Center to deliver the keynote speech for the annual Game Developer's Conference. Separated by a street and an hour, Steve Jobs sat on a couch on another Moscone Center stage at 10 to announce the iPad 2. Together, they represented a larger battle in the games industry pertaining to the value of software. The ramifications are significant and today there was a clear winner.
The second half of Mr. Iwata's talk, never mentioning Apple directly, criticized hardware manufacturers who have no direct investment in video game software. They worry about music or phones. Where will developers be, he warned, when these companies no longer need games.
With a wide smile, he echoed the disdain shared by many big name publishers for the extremely cheap (or free software) available on mobile devices. Nintendo, he let it be known, has a quality standard. The DS and Wii do not allow their platform to be flooded with thousand of sub-par products.
Is that true?
Immediately before this, Mr. Iwata had loaded a graph on the massive screen behind him that showed Nintendo's hardware hosting nearly two times as many games as the hardware from competitors Sony and Microsoft.
And look on Metacritic. It's no secret Wii and DS third-party developers have released trashcans full of stinkers.
Jobs, reclined with the iPad 2 in hand, seemed less interested in attacking Nintendo dead on – the location probably said enough. The iPad 2 will continue to encourage low-priced software. For example, an iPad version of Garage Band will be available for $4.99. The device itself will also be much faster and slimmer than the original iPad.
Access to the store — both for developers and consumers — will be easy as ever.
For us, Jobs won the round. The GDC hosts thousands of amateur developers who want to find a profitable route into the industry. While Apple's market is (very) crowded, we continue to see surprise success stories on a monthly basis. Good content is rewarded.
Nintendo's answer for indie development, the DSi Store, is almost unknown by the public at large and largely ignored by DS owners. It won't even be completely available for the 3DS at launch.
Nintendo may have the ability to fund the massive budgets for $40 retail titles. Three person development studios, however, cannot. At a festival seemingly dedicated to the underdog, its hard to stomach a message from the fat cats.