IFC + SXSW: Meet The Bands, Rural Alberta Advantage Edition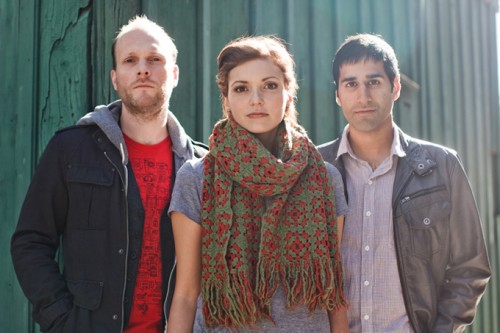 Posted by Melissa Locker on
March 19 at 4 p.m. You'll want to mark that date and time in your iCal or old school paper datebook (is that what they called them, grandpa?) because that is when Rural Alberta Advantage will take the stage at the IFC House at SXSW. (Have you RSVPd yet? Do it now, we'll wait.) Don't worry, we're live streaming the show right here on IFC.com, too. Want to see who else is playing? Check the schedule and follow us on Twitter (@IFCtv) for updates.
The Rural Alberta Advantage got a lot of well-deserved attention after they opened for Grizzly Bear at SXSW in 2009. Their lo-fi folk epics with interwoven harmonies and thumping drums are engaging for music lovers of all stripes. The group may not be well known yet, but fans of Neutral Milk Hotel, the Shins, and Arcade Fire are sure to recognize the kindred spirits crafting their ingenious and eloquent songs. The group consists of singer/guitarist Nils Edenloff, drummer Paul Banwatt, and Amy Cole, who provides keys, percussion, and backing vocals. And, yes, as advertised, they are from rural Alberta, Canada.
Here's their song "Stamp". Please to enjoy and come check them out on March 19 at 4 p.m. in Austin or online:
The Rural Alberta Advantage – Stamp from Saddle Creek on Vimeo.