IFC + SXSW: Meet The Bands, Emmylou Harris Edition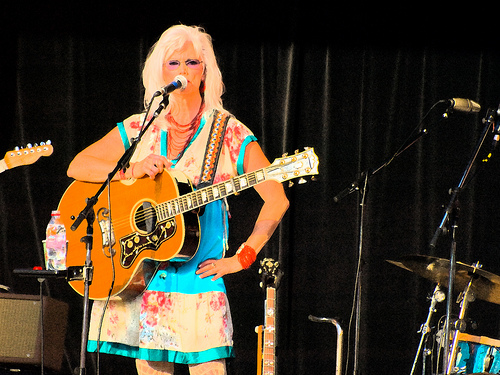 Posted by Melissa Locker on
The annual SXSW music, film, and interactive festival is the place to find the latest buzz band, must see film, and go-to app, but sometimes you don't want the latest, you want the greatest. That is why we are thrilled that country-folk legend Emmylou Harris is performing at the IFC Crossroads House at 2 p.m. on March 18. Put on your boots and kick up a little red dirt for the singer whether you're in Austin or watching our live web stream right here on IFC.com.
Emmylou Harris has been a musical force for almost 40 years. She has played with Gram Parsons, Bob Dylan, Linda Ronstadt, Neil Young, Mark Knopfler, and Dolly Parton. She has also been keeping busy teaching the kids how it is done by accompanying Ryan Adams on his solo debut "Heartbreaker", playing with Conor Oberst on a Bright Eyes album, and Tracy Chapman on her fifth album "Telling Stories."
Her latest album, "All I Intended To Be" was released to much critical acclaim in 2008 and included musical contributions from the McGarrigle sisters, Vince Gill, Phil Madeira, and Dolly Parton. The singer and songwriter is back on the road and we are thrilled to have her at the IFC Crossroads House. Pick up your wristband, bring your badge, or watch from the comfort of your desk at work via our livestream on March 18 at 2 p.m. CST.
Here's her classic song "Red Dirt Girl" to get you in the mood to come see a country legend in Texas or online:
Photo from Armadillo60 via Creative Commons. Thanks!