How "MTV Music Generator" and Jim Guthrie Inspired the Next Big Mobile Game, "Sword and Sworcery EP"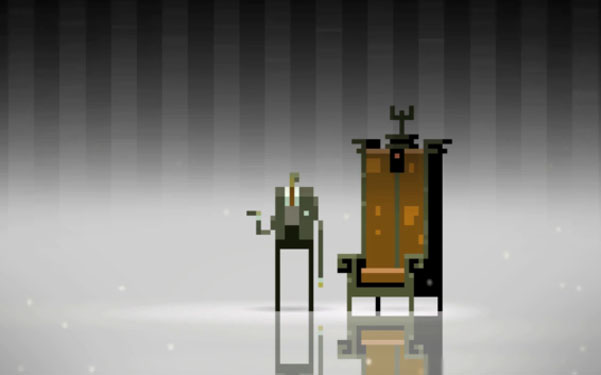 Posted by Chris Plante on
It's no secret that we're enamored Capy Games' latest title, "Superbrothers: Sword and Sworcery EP," a downloadable game that will release on the iPad and iPad 2 sometime around the vernal equinox. We had a chance to catch up with one of the developers, Craig Adams, at this year's Game Developer's Conference. He updated us on the project, discussed future Superbrothers plans and praised "Motorstorm: Pacific Rift," all of which we'll get to as "S:S&SEP" approaches release. One thing we're happy to share today is this fascinating moment from the official Superbrothers' genesis story.
A few minutes into our conversation, Adams praised Canadian musician Jim Guthrie, who he credited as an inspiration and an honorary member of Superbrothers.
"I sent him my first published illustrations back in 04, and lo and behold he got in touch. He's just that kind of guy. He actually sent me a record. 10 compositions he'd made on a PlayStation. Totally unreleased. Totally unlike anything else that he'd ever made. "
"He has this PlayStation 1 with "MTV Music Generator" that's he's been carrying around for years now. When he was on tour with Royal City, he'd be in the tour bus with this PlayStation and a controller, plugging in all these incredible compositions. Basically, getting these beautiful songs out of the weirdest technology."
"He sent me this thing — that was in the early days of Superbrothers. I had this dream I wanted to pursue and this genuine, bona fide rockstar gave me some raw materials that I could do something with. I'd been banging my head against a lot of prototypes. I wasn't a programmer and this was back in 03 or 04 when indie gaming didn't exist. Whatever it was I was trying to do no one around me understood. There was no context for it. I was trying these prototypes, getting far enough to be excited, then failing to solve the bugs or whatever."
"So when I got this music, I was like I know what I can do. I'll make a music video. I'll take the prototype I want to make and instead I'll just animate it. I called it "Children of the Clone," which was the title of the song Jim [Guthrie] gave me. He took one note on his guitar, put it on a memory stick, jammed it into his PlayStation, replicated it a million times in this composition that starts out as a single note and ends up like this bizarre, I don't know, harpsichord sounding thing."
"I showed it to Jim. I was so proud, because I'd never done anything like that. And Jim dug it. We've been vaguely in touch ever sense."
Guthrie is providing the music for "Sword and Sworcery," and the businessman character from this clip makes an appearance in the most recent trailer. Here's "Children of the Clone."
THE CHILDREN OF THE CLONE from superbrothers on Vimeo.