Ahoy! Five Nautical Flicks To Watch After 'Deep Water'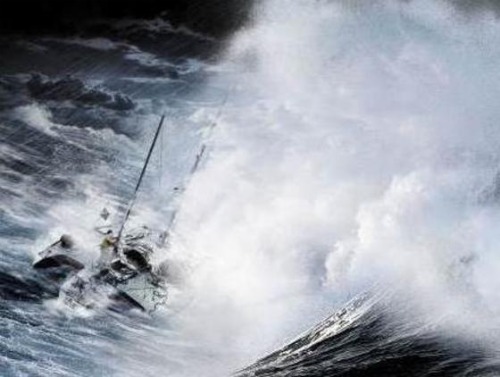 Posted by Melissa Locker on
Today at 1:15 p.m. ET, the historical documentary "Deep Water" airs on IFC. The film chronicles one of the most infamous nautical tragedies — the 1968 voyage of Donald Crowhurst around the world as part of the Golden Globe sailing competition. The directors use narration from Crowhurst's journals, archival film, and interviews with the sailor's family, friends, and colleagues to craft a portrait of a man sinking rapidly into a pit of despair as he comes face to face with his own darkest nightmares of personal failure. But don't worry, there's no Celine Dion theme song to really depress you. If this film gives you a taste for the briny deep, here are five more nautical films to have you dreaming of setting sail:
"The African Queen"
In the middle of World War I in German East Africa, Humphrey Bogart and Katherine Hepburn decide to take down a German warship using only a small boat and their wits. If it wasn't Bogie and Hepburn it would sound ludicrous, but together these two can do anything.
"The Poseidon Adventure"
Ernest Borgnine stars in this action-packed film about the capsizing of a luxury ocean liner by a tsunami. In a desperate attempt to survive the shipwreck a handful of survivors led by Borgnine journey up to the bottom of the ocean liner before it sinks.
"Jaws"
If there's any landlubber in you, this film will appeal to it. Steven Spielberg's 1975 thriller sets Roy Scheider, Richard Dreyfuss, and Robert Shaw against a man-eating great white shark. The result is terror from the deep frightening enough to win a place on our list of scariest movies ever.
"The Master and Commander: Far Side of the World"
Director Peter Weir's first turn behind the camera since 1998's "The Truman Show," stars Russell Crowe as the swashbuckling Jack Aubrey, Captain of the HMS Surprise. Set during the Napoleonic wars, the movie won the Oscar for Best Cinematography based on it's breathtaking scenes of life at sea. The film is based on Patrick O'Brian's wildly popular Aubrey-Maturin novels. Added bonus: It airs on IFC on Friday at 7 p.m. ET.
"Purple Noon (Plein Soleil)"
Based on the novel "The Talented Mr. Ripley" by Patricia Highsmith, this tale of identity theft, privilege, and a heart of darkness is a brilliantly tense mystery. The novel was later made into a film of the same name by Anthony Minghella. While much of the action takes place on land, the real drama happens on open water or at least off the bow of the boat. And, ladies, if you haven't met Alain Delon, yet, you may want to clear your movie dance card.
"Deep Water" airs on IFC today at 1:15 p.m. ET; Also on Monday, Mar. 14 at 6:00 a.m. and 1:30 p.m. ET