The Legendary Emmylou Harris Plays The IFC Crossroads House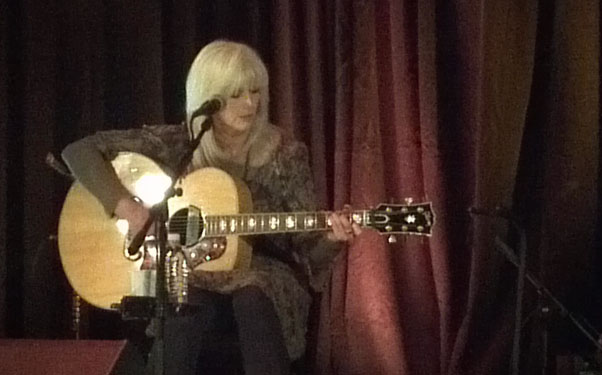 Posted by Stacey Brook on
"Do you know why you're here?" asked Emmylou Harris after strumming out the first song from her hour-long set at the IFC Crossroads House yesterday afternoon. "We're playing pretty much all of the new record before it comes out."
How lucky can you get? Harris – songwriter, coveted vocalist, legend – took the stage with producer and guitarist Jay Joyce, and multi-instrumentalist Giles Reeves, her collaborators on a soon-to-be-released album of warm, spacious, country-tinged songs. Her first solo studio release since 2008, the album is called "Hard Bargain" after a Ron Sexsmith song and the record's title track. The show marked Harris and crew's second time attempting to recreate the album in a live setting (the first was in a showcase at Antone's the evening before), and Harris embraced the inevitable hiccups and false starts with humor and good spirit. "This is our spring training," she said.
The intimate event took the form of a classic storytellers setup, Harris introducing each song with a small, spoken prelude. "This is a prayer for all the couples separated by war and for their safe return," she said, before singing a song inspired by a piece of art from a friend, the chorus painting an emotional picture. ("And she kisses the ship on his arm.") All of Harris' original songs were touching and personal, inspired by everything from homelessness in Nashville, to animal activism (a cause near and dear to Harris' heart), to the recent passing of Harris' dear friend, Kate McGarrigle. She even unveiled a song written with the great Will Jennings for her just-born grandchild – a sophisticated lullaby if there ever was one. The song is dreamy, ethereal, heartbreaking and splendid, delivered with the poignancy and tenderness only Harris possesses.
Seated between Joyce and Giles, an aura of calm and comfort glowing around her signature silver tresses, Harris sounded as heavenly as one would hope, her voice wizened, earth-grounded. She and her crew may just be getting this new material under their belts, but what a privilege to watch such talented people work out new beauty in an close quarters.