Edward Burns' "Newlyweds" To Close Tribeca 2011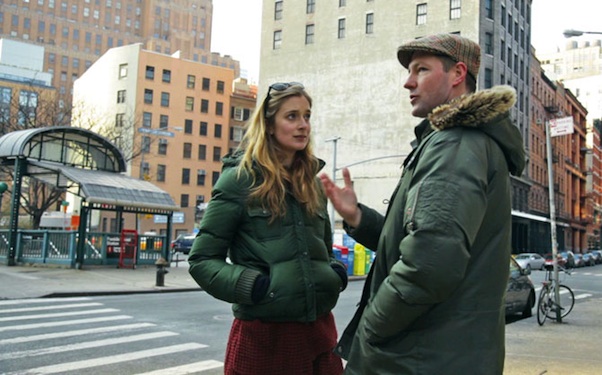 Posted by Matt Singer on
The Tribeca Film Festival has announced that it will close its 2011 edition, the festival's tenth, with the world premiere of the tenth film from writer/director Edward Burns, "Newlyweds." The synopsis from Tribeca's press release:
"The film, shot almost exclusively in New York City's TriBeCa neighborhood, is a chronicle of modern marriage, pointing out an essential truth: When you get married, you're not just getting a husband or wife–you're getting the family, the friends, and even the exes. With crackling humor and sharp insights into contemporary relationships, Burns tracks a newly wedded couple whose honeymoon period is upended by the arrival of the husband's wild-child baby sister and the crumbling marriage of the wife's meddlesome sister. The cast includes Burns, Caitlin Fitzgerald, Max Baker, Marsha Dietlein Bennett and Kerry Bishé."
Burns may not have strayed far from his core subject matter over the years — young New Yorkers in and out of love — but recently he's started experimenting with his films in other ways. Most importantly, he's embraced online distribution and reinvented himself as a super-low budget filmmaker. His last movie, "Nice Guy Johnny" cost just $25,000 to make — the same price as his breakthrough debut film, "The Brothers McMullen" from 1995. He sold "Nice Guy Johnny" through Apple's iTunes store and his own website, cleverly offering special packages where you can buy the movie along with the soundtrack, posters, and other incentives. The New York Post reports that "Newlyweds" is Burns' least expensive film yet: made for just $9,000 over the course of twelve days. At that rate, you don't need to sell too many posters to break even.
"Newlyweds" premieres at the Borough of Manhattan Community College Tribeca Performing Arts Center on Saturday, April 30. The 2011 Tribeca Film Festival runs April 20 through May 1. We'll have plenty of coverage here on IFC.com coming soon.