Hilary Swank's "Resident" Evil, the Second Flight of "Black Swan," and More New DVDs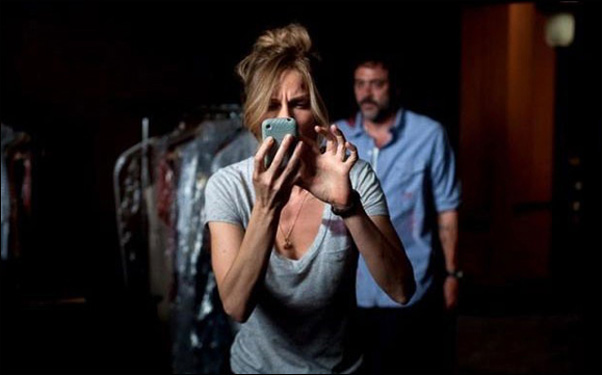 Posted by Stephen Saito on
"The Resident" (2011)
Directed by Antti Jokinen
Released by Image Entertainment
This actually isn't the first time Hilary Swank has seen one of her films go direct to DVD after the films "Red Dust" and "Birds of America" suffered the same fate, but surely there was more riding on this horror film from the resurgent Hammer Films about a recently separated doctor who learns her Brooklyn loft isn't quite as wonderful as she thought it would be. "Secretary" screenwriter Erin Cressida Wilson co-wrote this film, which co-stars Christopher Lee, Jeffrey Dean Morgan, and Lee Pace.
"The Mikado" (1939)
Directed by Victor Schertzinger
Released by Criterion Collection
"Topsy-Turvy" (1999)
Directed by Mike Leigh
Released by Criterion Collection
Sold separately, Criterion is making no secret of trying to appeal to Gilbert and Sullivan fanatics with special editions of "The Mikado," a straight-up adaptation of the musical duo's most famous opera, and Mike Leigh's "Topsy-Turvy," which recreates the making of that show, with Jim Broadbent and Allan Corduner testing each other's wits and struggling to put on their production. Both features come with a host of special features including video interviews with Leigh on both discs, audio commentaries and essays, among other goodies.
"Afterlife" (2010)
Directed by Paul Perry
Released by Vanguard Cinema
After having a near death experience himself, Perry goes in search of others who have shared the experience or haven't, but do have something to say about their beliefs regarding the hereafter in this documentary.
"All Good Things" (2010)
Directed by Andrew Jarecki
Released by Magnolia Home Entertainment
Having proven his skills as a storyteller with the doc "Capturing the Friedmans," Jarecki once again dabbles in nonfiction with the true story of New York real estate heir and tabloid staple Robert Durst (Gosling) who was suspected but never charged as part of an investigation into the disappearance of his wife (Dunst) during the early 1980s.
"Becoming Eduardo" (2008)
Directed by Rod McCall
Released by Vanguard Cinema
A 16-year-old trying to walk a straight line after being released from juvenile detention gets a reeducation from his uncle living in Truth or Consequences, New Mexico in this coming-of-age drama from Rod McCall.
"Beneath the Dark" (2010)
Directed by Chad Feehan
Released by MPI Home Video
Jamie Lynn Sigler and Josh Stewart play a couple en route to a wedding who get sidetracked at a strange motel in this thriller from writer/director Chad Feehan.
"Black Swan" (2010)
Directed by Darren Aronofsky
Released by Fox Home Entertainment
If Aronofsky's "The Wrestler" was an uplifting comeback story of a man trying to his best chase away his demons, "Black Swan" is the story of a young woman encouraged to embrace hers in the pursuit of perfection, starring the Oscar-winning Natalie Portman as a strait-laced ballerina who vies for lead in the Lincoln Center's production of "Swan Lake" against a fun-loving newcomer (Mila Kunis), but is suspected by the company's artistic director (Vincent Cassel) of not having the inherent danger and daring to play the Black Swan as well as the purer White.
"Bleading Lady" (2011)
Directed by Ryan Nicholson
Released by Vicious Circle Films
It's a mixed blessing for a famous cult actress when she is assigned one of her biggest fans as her chauffeur in this horror film where the stalker that threatens the star from the outside becomes no match for the one that's in the driver's seat.
"Bureaucracy" (2009)
Directed by Mark Perreault
Released by Vanguard Cinema
An overworked man who supports his blind sister plots to murder his boss and claim his job in this comic thriller from Mark Perreault.
"Capone" (1975)
Directed by Steve Carver
Released by Shout! Factory
Ben Gazzara stars as the titular hood, joined by a young Sylvester Stallone and John Cassavetes as Chicago thugs, in this Roger Corman-produced crime drama about the '20s Chicago crime lord.
"Child in the House" (1956)
Directed by Cy Endfield
Released by VCI Entertainment
An 11-year-old girl faces the unenviable decision of keeping her fugitive father's arrival home a secret from the aunt and uncle that are giving her shelter while her mother is hospitalized in this British thriller.
"The Colony" (2009)
Directed by Carter Gunn and Ross McDonnell
Released by Docurama
Carter Gunn and Ross McDonnell's documentary looks at the diminishing world of bees and how an old pro and two younger beekeeper brothers try to keep their businesses intact when Colony Collapse Disorder is hitting everyone hard.
"Cool It" (2010)
Directed by Ondi Timoner
Released by Lionsgate
Always provocative, but rarely political, "Dig" and "We Live in Public" director Timoner enters the fray with guns a blazin' with her latest doc about climate change skeptic Bjorn Lomborg, who travels the globe promoting his book of the same name and offers alternative solutions to the alternative energies that most climate change experts have touted as being the answer to the environmental crisis.
"Dead Awake" (2010)
Directed by Omar Naim
Released by Millennium Entertainment
Nick Stahl is described as "haunted" by the promotional materials for this thriller, but then again what else would he be as he stars in yet another film (a la "Mirrors 2") where he questions his own sanity when he's caught between an ex-girlfriend (Amy Smart) and a new interest (Rose McGowan), neither of whom can help explain the strange supernatural goings-on around him.
"The Embodiment of Evil" (2008)
Directed by Jose Mojica Marins
Released by Synapse Films
The third film in Marins' "Coffin Joe" series, Brazilian filmmaker Marins' latest sees his famed horror character Zé do Caixão seeking a suitable mate to bear his child.
"Fair Game" (2010)
Directed by Doug Liman
Released by Summit Entertainment
While some might consider this dramatic account of the outing of CIA agent Valerie Plame (Naomi Watts) as a departure for the "Bourne Identity" director, Liman is actually returning to territory he should know well as the son of famed litigator Arthur Liman, best known for his role as chief counsel to the Senate committee investigating the Iran-Contra scandal. In perhaps the most public and grievous abuse of government power since then, Liman recounts the events that led to the Bush administration blowing Plame's cover in the media after her husband, diplomat Joe Wilson (Sean Penn), wrote a scathing attack of their claims that there were weapons of mass destruction in Iraq in a New York Times op-ed piece. (James Rocchi's review is here.)
"Fatal Secrets" (2009)
Directed by Meir Sharony
Released by MTI Home Video
After the gal pals (Lea Thompson and Lela Rochon) of a divorcee (Dina Meyer) push her towards dating a man (Vincent Spano) who ultimately brings her pain, their attempt at revenge backfires in first-time director Meir Sharony's thriller.
"The Father of My Children" (2010)
Directed by Mia Hansen-Løve
Released by MPI Home Entertainment
Continuing in the tradition of great filmmakers to emerge from writing for Cahiers du Cinema like François Truffaut and Olivier Assayas, former critic Hansen-Løve won a Special Jury Prize in the Un Certain Regard section at Cannes last year for a drama inspired by the life of late film producer Humbert Balsan. Louis Do de Lencquesaing plays the producer's on-screen surrogate, a father of three who finds himself in over his head when his production company goes into deep debt and his art films aren't succeeding at the box office, which exacerbates his once-tranquil life at home. (Bilge Ebiri's interview with Løve is here.)
"Heaven Ain't Hard to Find" (2010)
Directed by Neema Barnett
Released by Entertainment One
Clifton Powell and Kym Whitley star in this Christian-themed musical about a felon who is found by three spirits to take over a church that's under the threat of demolition.
"Human Experience" (2008)
Directed by Charles Kinnane
Released by Docurama
Charles Kinnane's documentary follows a group of close-knit friends as they circle the globe from New York to Africa looking for the meaning of life.
"Husk"
Directed by Brett Simmons
Released by Lionsgate
Bad news for a group of college-aged kids who stumble upon a corn field crawling with some mysterious predators after their car breaks down in this horror film that's part of the After Dark Originals series.
"Ingredients" (2009)
Directed by Robert Bates
Released by New Video Group
Chefs Alice Waters, Peter Hoffman and Greg Higgins all appear in Robert Bates' documentary about the push to produce food locally as processed foods are leading to higher rates of obesity in the U.S. Bebe Neuwirth narrates.
"I Vinti" (1953)
Directed by Michelangelo Antonioni
Released by RaroVideo
Translated as "The Vanquished," this rare Antonioni film is actually a collection of three stories based on three murders in three different cities committed by an unconnected group of rich, thrill-seeking teens.
"Made in Dagenham"
Directed by Nigel Cole
Released by Sony Pictures Classics
The kind of social issue crowdpleaser they just don't make anymore here in the States, this light British drama centers on the 1968 strike by a group of female workers at the Ford car plant who demand the same amount of pay as their male counterparts, led by the unlikely, fiery Rita O'Grady ("Happy-Go-Lucky" star Hawkins in her bid for "Norma Rae"-hood). "Calendar Girls" helmer Cole indulges in the wild music and mood of the era to keep the tone carefree, though O'Grady's fight was anything but, leading to serious repercussions for women in the workplace around the globe.
"Mesrine: Public Enemy No. 1"
Directed by Jean Francois Richet
Released by Music Box Films
Following the exploits of the first part of Jean-François Richet's gangster epic in "Mesrine: Killer Instinct," "Mesrine: Public Enemy #1" finds the famed French criminal (played by Vincent Cassel) in prison where he pens his memoirs cementing his legacy, though he proves he's still writing his story when he decides to plot his escape. Ludivine Sagnier and Mathieu Amalric co-star.
"One Week" (2008)
Directed by Michael McGowan
Released by MPI Home Video
After a near-death experience, Joshua Jackson gets on a motorcycle to trek across Canada in a life-changing journey in this drama from writer/director Michael McGowan.
"Prowl" (2010)
Directed by Patrik Syversen
Released by Lionsgate
If "Husk" above was a lesson in getting stuck in the middle of nowhere and navigating your way through a corn field, "Prowl," also being released today by After Dark Originals suggests that if your car breaks down, you shouldn't hitch a ride with a trucker carrying pints of blood to an abandoned warehouse as Amber (Courtney Hope) does.
"River of Darkness" (2011)
Directed by Bruce Koehler
Released by Green Apple Entertainment
WWE star Kurt Angle, along with fellow wrestlers Kevin Nash and Psycho Sid Vicious, star in this thriller where a small-town sheriff (Angle) has to hunt down what he suspects is a serial killer.
"Scar" (2011)
Directed by Jed Weintrob
Released by Phase 4 Films
Speaking of serial killers, this horror flick, offered in both 3D and 2D versions, stars "May"'s Angela Bettis and Christopher Titus in this story of another town plagued by a legendary murderer where the lone victim to escape returns 16 years later when her niece becomes a prom queen and believes that the killer has come back as well.
"Solitary" (2011)
Directed by Greg Derochie
Released by Osiris Entertainment
"Spider-Man" visual effects artist Greg Derochie makes his feature directorial debut on this thriller about an agoraphobe (Amber Jaeger) who is pushed towards madness when her husband goes missing and she puts her trust in a psychiatrist she can't entirely be sure of.
"The Swimsuit Issue" (2009)
Directed by Mans Herngren
Released by New Video Group
Frequently likened to "The Full Monty" by way of Sweden, Herngren's comedy concerns Stockholm's sole all-male synchronized swimming squad who are derided both in the pool, where they are second best to the local high school girls' team, and out, where the group of middle-aged men have alienated their families by donning short shorts, with their only shot at redemption coming in the form of winning the World Cup finals in Berlin.
"Tangled"
Directed by Nathan Greno and Byron Howard
Released by Walt Disney Pictures
Still not to be confused with Pixar, Disney's latest stab at computer animation hearkened back to the studio's fairy tale past and got similarly magical results with this retelling of "Rapunzel" complete with tunes from "The Little Mermaid" composer Alan Menken. Mandy Moore voices the girl with the super-long tresses who escapes her tower with the help of a thief (Zachary Levi) and tries to find her real parents.
"Teenage Paparazzo" (2010)
Directed by Adrian Grenier
Released by HBO Home Video
Shortly before being cast as A-lister Vincent Chase on "Entourage," Grenier was working on his directorial debut, the personal doc "Shot in the Dark" about reuniting with his estranged father. Six years and a successful HBO show about Hollywood later, Grenier is back again with something about his life by following around 14-year-old paparazzi photographer Austin Visschedyk, who started following him when he took an interest in Paris Hilton. The film features interviews with the likes of Noam Chomsky and Alec Baldwin.
"Thunder in the City" (1937)
Directed by Marion Gering
Released by VCI Entertainment
In this rare comedy featuring Edward G. Robinson, the tough-talking star plays an American who seizes upon the discovery of a worthless mineral in Africa that no one in England can identify and passes it off as a valuable export to the British.
"Tiny Little Lies"
Directed by J. Randolph Harrison
Released by Vanguard Cinema
It isn't exactly a party upstairs when an artist has to entertain a pair of wealthy patrons at a cocktail party while his wife lies murdered in their bedroom and her assistant and his trainee who has had an affair with the missus try to decide what to do with a $10 million payday on the line in this thriller.
"Waterhole" (2009)
Directed by Ely Mennin
Released by Vanguard Cinema
Ely Mennin's drama catches up with a group of friends right about when they're going to graduate from college and gather one last time at the local bar to compare notes on where they think they'll end up in the future.
"Who's The Caboose?" (1999)
Directed by Sam Seder
Released by New Video Group
It took a while for the world to catch up with all the talent on display in Sam Seder's 1997 mockumentary about a film crew that can't decide on a subject to follow for their documentary, so the time has come for a cast that includes David Cross, Todd Barry, Kathy Griffin, Mary Lynn Rajskub, and Sarah Silverman.
"Zombie Women of Satan" (2011)
Directed by Warren Speed and Steve O'Brien
Released by Screen Media Films
You should probably know if this is or isn't for you by the title, but if you must know this horror comedy follows a rock star as she tries to rescue her sister from a cult and falls in unexpectedly with a burlesque troupe called Fleshorama.
Oldies But Goodies Resurfacing or Appearing for the First Time on DVD: Charlton Heston's "Antony and Cleopatra" and "Mother Lode".
New to Blu-ray: "Charlotte's Web," the incendiary Oscar-nominated Greek drama "Dogtooth", Dario Argento's "Inferno", Nicholas Ray's "King of Kings", "The Long Kiss Goodnight", "Soylent Green", "The Spongebob SquarePants Movie",
"Teen Wolf", "The Ten Commandments"