The Painless Way to See "127 Hours," and More New DVDs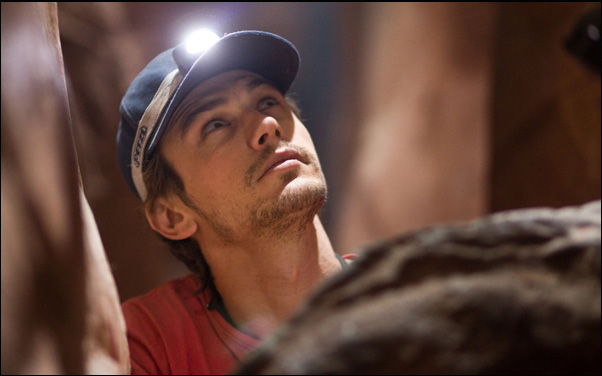 Posted by Stephen Saito on
A look at what's new on DVD today:
"127 Hours" (2010)
Directed by Danny Boyle
Released by Fox Home Entertainment
With a fast-forward button at the ready on home devices, it's high time more people see James Franco's Spirit Award-winning performance as real-life adventurer Aron Ralston, who gets his arm trapped under a boulder in Utah's Bluejohn Canyon and struggles to survive and free himself in Danny Boyle's life-affirming followup to "Slumdog Millionaire." (Matt Singer's interview with James Franco and Danny Boyle is here.)
"420 High Desert Way" (2011)
Directed by Tom Breedlove
Released by Maverick Entertainment Group
Dealing with a different drug than the one suggested by the title, this procedural drama follows a young undercover cop who must refine his extreme sports skills as he infiltrates a drug cartel and must bust them before they learn his true identity.
"Bambi" (1942)
Directed by James Algar and Samuel Armstrong
Released by Walt Disney Home Entertainment
The animated classic comes to Blu-ray for the first time, illuminating every fiber on the whitetail deer's head on his way to becoming prince of the forest. The new package includes deleted scenes, a six-part making-of documentary, a picture-in-picture special feature detailing the development of the film and more.
"A Beautiful Life" (2010)
Directed by Alejandro Chomski
Released by Image Entertainment
Bai Ling, Dana Delany and Debi Mazar are part of the supporting cast in Alejandro Chomski's drama that revolves around an illegal immigrant and a runaway girl whose desperation leads them to become lovers and drug dealers.
"The Bleeding" (2009)
Directed by Charlie Picerni
Released by Anchor Bay Entertainment
Not a "Twilight" fan? This thriller starring Vinnie Jones and Kat Von D as vampires may be the cure as DMX, Michael Madsen and Armand Assante team up to slay them.
"Burlesque" (2010)
Directed by Steven Antin
Released by Sony Pictures Home Entertainment
It got bludgeoned upon its release in theaters, but cult status begins now for the directorial debut of Steven Antin, brother to Pussycat Dolls creator Robin, that stars Christina Aguilera as a country girl who makes her way to Hollywood to become a star, if only she can get on stage at Cher's burlesque club that is under threat of being foreclosed upon. Stanley Tucci, Cam Gigandet and Kristen Bell co-star.
"The Cable Guy" (1997)
Directed by Ben Stiller
Released by Sony Pictures Home Entertainment
Long known as the film Jim Carrey got $20 million for, the 15th anniversary of the dark comedy about a man (Matthew Broderick) who sees his life ruined by an obsessed satellite installer, which is only being released on Blu-ray, aims to restore its reputation with director Ben Stiller, producer Judd Apatow and Carrey providing a no-holds-barred audio commentary for the occasion, as well as deleted scenes, rehearsal footage and more.
"Cannes Man" (1997)
Directed by Richard Martini
Released by Cinema Libre Studio
Plenty of famous faces dot Richard Martini's 1996 comedy about the film festival on the Croisette and Sy Lerner (Seymour Cassel) plays the wheeling and dealing producer who just tries to get noticed along with an aspiring screenwriter.
"The Clowns" (1970)
Directed by Federico Fellini
Released by RaroVideo
Having been a badge of honor on the shelves of DVD collectors who don't let international borders prevent them from ordering rarities from around the world, RaroVideo is finally coming to America and their first release is one of the only Fellini films never to see a DVD release on our shores, the 1970 comedy in which he stars as the ringleader of a circus. In addition to the film, the DVD includes a 40-page booklet of rare Fellini sketches, a video essay and a rare Fellini short.
"Dr. Black & Mr. Hyde" (1976)
Directed by William Crain
Released by VCI Entertainment
Celebrating its 35th anniversary, this blaxploitation horror film is a takeoff of Robert Louis Stevenson's classic story with Bernie Casey as the scientist whose experiment goes horribly awry and faces an alter ego that he cannot control.
"Faster" (2010)
Directed by George Tillman, Jr.
Released by CBS Films
Dwayne "The Rock" Johnson is out for revenge as a recent parolee whose main objective is to take out those responsible for his brother's death while being trailed by two cops (Carla Gugino and Billy Bob Thornton) and a hitman (Oliver Jackson-Cohen) in this thriller from "Notorious" director George Tillman, Jr.
"Genius Within: The Inner Life of Glenn Gould" (2010)
Directed by Michele Hozer and Peter Raymont
Released by Lorber Films
The enigmatic Canadian pianist has inspired plenty of films about his work, but Hozer and Raymont present all sorts of never-before-seen footage and recordings of Gould for this documentary that examines the contrast between his public persona and private life, as well as shares interviews with collaborators, friends and obsessions (pop icon Petula Clark gets some camera time).
"Infinite Justice" (2006)
Directed by Jamil Dehlavi
Released by Platinum Disc
This drama revolves around an American reporter (Kevin Collins) who is taken hostage by Muslim extremists in protest of those held captive at Guantanamo Bay.
"Love & Other Drugs" (2010)
Directed by Edward Zwick
Released by Fox Home Entertainment
A break from the big-budget historical epics "The Last Samurai" director Edward Zwick's known for in his film work, Anne Hathaway and Jake Gyllenhaal star in this romantic dramedy about a pharmaceutical rep (Gyllenhaal) whose career is on the rise with the introduction of Viagra, but whose personal life takes a hit when he falls for a Parkinson's sufferer (Hathaway).
"Mado" (1976)
Directed by Claude Sautet
Released by Pathfinder Home Entertainment
Michel Piccoli stars as a businessman struggling to save his company when his partner leaves him in a sea of debt after committing suicide and turning to a prostitute (Octavia Piccolo) for comfort as a rival attempts a hostile takeover in this drama from Claude Sautet.
"My Girlfriend's Back" (2010)
Directed by Steven Ayromlooi
Released by Lionsgate
"Felicity" star Tangi Miller and Malik Yoba cross paths, but try to overcome poor timing in this romantic comedy from Steven Ayromlooi.
"My Girlfriend's Boyfriend" (2010)
Directed by Daryn Tufts
Released by Good Times Home Video
After being unlucky in love, Alyssa Milano suddenly finds herself caught between two very different men (Christopher Gorham and Michael Landes) in this romantic comedy. Beau Bridges and Carol Kane co-star.
"S.W.A.T. Firefight" (2011)
Directed by Benny Boom
Released by Sony Pictures Home Entertainment
This DTV sequel to the Colin Farrell-Samuel L. Jackson redo of the TV show brings together former Terminators Robert Patrick and Kristanna Loken in this cop thriller about an LAPD lieutenant (Gabriel Macht) who is reassigned to Detroit where he faces off once again with corruption at the station.
"Satin" (2011)
Directed by Christopher Olness
Released by Monarch Home Video
Melissa Joan Hart and Robert Guillaume come to the aid of a down-on-his-luck Vegas crooner (Hamilton von Watts) who finds himself stuck in the tiny burg of Lost Springs when his car stalls out in this dramedy.
[Additional photos: "The Cable Guy," TriStar Pictures, 1997; "Genius Within: The Inner Life of Glenn Gould," Lorber Films, 2010; "My Girlfriend's Boyfriend," fiftyfilms, 2010]