Remembering Elizabeth Taylor: "National Velvet"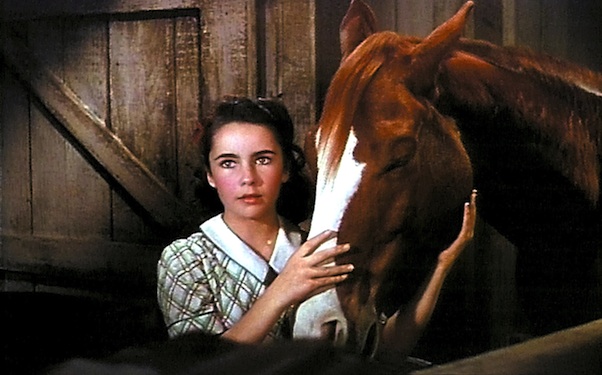 Posted by Matt Singer on
IFC.com film writer Matt Singer is embarrassingly unfamiliar with the filmography of the late Elizabeth Taylor. This week he's catching up with as many of her movies as he can.
At approximately 2:14 AM on March 24, an unexplained rise in pollen localized entirely in my bedroom sparked an outbreak of watery eyes while I was watching the film "National Velvet." Though I could find no record of any kind of mass pollen migration with the National Weather Service or American Allergenic Council of America, I know it happened. It's the only explanation for my uncontrollable tears that makes any sense. Surely it couldn't have been the movie. Surely, I, a 30 year old man with no daughters who hates horses, wasn't crying at "National Velvet."
I surely was. "National Velvet" is a beautiful, charming movie and it jerked the hell out of my tears. What affected me wasn't how sad the movie is, but how sweet and inspirational it is. Now I understand why "National Velvet" has been a cultural touchstone for decades. This isn't just a cutesy story about a girl and a horse: it's the empowering tale of a young woman who accomplishes her dreams; dreams, I should add, that aren't of the "find a guy and marry him" variety. Released in 1945 and set some twenty years before, its strong feminist message is less dated today than many of the iconic girl-centric movies I grew up with in the 1980s. It features an empowering mother-daughter relationship of a kind I'm unaccustomed to seeing in movies. That's what caught me off-guard, the shot at the end of the movie when mother and daughter embrace in silent acknowledgement of their bond and mutual love. Suddenly you'd have thought I was chopping onions in my bedroom at two in the morning.
The mother, Mrs. Brown, is played by Anne Revere; the daughter, Velvet, by Elizabeth Taylor, who became a full-fledged movie star at the age of thirteen with "National Velvet." It is easy to see why. She has an infectious smile and a rabid enthusiasm for life. The Elizabeth Taylor I know — and the point of this ongoing exercise is I don't know her all that well — is a lusty bombshell of a woman. So it was a bit surprising to see how Taylor built her stardom on pure, uncontaminated innocence. Velvet is so unequivocally good she's practically a saint; the patron saint of pre-teen girls everywhere who love horses more than life itself.
Oh how Velvet loves her horse. She calls him The Pie and, truth be told, the horse playing The Pie always looks a little perturbed to be acting alongside her. Velvet doesn't notice. She's the one with blinders on; she loves The Pie with a passion so intense it could melt steel. Velvet acquires him in an auction. The Pie is a troublemaker and his former owner decides to rid himself of the damage and liabilities he causes by selling him for one pound to a random lucky winner in the small English village where he lives. That lucky winner, of course, turns out to be Velvet. Part of The Pie's problem is no pen can hold him. But Velvet sees his fence jumping as a skill, and a chance to prove to the world both his merit and hers.
That's where Mrs. Brown comes in. As we slowly learn over the course of the film, Velvet's stern, reserved mother had a bit of a wild streak in her youth. As a 20-year-old, she swam the English Channel for no other reason than to prove she could. At the time, everyone said she was mad. When Velvet comes to her with her own mad idea — enter The Pie into the Grand National, the biggest horserace in the country — she supports her 100%. Clearly Mrs. Brown sees some of her younger self in Velvet, and also The Pie, who also has trouble finding a productive outlet for his athletic inclinations. Cue the eyeball faucets.
"National Velvet" has a terrific cast that also includes top-billed Mickey Rooney as a drifter who wanders into Velvet's town and becomes The Pie's trainer and Donald Crisp as Velvet's father, a great big Tootsie Pop of a man: a hard exterior surrounding a gooey heart. Angela Lansbury also appears, almost unrecognizably, in one of her earliest roles — the first I've ever seen that conclusively proves she wasn't born a middle aged mystery novelist — as one of Velvet's sisters. The film's stakes are never very heavy or large, though there is one scary scene where The Pie falls ill. Mostly "National Velvet" is a simple story about what's possible for anyone, boy or girl, when they follow their dreams. But it's never less than totally charming.
That goes for Taylor too. Velvet is so unabashedly sweet, and the film is so completely free of irony, that she borders on self-parody (released in another time period, "National Velvet" would have made great material for a "Saturday Night Live" sketch, with Belushi as Liz, of course). But there is something irresistible about Taylor in this part. An actor needs to commit to what she does, and she is fully committed. I believe she would step in front of a bullet for that damn horse. When she refuses to let Mr. Brown exploit The Pie's newfound fame, her eyes welling with tears as she pleads to leave him home with her…
…I'm sorry, does anyone have a tissue?