Conan O'Brien Really "Can't Stop" Rodman Flender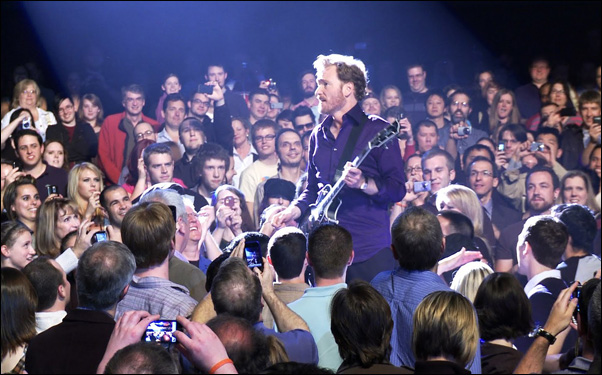 Posted by Stephen Saito on
As the line that stretched well around the Paramount Theater in Austin finally filed into to see "Conan O'Brien Can't Stop," attendees were asked to pull out a photo ID in addition to their badges, perhaps out of fear former NBC chief Jeff Zucker might want to sneak a glimpse of what very easily could've been one last parting shot over the late night fiasco that left "The Tonight Show" tarnished and O'Brien without a desk job. Ultimately, Zucker's name isn't mentioned once in the documentary, but O'Brien's legion of fans is ever present just as the history books will likely reflect, especially since director Rodman Flender was there to capture the 32-city tour that bridged O'Brien's unceremonious departure from NBC to eventually finding a home at TBS.
One of those rare portraits of an artist that's as entertaining as it is insightful, "Conan O'Brien Can't Stop" could hardly have been made by anyone else than Flender, a college pal of O'Brien's at Harvard who since went on to make darkly-tinged comedies such as "Idle Hands" before finding a steady career in television where the breakneck pace of production surely helped him keep up with the fleet feet of O'Brien once they hit the road on the "Legally Prohibited From Being Funny On Television" tour. However, it was Flender's friendship with O'Brien that got him in the door for what O'Brien joked at SXSW "a record that patients around the world could use," detailing the painful days of putting "The Tonight Show" to rest and coming up with a live variety show from scratch within weeks.
A stoic O'Brien is able to toss off one-liners like "I didn't want to be the first to take 'The Tonight Show' into the next day," but it's quickly apparent Flender's lens is going to catch some of the very real frustration behind the scenes of creating something while the entire world's watching, greeting an endless parade of fans and dealing with the fallout of not getting a fair shake. As O'Brien says during a particularly brutal stint at Bonnaroo, "Nobody's thinking of burning me out," which while feeling true at the time runs counter to the other fascinating aspect of "Conan O'Brien Can't Stop" — the real Team Coco that props O'Brien up during this marathon run including his longtime executive producer Jeff Ross and his assistant Sona Movsesian (who steals the film as an able foil for her boss's quips), among others. Add in special guests such as Eddie Vedder, Jim Carrey, Jack White, and a dressed down Jack McBrayer, not to mention variants on O'Brien's usual carousel of characters like the self-pleasuring panda, and you've got an incredibly good time that just happens to be an remarkable time capsule as well.
While at SXSW, O'Brien stopped by the IFC Crossroads House to talk about the film during the festival and I got a chance to catch up with the film's director following the film's debut in Austin.
At what point did you find out about Conan leaving NBC?
I found out like everybody else. There were rumors swirling around and I heard those rumors and it all happened very quickly — for Conan as well. It all happened, as you see in the movie, in a very short space of time.
How quickly did you have to mobilize?
Everything happened very quickly and this wasn't a documentary where I wanted where I had an agenda or I wanted to depict a terrible political situation and hope for change. This was about an incident and something that was going on right then and there and I had to start shooting. It wasn't like a scripted film where you could say oh, let's wait a week or let's push or wait till we get this financing. I had to pick up a camera and start shooting or I was going to miss it.
You're friends with Conan as well, so what was it like to capture this person at what was perhaps his lowest professional moment?
I've always said a bet against Conan is a sucker's bet. Don't bet against Conan. Even when he was at his lowest point, I've always said that. Something good will happen. He's just too talented and too genuine and good a person and that combination leads to good things. He was at a terrible time professionally and emotionally and he wasn't quite sure what was going to happen. Hopefully, one of the joys of the film is seeing that process of discovery of finding the show and figuring out what that show is. And that seemed like a rare opportunity to capture.
This film was obviously put together very quickly, were you thinking about structure continually as you were filming?
I knew this was a movie about a process and about how an individual works through some very strong feelings and some setbacks using his art and using comedy. So structurally, I never wanted it to be like a road movie and I certainly didn't want it to be a concert film. It is more or less chronological and I think emotionally, it's true. As I was editing it, that was always in the back of my mind was always trying to answer those questions I was setting up for myself and not just tell an episodic "here's what happened in Boston" and "now we're in Las Vegas and this city…"
You're really able to tie moments from the live show thematically into the film.
I'm glad you caught that because my editing process was I edited that stuff last. I really cut the bones of the documentary together first and that was the first cut that Conan saw was the movie without any of the performance footage in it. [slight laugh] That was difficult for him because he basically saw 90 minutes of him yelling at people. I said, "just wait, people will see what you're working towards," but I needed to show him structurally what I was going towards. Once I had that skeleton down, I could look through the performance footage and find moments that I thought spoke to what was happening thematically.
Do you think Conan really needed a camera in front of him in some ways to just keep up his routine?
Right, that's one of the central questions of the film. It's early on in the film I ask him, "can you have fun without an audience in front of you?" That's very explicitly point blank asked of him and hopefully the next 90 minutes tries to answer that question. Was he performing specifically for me? I think that's who he is and I know people talk about comedians, "Are they always on?" He's a naturally funny person and one of the nicest things I've heard about the movie from people who've seen it, a guy came up to me and he said, "wow, it felt like I was just hanging out with the funniest people I know and we were all just riffing together. It felt that intimate to me." That meant a lot to me – that kind of intimacy that came through the screen and the fact that this guy who had never met Conan felt like he was just hanging out with his buddies.
This isn't just a film about Conan, but the team that helps propel him. Was that something you knew you'd focus on from the beginning or were you simply present for it?
I was just present for that and Conan and I had been friends for a long time, but we'd never worked together. Never worked together before. So I had never been in a comedy writers' room, so that was all new and very interesting to me and I wanted to see how that worked. And I figured okay, if I want to see how this works, maybe somebody else will too.
Now that the project is done, do you feel this had a different kind of energy than other films you've made since it came together so quickly?
I knew I had to get it out quickly. I knew this was a timely issue and even though the movie is not about what happened a year ago with NBC, it's about what happened after that, so nevertheless, I still wanted to get this out there while it was still fresh in people's minds. I knew this couldn't be a documentary where I take five years to edit it, which is what I did with the last documentary ["Let Them Eat Rock"] I did 10 years ago. This was more pressing. So I cut it very quickly. Very long hours.
Were you tired out by the process? Did your experience mirror what was going on onscreen?
It was difficult because [Conan's] a hard guy to keep up with and I'm trying to keep up with him and also trying to keep things in focus – I was a one-man crew most of the time. I had to make sure I got it all. In terms of the editing process, it was tiring and the tour itself was so whirlwind, I've had other people come up to me after seeing the movie and they just sat there for 90 minutes and said, "I'm exhausted." To me, that's a compliment. That means I've done my job. That means, I think, it adequately captures what a whirlwind the tour was and how hard Conan worked at it and how driven he was.
"Conan O'Brien Can't Stop" will be released later this year on a variety of platforms through a distribution deal with AT&T U-Verse, Abramorama and Magnolia Pictures.