Coming Soon: IFC Renews The Onion News Network Plus So Much More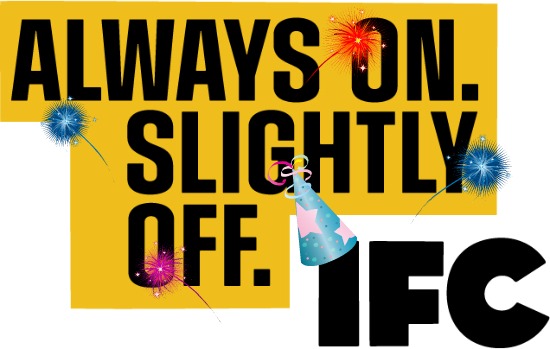 Posted by Melissa Locker on
Pardon me. We have some very exciting news and need everyone making that drumrolling sound on the table with pencils, pens, and hands and whatnot. All set? Okay, commence drumroll please. IFC is pleased to announce that we have renewed the Onion News Network for a second season. Or in the words of Brooke Alvarez, "The Onion News Network has allowed IFC to broadcast our programming for a second season. You're welcome, huddled masses." However you spin it, we are excited to have the best (only?) news network on cable on our air for another season. Now to borrow a line from the best late night infomercials, but wait, there's more!
In addition, IFC has green lit four new original series: "Commercial Kings" from Reveille, "Young, Broke & Beautiful" produced by 44 Pictures, "Whisker Wars" produced by Thom Beers' Original Productions, and "Bullet in the Face," created and written by Alan Spencer. But don't order yet, because for a limited time we are willing to double that offer and give you two Ginzu knives two more original series currently in development. We are working on an untitled variety show hosted by Comedy Death-Ray's Scott Aukerman and "Pointless" created by Ethan Berlin and Eric Bryant, which came to IFC through the New York Television Festival.
What are these brilliant new shows we will soon be offering? Well they won't whiten your whites or organize your closet, but we are pretty sure these shows will (sham) wow you.
Commercial Kings premieres Friday, June 24th at 10 p.m. Starring filmmakers and comedy duo Rhett McLaughlin and Link Neal, this docu-comedy series follows the pair as they travel across America, developing and producing commercials for local businesses. The show's concept is based on Rhett and Link's popular website, www.ilovelocalcommercials.com, which has made the duo an internet sensation with over 80 million views on YouTube.
Young, Broke & Beautiful premieres Friday, June 24th at 10:30 p.m. This is a travel show for a generation of alternative culture enthusiasts. Hosted by writer/blogger Stuart Schuffman, aka Broke-Ass Stuart, he travels the country and infiltrates the underground of American cities to find the hidden, cheap and carefully guarded secrets that aren't in any guidebook.
Whisker Wars premieres Friday, August 5th at 10 p.m. As seen on our stage at SXSW, this docu-comedy set in the world of competitive facial hair growing profiles a group of men as they travel the country in search of top honors in a host of competitions, from the National Beard and Mustache Championship in Bend, OR to the World Competition in Norway.
Bullet in the Face will premiere in 2012 (before the world ends). Created, written and produced by Alan Spencer, "Bullet in the Face" is a scripted comedy series about a psychotic criminal-turned-cop after a jewelry heist goes terribly wrong. The new cop is forced to infiltrate his former gang where he embarks on a mission of revenge against not only old allies, but his new bosses and anyone else that looks at him the wrong way.
IFC's Original Series in Development:
Untitled Scott Aukerman Variety Project will be based on the popular Comedy Death Ray podcast, but presented through a reinvigorated TV variety format for alt comedy fans.
Pointless is an improvisational comedy series featuring a rotating panel of three comedians who give their most creative, on-the-spot answers to a random selection of questions and win an assortment of crappy prizes. Created by Ethan T. Berlin and Eric Bryant and hosted by Kurt Braunohler, the show's format satirizes classic game shows in what some might call an "anti game show" format.