Carla Gugino and Sebastian Gutierrez's Life of "Luxx"-ury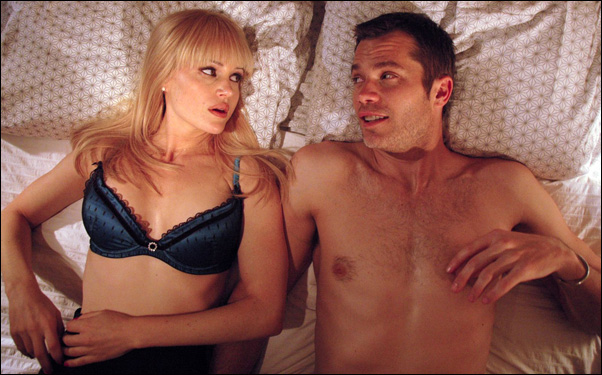 Posted by Stephen Saito on
There are many filmmakers who sound nothing like the films they make. Sebastian Gutierrez is not one of them. Within seconds of opening his mouth, a flood of words escape in all directions, all hurdling towards some greater point. This has served the writer/director well on two fronts – the first being his recent run of films, beginning with 2009's "Women in Trouble" and eventually its sequel "Elektra Luxx," that sprint on the colorful flourishes of its aesthetic and banter, if not the wild tonal shifts from slapstick comedy to musical numbers to melodrama that make the fact that their main characters are porn stars seem tame by comparison. Gutierrez's way with words also helped him out of a jam when a projection problem at last year's SXSW premiere of "Elektra Luxx" resulted in one of the most memorable moments I've ever experienced at a film festival after he commandeered the stage and entertained a rapt audience of over a thousand with stories from the set, his newfound facility with digital cameras and advance word of his next film "Girl Walks Into a Bar," which, to show there are no hard feelings, will premiere at SXSW on Friday simultaneously with its debut on YouTube.
Yet even as Gutierrez is using new technology to bring his work to the masses, he is relying on the oldest of engines to power his films – interesting characters and even more interesting actors to bring them to life. Which is where Carla Gugino, Gutierrez's leading lady both onscreen and off, comes in. As the titular heroine of "Elektra Luxx," Gugino is asked to do just about everything one can in her performance as an adult film star who leaves the industry when she becomes pregnant and life becomes even more complex when a flight attendant (Marley Shelton) who finds the lyrics of the baby's deceased rock star father asks for an unusual favor of Luxx as a finder's fee. While the criminally underrated actress has demonstrated such versatility over the years, she and a cast that includes Adrianne Palicki, Joseph Gordon Levitt and Marley Shelton, among others, clearly relish the opportunity to show off a different side. With that in mind, I recently spoke to both sides of this creative team separately to talk about "Elektra Luxx," why patience is not a virtue and breaking other rules.
Since you've collaborated with Sebastian so often, have you started getting involved in the creative process earlier?
Carla Gugino: It's interesting because definitely I think there is a real collaboration. [Sebastian] is the vision behind all of these pieces and that's something that I actually champion and love. There may be a story someday that I feel like maybe only I can tell, but at this point, I really love being an interpreter. I'm really amazed at people who come up with something out of nothing — writers. I find it to be an incredible talent. But what's been really nice is because we have worked together so many times and have a real trust in each other, it's always an exciting moment when hot off the presses, I get the next script of his. And he's always really receptive.
Generally I'm the first person to read the ones that I'm in and it's become an interesting process because I might say "Oh, is this clear? Is this not clear? Why don't you explain this?" And he'll say, "No, I didn't do that because of this but that's a good idea" – so it's a nice, natural building upon each other. I also think it is wonderful to be a muse of someone who's very talented and yet because I think we both have been doing this for so long and I love acting so much, it certainly has become a co-created affair.
You and Sebastian have made no secret of casting friends of yours in these films, but instead of being some indulgence, they've really shown off things in these actors that you haven't had a chance to see. Has that been really gratifying?
CG: It's really wonderful and that's the thing is I've always felt from the start is I would never want a friend to recommend me for a job because I'm a friend, nor would I ever recommend a friend for a job because of that. But because we are surrounded by incredibly talented actors who I appreciate and love both so much as human beings and I love their work, the idea that we get to go and create together is just about as good as it gets.
Also, I think something worth noting is I think Sebastian is a perfectionist, as am I, and I think all the people involved in these movies have a very high standard for themselves. In that way, I think a lot of times when people think low-budget or a short shooting time, it's this idea that it's sort of haphazard and improvised and you're grabbing the camera [when in actuality] these are actually really little condensed versions of a big movie that are shot with care, written with care, acted with care. That's something that's very exciting because young filmmakers can know that you can actually make a really good quality movie in a very brief period of time with very limited funds as long as you have the material, the actors and the director.
You can feel that, but at the same time, these films have also retained a kind of "tossed off" energy. Where does that come from?
CG: I think that comes out of a lack of pretense and a lack of preciousness because of the time. This particular kind of way of filming in terms of timeframe and structure really was started as just a fun experiment. And I think that's the nature we always want to keep them — it's never worth it if you don't make a good movie. That's obviously the reason to do it. But in the midst of it, the nature of it has been this great creative experience and experiment and I feel like if we can maintain that, that's an important thing and you feel it.
In "Elektra Luxx," you have a scene with your twin sister where you're playing both parts, a musical number and plenty of other emotional highs and lows. Is it a challenge to keep the tone when you're doing so many things?
CG: Yes, it is. It is. I think that's also why people tend to want to separate things by genre and go, "Well, is this a musical or is this funny or is this serious?" One of the things we wanted to do with this while hearkening back to old screwball elements of 1940s when women were the box office draw and also a bit of a good ol' fashioned sort of melodrama [was to have] those kinds of elements ultimately keep a heart to the film that's very unencumbered, but stylistically be able to touch on a lot of different styles.
Everyone compliments Sebastian on how well he's able to write women, and just like so many of those 1940s films you mentioned, it's in the service of a character that's been marginalized by society, updated here as a porn star. Have you found that to be an interesting thing to play?
CG: Yeah, a lot of judgment. It has been. And I was going to say also because I realized I kind of didn't answer the question in terms of tone from a performance standpoint because yes, it is tricky because you're dealing with a movie where it's screwball enough that you're accepting the fact she's going to sleep with a guy [Timothy Olyphant] who's the fiancé of this flight attendant [Marley Shelton] because she owes it to her. So there's already an element of heightened reality to take into play. And you can justify it because she's a pornstar, etc. But what was always very key was never did it become a caricature and I think that's in reference to the pornstar question too, which is the fact that that's her profession reflects itself in a couple of different ways, but mostly, she's done everything for herself. She's been on her own, she's made a good living at this and she's never actually been able to see herself through what might be her daughter's eyes and when she sees that, she realizes she may have to make a change and what comes along with that. To me, that was the compelling notion of the movie.