Billy Bob Thorton's Willie Nelson Doc Will Close SXSW 2011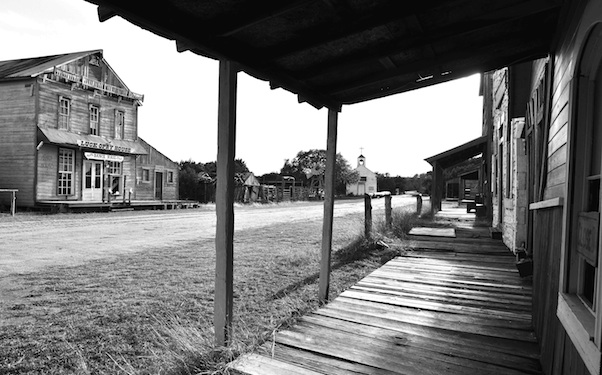 Posted by Matt Singer on
Attention Austin-ites: some last minute additions were just announced for the South by Southwest 2011 Film Festival lineup. They include the Closing Night Film, "The King of Luck," a documentary about musician Willie Nelson and, judging from the publicity photo, old timey Western streets, directed by actor (and musician) Billy Bob Thornton. SXSW also added a bunch of cool special events, including a work-in-progress screening of the upcoming comedy "Bridesmaids," which has an insane creative pedigree. It's directed by "Freaks and Geeks" creator Paul Feig, produced by Judd Apatow, co-written and starring Kristen Wiig, with a cast that also includes Maya Rudolph and Rose Byrne. No word on who will be in attendance on that yet, but it should be a fun event (two years ago, Sam Raimi brought his "Drag Me to Hell" while it was still a work-in-progress for a raucous screening that's become the stuff of Internet legend).
Plus there will also be a selection of films from R.E.M.'s "Collapse Into Now" with a Q&A with R.E.M. frontman Michael Stipe, the North American premiere of "Oldboy" director Park Chanwook's iPhone film "Night Fishing," a new short about "wheelchair bound gangstas" from director Harmony Korine, and the concert special "The Pee-wee Herman Show on Broadway," to complement Paul Reubens's previously announced SXSW panel.
Here are the rest of the newly announced features. SXSW 2011 begins on March 11.
SPECIAL EVENTS
"Sound & Scene: Made in Israel"
SXSW Film and Wyatt Brand present a unique music/film/interactive convergence brunch, as two Israeli bands – Eatliz and Onili – play live to their stunning, award winning videos. GRAMMY®-nominated directors Yuval and Merov Nathan Skype in from Tel Aviv.
24 BEATS PER SECOND
"The Devil's Box"
Director: Jason Hammond
Once a year, fiddlers across the country flock to Hallettsville to compete for the title of best Texas-style fiddler. The small town erupts into a musical jamboree in this offbeat and quirky portrait of Americana. (World Premiere)
"Hit So Hard"
Director: P. David Ebersole
The life and near-death story of Patty Schemel, the hard-hitting openly gay drummer of HOLE whose friendship with struggling musician Kurt Cobain unexpectedly led her to a path of fame, addiction, betrayal, survival and triumph. (World Premiere)
"Tell Your Friends"
Director: Victor Varnado
Featuring hot up-and coming comedians Reggie Watts, Kristen Schaal & Kurt Braunohler, Liam McEneaney, and Christian Finnegan, "Tell Your Friends! The Concert Film!" does for indie comedy what "Woodstock" did for Baby Boomer rock. (World Premiere)
SXGLOBAL
"Separado!"
Directors: Gruff Rhys & Dylan Goch
"Star Trek" meets "Buena Vista Social Club" in this psychedelic western musical as Welsh pop legend Gruff Rhys (Super Furry Animals) takes us on a pan continental road trip in search of his long lost Patagonian uncle, the poncho wearing guitarist Rene Griffiths.
"Tunnelvision"
Director: Stefano Odoardi, Writer: Sytske Kok
When the body of a little baby is found in the dirt, the rubbish dump workers soon have reason to suspect that Mira knows more about it. Cast: Sanneke Bos, Serge Price, Raymond Thiry, Ergun Simsek, Teun Kuilboer (U.S. Premiere)