"Batman: Arkham City" Coming on October 18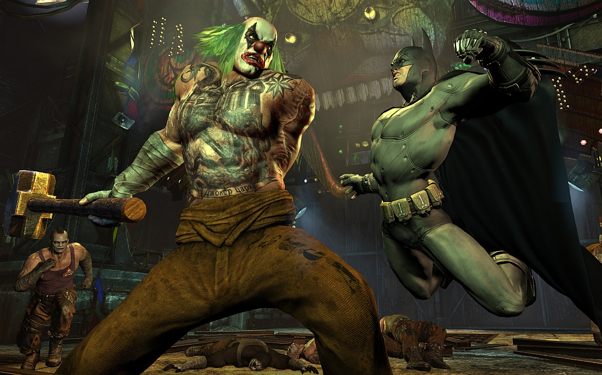 Posted by Evan Narcisse on
The tricky thing about making a game based on a character with 70+ years of publishing history is that you're going to have to leave some things out. So, while most everyone loved "Batman: Arkham Asylum," comics readers who played were a tad crestfallen at the parts of the mythos that had to be left on the cutting room floor. What about Two-Face? Or Catwoman? or a Bat-sidekick like Nightwing, Robin or Batgirl?
Fear not, Bat-fans. Some of these very things are coming to the "Arkham" sequel, which was just revealed today to be hitting store shelves on October 18th. I recently checked out "Arkham City" at GDC and it's looking to be a considerable upgrade from the previous game.
The plot concerns a radical, new super-prison initiative by Mayor Quicny Sharpe, the man who served as warden for Arkham Asylum. He's taken several blocks of Gotham City, walled it off and dumped Arkham inmates into it. There's only one rule the super-villains and miscreants of this so-called Arkham City have to follow: don't try to escape. Making this ill-advised scenario even more of a headache for Batman is the fact that the man overseeing it is psychiatrist Hugo Strange, a former Batman foe who's crazy and happens to know that Bruce Wayne is also the Dark Knight. Two-Face will be in the mix as will Catwoman, but there's no sign of any kind of a partner character to play cooperatively with. Of course, the Joker returns to bedevil the Bat, but the events of the last game have left the Clown Prince of Crime deathly ill.
The gameplay demoed at GDC showed off a impressive, glider cape travel system, where Batman can glide, dive, and swoop upward over the rooftops of Gotham. The gadgets used in "B:AA" all get upgrades, like the Cryptographic Sequencer's new frequency eavesdropping abilities that let Batman zero in on trouble. New combat abilities include a disarm which lets Batman turn enemy weapons against the bad guys and a power dive that instantly knocks out thugs. The crime scenes in the game will require more complex problem-solving skills, too. You'll be moving all over the gritty, grim locales of Batman's hometown, which looks amazing. At about six moinths away from retail, "Batman: Arkham City" already looks like a must-play for gamers and comics nerds alike.