Classic Game "Another World" Coming to iPad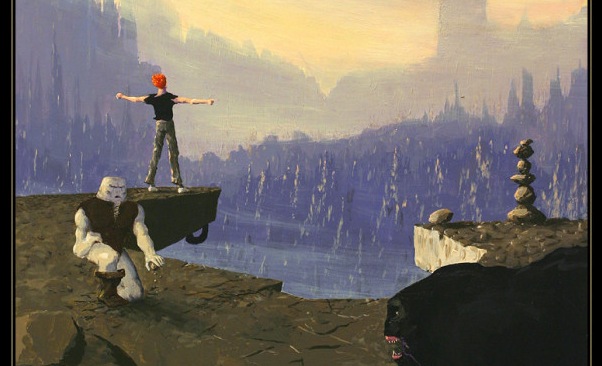 Posted by Evan Narcisse on
Also known as "Another World," "Out of This World"constantly gets mentioned as one the creative high points of the video game medium, even more than two decades after its release. Eric Chahi's sci-fi adventure centered on scientist Lester Chaykin, who gets accidentally transported to an alien world where he must break out of jail and conquer a variety of puzzles and enemies with a hulking helpmate. "OOTW" was practically a wordless affair and pioneered the use of the now-ubiquitous cutscene for storytelling and dramatic purposes.
Chahi participated in the Game Development Conference's Classic Post-Mortem series, where designers of beloved games like "Pac-Man," "Doom" and "Bejeweled" talked about the birthing of their creations. Throughout his hour-long talk, he highlighted the technical limitations of making a game 20 years ago. For example, he explained that the computers of 1989 could only render 16 colors, so some hues were used more than once. The fleshtone was also the color used in backgrounds to suggest sunlit mountains. Chahi used rotoscoping for the game's fluid movement, which tied into why he gave Lester red hair. "I was filming myself to create animation," offered the energetic Frenchman, "and I didn't want to see myself running around on screen and getting killed by slugs or whatever."
The process of "OOTW" creation was very improvisatory and Chahi admitted to making it up as he went along. He described coding a game all by himself and making a custom programming language that fused Visual BASIC and raw code to roll out the graphics and gameplay sequencing. Development was a lonely experience, he said, but one that allowed him to listen to his inner self. The question became, "How can I surprise my expectations as a player?" That's where plot points like teleporting Lester in to water and then having him emerge into a foreign planet. Nothing was planned ahead with a story outline or anything like that. From there, he focused on fluctuating the pacing: an escape from an enemy on one screen leads to swinging back on a vine to the previous, where he is saved by mystery character. That mystery character, fans know, winds up jailing Lester. Chahi spoke about how the game's laser gun was influenced by Star Wars, saying that the energy weapons "introduced visual dynamism" into the George Lucas movies.
His original plan for combat was hand-to-hand fighting but then re-organized around the gun and the initial level design was originally running from shelter to shelter. Chahi changed the shelter idea to the game's shield which itself is a sort of a movable shelter. Again, limitations informed the dev process because, back then, it'd be too hard to manage death and respawn data.
After 17 months (in December of 1990), only 1/3 of the game was done so Chahi shifted gears to creating building blocks that could be easily replicable. Narratively, the alien
Friend became the center of story, which itself grew into a succession of meetings and separations. "The improvisation led me to crate a game about the meeting of two strangers," Chahi said. He also showed slides that explained how playing with foreground and background space allowed him to layer narrative and create a sense of scale. One of the best parts of the talk was when how he described the meetings with publishers could've changed the direction of the game. The point-&-click gere was popular in the late 1980s and Chahi himself was a fan. Virgin Games suggested that the action game would've been less difficult (and potentially more popular) if it were a p-&-c. Chahi thankfully balked, realizing that it'd be too difficult to go back and re-do work for a new gameplay design. The publisher he wound up with, Delphine Software, didn't interfere and let him work in peace. Still, by June 1991, "Out of This World" wasn't not done yet; it was ¾ finished but a November release still seemed dubious for the game.
Nevertheless, Chahi took it upon himself to paint the game's beautiful cover illustration. He explained that, to him, the art on a box is the first bond between player and game and publishers of his previous titles had gotten it all wrong. Delphine let him draw the cover illo but it was done as he was in final crunch. "It took me three weeks that I honestly didn't have." More problems arose, too, like the lack of playtesting. Chahi managed to fix some major issues but it still came out very unbalanced. When Interplay became a publisher of other versions, they did a lot of playtesting and the game underwent a second round of polish. But they also wanted to make it longer, so it got harder.
"Out of This World" found its way to other platforms because of a warm reception, but that grew more conflict for Chahi. In porting the game to other consoles, Interplay wanted to change the intro music for the game. Chahi was vehemently opposed and the ensuing arguments happened via fax. In an attempt to get the last word, he sent an infinite fax. The mischevious communication hack consisted of a strip of printer paper taped end-to-end so it continuously loops back into fax machine. The message on the paper? "Keep the original intro music." Chahi sent it overnight and the Interplay office came in to find reams of angry infinite fax on the floor. But, the infinite fax tactic was to no avail. Finally, Delphine stepped in and claimed that, as the original publisher, they had final say on the music and they chose to honor Chahi's wishes. Other issues cropped up like the censorship of alien female nudity. A scene in the extraterrestrial baths showed three females in the nude from the back, with three pixels creating the virtual butt-crack. Those offending pixels got removed and problem solved.
"Out of This World" stands as an incredible testament to the skills and vision of a lone developer. Chahi was indie before there even was indie games and making the game took up a huge chunk of his life. His iconic hero reaches the game's finale close to death and Chahi testified that, "At the end of development, I was exhausted and this was the reason that Lester almost died at the end of the game." But, both Chahi and "OOTW" continue to live and he ended the talk by saying a 25th Anniversary edition coming to iPad in the near future.