A Married Couple's "Hall Pass" Review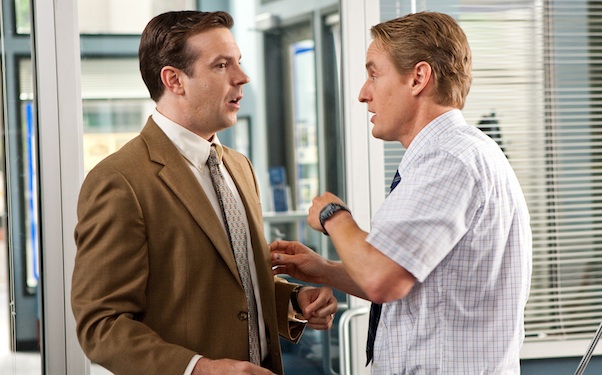 Posted by Matt Singer on
True story: my wife Melissa's first reaction to the trailer for the comedy "Hall Pass," about two married men who are given a week off from fidelity by their wives, was to turn me and say "Before you even ask: yes, you can have a hall pass. But I get to chop off your balls first."
She was kidding, of course (I think… I hope). But it didn't matter. I don't want a hall pass; hell, I didn't even want to see "Hall Pass." Until my wife made that joke, which gave me an idea: we should go see this movie together and review it together. After all, who better than a husband who writes about movies and a wife who knows way more about movies than her smarmy husband. It wasn't easy to convince her, but a deal was struck. After the movie was over, we had a conversation which I recorded. And here it is:
---
Matt: First of all, thank you for going to see this with me, because I know you didn't want to.
Melissa: No, I didn't.
Matt: You saw it because I had this idea and guilted you into it.
Melissa: Correct.
Matt: And you're not even getting paid to do this.
Melissa: Well, in a way I am.
Matt: Good point. Now you had a very strong negative reaction the first time you saw the trailer.
Melissa: It wasn't that negative.  Simply a warning.

Matt: Right. I'm sure you had some expectations based on that trailer.  Did the movie surprise you in any way?
Melissa: No it was probably about as bad as I thought it would be.
Matt: Obviously you didn't care for the premise. But we go see a lot of romantic comedies, and a lot of the recent guy-centric ones that feature a lot of really funny male characters and a lot of controlling, needy, not-that-funny female characters. Was this one any different?
Melissa: Even more than usual, I felt like the women in this movie weren't even wives; they were mothers. Mothers to their kids and mothers to their husbands.
Matt: I'm really sort of fascinated, and honestly a bit confused, by the portrayals of men and women in this movie. What about the guys, Owen Wilson and Jason Sudeikis. Did you think their characters were fair or accurate representations of married guys?
Melissa: No men I know. But you'd probably know better. What do guys do when women aren't around?


Matt: I don't know if I can speak for all guys, but I mean I don't stand around staring at women's butts constantly the way they do.
Melissa: Or talk out of a giant vagina you made out of your hands?
Matt: No, I don't do that either.
Melissa: Do you play poker and talk about how your wives aren't hot?
Matt: That's ridiculous. I don't even play poker.

Melissa: Ha ha.  A lot of our guy friends are married though.  When you guys go and see a movie by yourselves do you check out women together?


Matt: No.  And I'm not just saying that because I'm going to publish this conversation later.  But I'm 30; these characters are a little older.  They've been married longer than we have.  One of them has a bunch of kids.  So they've got more reason to be bored, I suppose.

Melissa: But the movie makes it seem like they've been doing it for years.
Matt: True, it's very ingrained behavior for them.
Melissa: And the movie also claimed that guys had no control over it, like every single guy has a uncontrollable, evolutionary, biological imperative to look at women's asses.  There wasn't a single person in the movie who was the voice of reason saying "I think this hall pass is an idiotic idea."
Matt: I keep coming back to the question of who gets portrayed worse in the movie, men or women. The men are all scoundrels and horndogs, but eventually they're revealed to be sweethearts, which is definitely a cliché of this kind of movie; the slobs always turn out to be sweeties.
Melissa: That one guy was not a sweetheart.
Matt: Well, I know why you're saying that — I probably don't want to spoil it in this piece, but let's put it this way: when the chips are down, this particular character realizes he loves his wife.
Melissa: He realizes he loves his wife because he has no better options.
Matt: [laughs] Okay.
Melissa: He's such a dork that he can't get laid any other way. He talks a big game but the women he has a shot with aren't anything special. His wife is clearly hotter than anyone he could hook up with.
Matt: Well that's an excellent point.  But this is where I was going with that train of thought: the men are horny but inherently decent. The women are bloodless and kind of mean. Jenna Fischer doesn't want to have sex with Owen Wilson so she pretends to be asleep when he tries to make a move.  And then later she tells Christina Applegate about this incident and Applegate's character says something to the effect of "We're women — we're supposed to fake everything between the hours of 12 and 6 am."
Melissa: That's because she's trapped in a loveless marriage and she doesn't know what happiness means.
Matt: But isn't that a horrible representation of women?  It's supposed to be a funny line, I know, but —
Melissa: Well, the movie was written by guys, wasn't it? Clearly a lot of this is a male fantasy, like the scene where Wilson and Sudeikis take their kids to the park and every woman there is 18, blond, and doing cartwheels in short shorts. 
Matt: Or what about that other scene where Sudeikis tries to convince Wilson to take the hall pass by telling him that his wife was living her dream life. Her dream was to be married and have kids and be a mom. Then Sudeikis claims this hall pass represents the equivalent gift.
Melissa: I keep telling you: those people should not be married.
Matt: Okay. Was Owen Wilson a better husband than Jason Sudeikis?
Melissa: Yeah but he was a better husband when the movie started.  Because — and maybe this was just a matter of better chemistry between the actors — he really seemed to love his wife.  There were mutual but solvable problems there: she felt unappreciated, he felt ignored. The other marriage, that's just a broken relationship. They didn't have any respect for one another. Any ending for that couple that doesn't involve them realizing they're terrible for each other and have nothing in common and should split up is not a happy ending.
Matt: I also thought it was strange how the women in "Hall Pass" only talk about their husbands. Literally every single conversation they have is about their men. Is that what you do when I'm not around?
Melissa: Oh, absolutely. But what about the guys — didn't they mostly talk about their wives?
Matt: I don't know, they did a lot of talking about weird sex stuff like whether they would rather kiss a man or receive oral sex from one.
Melissa: So really their only topic was sex.
Matt: Right.  And the women's only topic was their husbands. 
Melissa: You may be right. They even talk about them with the guys they met.  Okay, so it is a little unfair. They didn't talk about their kids once, either. Fischer and Applegate go to Cap Cod to give their husbands their hall pass, and then conveniently leave Fischer's three kids with grandparents so they don't need to be seen or heard from again. And they never even considered the possibility that Wilson or Sudeikis' characters might like their hall passes so much they might want to end their marriages. It was either they wouldn't get laid, realize how good they had it and come back, or get laid and go "What am I doing with my life?" and come back anyway. The possibility that they might hook up in a more meaningful way wasn't brought up.
Matt: True.
Melissa: I'd be terrified of that in their position. There's a bit of a double standard there, too.  The men have clearly been given the okay to cheat. But when Owen Wilson finds out that his wife might be cheating too, he freaks out. Like it didn't ever dawn on him that she might get a hall pass this week too. 
Matt: Were there any moments that you thought accurately portrayed a marriage?
Melissa: Just that marriage is hard sometimes, I guess.
Matt: One thing I didn't quite get was why it took Wilson and Sudeikis so long to think of going to a club to meet women.

Melissa: Especially since they live in Providence, which has more clubs than any city I've ever been to.
Matt: They literally needed someone to come and take them by the hand to a club because they were too stupid to figure that out on their own.  Which I guess was part of the point, that men are stupid.
Melissa: So why do you think the women are portrayed so badly? The men are portrayed horribly!
Matt: It's a good question. I see a movie like this and I'm immediately sensitive to the depiction of women, because the depictions of women in movies like this are always so terrible.  But you're right. The men in this movie are stupid, they're led around by their penises, they have terrible fashion senses, bad haircuts, terrible diets, bad physiques.  Not a flattering picture of manhood. So why is it that the women side of it upsets me so much? Maybe it's because the men are portrayed poorly but…
Melissa: — They're funny.
Matt: Exactly. We're supposed to embrace their flaws.  They're supposed to make them charming.  Meanwhile, the women are joking about how it's their job to leave their men unfulfilled. The men's jokes make us like they more. The women's jokes make us like them less.
Melissa: But not all the women in it are killjoys.  I actually liked the scene where the guys are playing poker and Fischer comes home and says hi and then leaves the guys alone to have their space.  That's a nice moment.
Matt: That's true.  So where is my impression coming from then?

Melissa: I don't know.  That one line about faking orgasms, apparently.
Matt: That one line stuck in my craw, I guess. So who do you think this movie is for: men or women or both?
Melissa: Judging from the audience we saw it, men, clearly.  The men were cackling and the women were not laughing.  I think one woman even dropped a grumpy "Oh no he didn't!" at one point.
Matt: She did, yes.
Melissa: That was the extent of the female reaction in our audience.
Matt: Because women are killjoys. 
[awkward silence]

Matt: Okay, that was a joke.  I try to think who this movie is supposed to entertain.  Would you recommend this movie to a married couple to go see on a date night?
Melissa: No.  Wait, maybe. Seeing it might make you feel better about your marriage.
Matt: Or it could lead to that discussion of hall passes, and men asking for them and women being furious that they asked for one.
Melissa: So it sets up women to be killjoys again.
Matt: Or it sets up couples to argue.  The one thing I did like about "Hall Pass" was the fact that the film was told from this horny male perspective but the film constantly undercut that heterosexual bravado by featuring more male nudity than female. The biggest sexual object in the film besides the young coffee girl who starts flirting with Owen Wilson was the Cape Cod baseball player who takes an interest in Christina Applegate. I didn't time it, but I would guess the hot baseball player was topless for a lot longer than the hot coffee girl. And he might have even had a better figure than she did.
Melissa: Oh yeah he did.
[awkward silence]
Melissa: What? Oh, don't give me that look.