Xavier Dolan Feels the Pulse of "Heartbeats"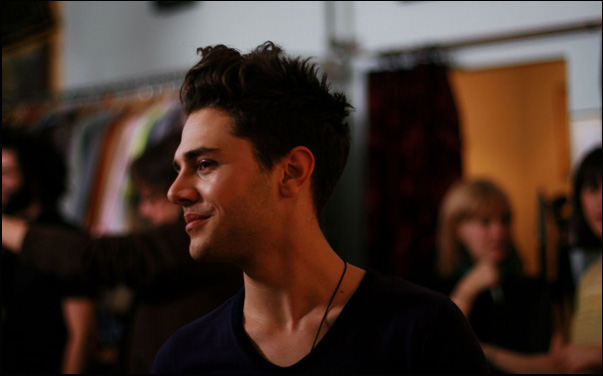 Posted by Stephen Saito on
Xavier Dolan is having a tough time getting into America. The night before we were scheduled to speak, his flight was stuck in Montreal as a result of the snow that's blanketed New York in recent months and as a result, he missed out on wining and dining the likes of John Cameron Mitchell, amongst others, at the film's U.S. premiere, though in his apology, he noted not only the circumstances that prevented him from attending the gala, but also the ones that have kept his first film "I Killed My Mother" from reaching the States after causing a sensation at Cannes, where it picked up an unheard of three prizes for the story of a gay teen who routinely clashes with his ma.
Thanks to a "distributor of questionable professionalism," the French-Canadian director's neighbors down south have had to wait another two years for Dolanmania to commence, but that will be rectified this week with the release of "Heartbeats," a coolly seductive love triangle drama between two men (Dolan and Niels Schneider) and a woman (Monia Chokri) that caused a similar frenzy around the filmmaker when it premiered on the Croisette last year and understandably so. At the age of just 21, Dolan has drawn comparisons to Francoises ranging from Truffaut to Ozon, though as he insists below his influences don't hail from celluloid. That might be considered surprising given Dolan's ease with cinematic language, but then again, he's been acting since the age of five and in recent years, writing plum roles for himself in his own films while occasionally doing a voice dub for the likes of Rupert Grint's Ron Weasley in "Harry Potter," Taylor Lautner's Jacob Black in "Twilight" or the titular hero of "Kick-Ass" in their French incarnations, a gig Dolan says "[is] actually very stimulating and interesting as you have to give as much as the actor himself is giving onscreen."
There's no question that Dolan is a guy who likes to give his all, particularly to his own films, and he's already at work on a third, "Laurence Anyways" about a man whose desire to have a sex change operate complicates his relationship with his girlfriend. In the mean time, I recently spoke to the multi-hyphenate about "Heartbeats," why he turned to directing and not overthinking what he does.
As someone that grew up around the business, has it shaped what you wanted to do with your own films?
Not really, honestly. When I was a kid, I really didn't think I would become a director and that may seem kind of weird, but I became one to act in "I Killed My Mother" and was afraid that if someone else directed it, they would actually choose a prettier or taller or more famous actor. I thought this is ridiculous because this is my life.
How did this film come together?
[Monia Chokri and Niels Schneider and I] actually did a roadtrip and drove from Montreal to Los Angeles back and forth and we bonded on this trip and thought that we were close enough to now collaborate professionally in the film. And when I got back to Montreal, I actually realized the summer we were supposed to shoot "Laurence Anyways" was postponed for money and time restrictions, so I wrote the script for "Heartbeats" and asked Monia and Niels to join me in the process of doing it.
Was it your intention to do something a little lighter and looser in terms of the rhythm from your first film, "I Killed My Mother"?
It was not intentional, but we shot on film and it's a different story, it's a different tone and it's different characters, so it's unavoidably different than the first one and that was actually the idea – not doing the same thing over and over again or some kind of sequel. I wanted to surprise people with something lighter and different.
At the same time, one of the really interesting things about it is how fearless it is – capturing these emotions at such a young age, do you worry at all about how is might look from the future?
[laughs] I don't. I don't. I do it in the present tense and at this moment in which we're speaking, it's already far behind me. It belongs to the past. I'm not thinking about the future at all. And I'm not thinking at all, I think. I do it in a very sincere and free way and then if it pleases people and makes them laugh or makes them cry or interests them or entertain them than so be it, but I don't really think of anything precise when I direct. I'm young and it may sound naïve to say that, but people come up with analysis and questions and I listen to them and think wow, that's pretty intelligent, but I did not think of this when I did the film. I wish I had.
I've heard you say you're only influenced by your mistakes as a filmmaker.
All the mistakes in "I Killed My Mother" were pretty influential in the ways I would not repeat them in "Heartbeats." I'm very critical of my work and I don't especially love "I Killed My Mother." It's a very flawed and pretentious and irritating film in moments. There are good things in it, but I'm not the greatest fan of the film. And what I mean is people think I've seen so many films and that I had so many influences, but it's not the case. Most of my influences are in literature or in painting or visual arts, poems, writers. Not films. I still have a lot of films to see. I'm not the most cultured person.
Are you actually happier that "Heartbeats" appears to be getting a wider release than "I Killed My Mother," at least in the U.S.?
Well, I'm not happier. They're quite different films. For me, they are parallel things, but they're different. So yeah, I'm happy it's my introduction to the American market, if that's what you mean, but yeah, I think "Heartbeats" is a more solid film, but at the same time, it's less intense. "I Killed My Mother" is more raw and more intense.
One of the things I found most fascinating about "Heartbeats" is how in the film's introduction, one of the characters is discussing e-mail, which clearly marks it as a contemporary film, but you have many other touches like the music choices that suggest you wanted to make something timeless. How did you reconcile those two things?
You're absolutely right. It was important to me there was some kind of diversity in the film with the music, the costumes and everything so that we could understand the problem that we're talking about, which is unrequited love, is timeless and temporal.
I thought having music artists from different periods from Dalida to the Nice, the Swedish band from this century, to France Gall to House of Pain – I had in mind to offer a form of variety in matters of time period and stuff like this and I thought that would portray real well the fact that unrequited love is not something new or exclusive to these years. It's always been there. I'm not inventing anything.
"Heartbeats" is now available on VOD and opens in New York and Los Angeles on February 25th.