A Spirited Q & A With "Winter's Bone" Actress Dale Dickey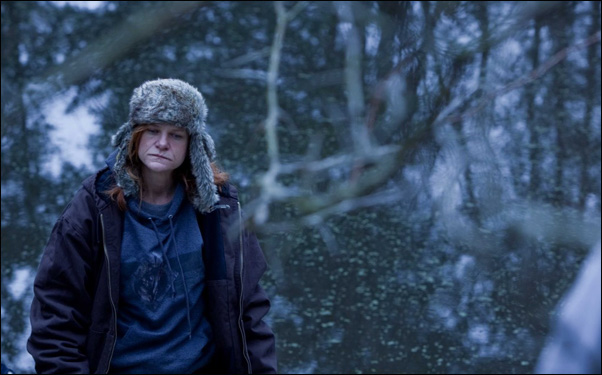 Posted by Stephen Saito on
As a way of celebrating this year's nominees for the Spirit Awards in the weeks leading up to the ceremony, we reached out to as many as we could in an effort to better understand what went into their films, what they've gotten out of the experience, and where they've found their inspiration, both in regards to their work and other works of art that might've inspired them from the past year. Their answers will be published on a daily basis throughout February.
Of all the Spirit Award nominees from "Winter's Bone," Dale Dickey may best represent the film's spirit. As Merab, the mercurial power behind the throne within the thorny criminal empire of the Missouri backwoods, Dickey is equally beguiling as she "puts the hurt" on poor Ree Dolly (Jennifer Lawrence) during Ree's search for her father or when she later helps Ree fish out her pop's remains with the aid of a chainsaw. She is fearsome, sure, but also oddly compassionate with a characterization as deep and rich as the oak trees that enshroud the small community she slyly manipulates.
In the past, Dickey has suggested it's her chin that that's led her to playing unsavory types like a junkie in "Breaking Bad" or Patty the Daytime Prostitute in "My Name is Earl," as casting directors may see a jawline not given to an easy smile and sunken eyes that are prone to withering glances, though the actress' range has led her to defy such classification in her actual performances. However, the audience is allowed to witness something else entirely in "Winter's Bone," where Dickey is able to so seamlessly integrate into the unforgiving Ozarks milleu where survival is day-to-day, but her Merab always seems five steps ahead, with her rumpled appearance under the piles of clothing (she'll describe later) acting as camouflage for her wolf-like nature. Amongst the uneducated and poor that populate the area, Merab is clever with a hard-earned wisdom and respect performed so ably by Dickey that it elevates the character to a nearly regal level. That she is finally being recognized in kind with a Spirit Award nomination for Best Supporting Female is fitting, but it's also been a long time coming. Dickey was kind enough to answer our questionnaire via e-mail to let us know how to handle a chainsaw and cut to the quick in other ways.
Why did you want to make this film?
The story and the director. After reading the script and soon after, the novel, I knew I fit into the world of this story and felt I innately understood the people portrayed. I was deeply drawn to the tale of Ree's journey – the mythic quality of her quest, the obstacles she faces, and particularly to the fierceness of and the mystery surrounding Merab and family. And after meeting and working with Debra Granik at my audition, and having watched her first film "Down to the Bone," I knew she was a director I'd be lucky to work with. She is unique and special. Not only brilliant of mind, but curious and true of heart – caring and passionate about the story she was to tell. A generous spirit. It felt like it would be one of those rare magical experiences. And it was.
What was the best piece of advice you received that applied to the making of this film?
Hmmm…First off, gotta say the afternoon I spent learning the dos and don'ts of chainsawing from a logging buddy up in Kernville was pretty key – for safety reasons alone. I'd never held one and am quite uncomfortable around them. But for Merab, it would be second nature. And I needed to feel as secure and confident as possible with one in my hands. (This would be especially important due to the curveball I was thrown later….see next question!).
[As for] words of acting advice, I first heard some 20 years ago from Romulus Linney, whom I had the pleasure of working with on his play "Heathen Valley" in NYC, a simple mantra I hold tightly to: "Just stay relaxed, precise and fierce." I found those words particularly helpful in grounding me as Merab.
What was the toughest thing to overcome, whether it applies to a particular scene or the film as a whole?
I'd say it was the day we shot the boat scene – for various technical reasons. As often happens, it was sunny and hot out that day, so there was the obvious strangeness of trying to 'intuit' all that winter bone coldness, as the story demands. (Not to mention the uncomfortable sweating in fur-skin hats, sweaters, boots and coats!) Adding to that was the fact we were shooting "day for night," so all that abundant sunshine needed to feel like abundant moonlight, etc. But that was just the tip of the iceberg for me. The original story/script calls for the women to traverse around a frozen lake and hack through the ice with an ax to first reach the body. There was never any boat involved. But on the day, winter had lifted, there was no ice, so we would now be rowing a boat out into the lake and then I would be operating the chainsaw from said boat?!? This made me a tad anxious — Visions of 'bloody' sugar plums falling into the water danced through my head! But I trusted Debra and Michael [McDonough], the DP, and had no choice but to tackle this challenge with Merab-like fierceness…. and… all was well. I didn't tip the boat over. I did curse a lot. I didn't harm Jennifer [Lawrence], or anyone else. Whew. Finally, when real nighttime fell, we shot some close-ups on land, with the boat propped up on cinder blocks and a metal tub of water to dip the chainsaw in! The whole day of shooting was very surreal. But exciting, too. (Well, except for the pond water and ticks.)
What's been the most memorable moment while you've traveled with the film either at a festival or otherwise?
There have been so many, but the image that warms my heart the most, is that of an eve we spent at Debra's condo during the last few days of Sundance. It was like old home week. Most of the "Winter's Bone" family was there, including some members of the real family whose property we filmed on. And we were serenaded by a band of musicians from the film, who had traveled several days from Missouri to join the celebration. Lots of pickin' and grinning. An intimate, beautiful night in the midst of an exciting film festival which had embraced this film so sweetly. A slice of rural Missouri nestled in the glitzy hubub of Park City. We were all so content and joyous simply with the outcome of this little film, the fact we'd made it to Sundance, and the response so far from the festival audiences. We had no idea of any awards or even a screen life that the film would see in the months following.
What's your favorite thing about your film that's been largely uncommented upon?
I've seen the film at least 15 times over this past year, and I am continually struck by the beauty of the ending moment – the three siblings on the steps of their home holding chicks and a banjo – symbols of new life and of family tradition to carry forward. And a home they will now be able to continue living in. The love in Ree's voice when she replies to her little brother's question if she's gonna be leaving them now, "I'd be lost without the weight of you two on my back." All the fight, and struggle she endured for their sakes, really, ends in a solitary moment of hope. And beauty. (Perhaps I'm moved by it more because it reminds me of my own big sister and the fierce love she had for my brother and myself.) And ultimately, the journey, in this bleak, disturbing, threatening thriller, is triumphantly overcome by Ree's sheer love for her family and their survival. It is life-affirming to me, despite the bleak environs.
What's been the most gratifying thing to come out of this film for you personally?
Simply put, having been a small, but integral, part of what I consider to be a uniquely great film, which has been seen by so many, and that's a rarity for a low budget indie/dark subject matter/no star name vehicle. The fact it has had such a life is very special. And I am very grateful. I've gotten to travel with the film to various festivals over the year, seeing countless terrific films – narrative, shorts, docs – and meeting so many talented filmmakers and artists along the way. Overwhelmingly inspiring. My hope is to find a home, of sorts, working in independent films. And I must trust that the exposure from playing Merab will lead to more and more challenging work down the line.
What's been your favorite film book or album from the past year?
I was turned on to terrific vocal/banjo artist – Abigail Washburn – after seeing her open for Steve Martin and I listen to her a lot now. I'm still reading Richard Louv's "Last Child in the Woods," cherishing the fact I grew up in a time where we played outside and I had exposure to the great outdoors and all its wonders. Films? Besides, of course, "Winter's Bone"! I was deeply moved by "127 Hours" in unexpected ways, fell in love with "The King's Speech", and could barely get out of my seat after viewing the documentary "Waste Land," but left with new inspiration on the power of film (and humanity) to transform lives for the positive in least expected ways.
"Winter's Bone" is still playing in limited release and is now available on DVD, Blu-ray and iTunes. The Spirit Awards will air on IFC on February 26th.