Fun With The Film School Thesis Statement Generator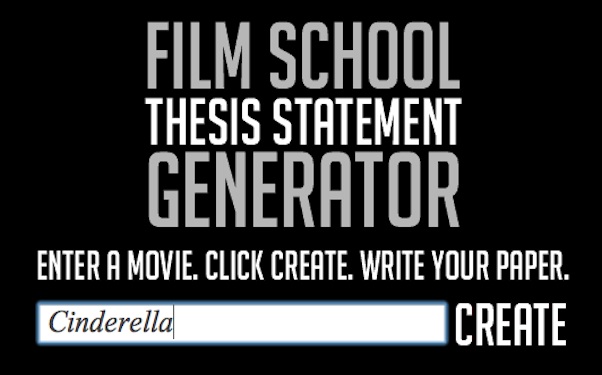 Posted by Matt Singer on
The women of CineBoobs found a really fun website. Not to mention a useful one, too, if you're a film student — I know I would have milked this thing dry if it had been around back when I was in grad school. It's the Film School Thesis Statement Generator and it couldn't be any simpler. Type in the name of a film like, say, "Plan 9 From Outer Space" and the FSTSG spits out a paper topic:
I picked "Plan 9" because I actually did write a grad school paper about "Plan 9" in which I interrogated the meaning and underpinnings of camp viewership. It was a good essay but I like the FSTSG's version even better. The narrative is completely masked in "Plan 9" but what little remains is almost entirely about the loss of utopia that Ed Wood predicts as the ultimate result of the Cold War arms race.
Just how good is this Film School Thesis Statement Generator? I decided to test it. Obviously it's just randomly assigning various preset theses to whatever film you type in. But no matter what movie I tried to stump it with, its suggestions were spot-on. Like this one for "Crank: High Voltage:"
I see. "Crank"'s Chev Chelios is the ultimate immigrant laborer lost in the deadly post-war (not to mention post-consumerist) world of modern-day Los Angeles. His inability to find electricity to fuel his artificial heart is both a brilliant satire of the debate over immigration and work in this country and an obvious representation of peak oil and the impending world energy crisis. And the images by Mark Neveldine and Brian Taylor are nothing if not poetic; their tableaux of strippers, racetracks, and industrial worksites exposes the brutality of bourgeois urban sprawl.
You can't slip anything past the generator. Look at its suggestion for "Anaconda:"
Interesting. So the giant snake is really a giant phallic symbol, and the casting of Jon Voight an obvious critique of his landmark role in "Midnight Cowboy." And, of course, Voight and his crew's journey deep into the Amazon River evokes Conradian identification with those nativist urges. The subversion comes when the phallus devours the snakelike Voight in a powerful moment of Ouroborosian dread.
This thing is uncanny. All right, let's go for broke. "Transformers: Revenge of the Fallen."
Fascinating! So "Revenge of the Fallen"'s infantile obsession with female anatomy and caricatured racist stereotypes are all intended as critique! Michael Bay's nonsensical imagery underscores the fanciful imagination of the pre-Oedipal youth, represented onscreen by boyish leading man Shia LaBeouf. Meanwhile, the principle antagonist of the film, The Fallen, is a metaphor for all pre-Oedipal youths' eventual loss of innocence. Ultimately, we the viewers are the true Fallen.
There you have it. The Film School Thesis Statement Generator: it works. I really could have used this thing in grad school.