"Waiting For Forever"'s Intriguingly Disastrous Reviews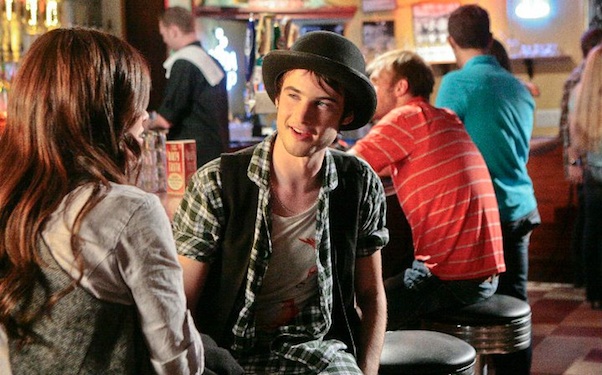 Posted by Matt Singer on
I've said this many times before, but I subscribe to the theory that all movies can be placed along a bell curve of quality. At one end are the rare great movies. At the other, the equally rare awful movies. In the middle, the vast majority of mediocrities. My interests lie in both of the extremes, because the extremes, both good and bad, are where the unusual lives. At the middle of the curve, everything looks the same. At the edges, you get surprised.
I wrote about the last time a barrage of disastrous reviews suggested a movie's so-bad-it's-good promise, last November's "The Nutcracker in 3D" (which I still haven't seen, dammit). This week we've got another contender, and it's the new indie film "Waiting For Forever." It's about…well, I'll just the folks who've seen it explain what it's about, starting with Stephen Holden's description from The New York Times:
"Wearing plaid pajamas, a Chaplin bowler hat and a vest, Will [Tom Sturridge] has been hitchhiking around the country, clowning and juggling for spare change while tracking the peripatetic movements of his childhood best friend, Emma Twist (Rachel Bilson). Somehow — it is never explained — he has been able to remain apprised of her comings and goings without sending up any red flags. Some might call it stalking."
In other words, instead of telling a sad story about a mentally ill guy's obsession with a childhood friend, "Waiting For Forever" apparently paints Will's hunt for his lost love as charming and adorable rather than stalker-y. As our friend Aaron Hillis wrote in The Village Voice, the film seems "strangely unaware of its overt creepiness." Over on Movieline, here's what Stephanie Zacharek had to say on that subject:
"The movie… insists on painting Will as a lovable misfit. Emma has no idea how Will feels about her; she hasn't seen him in years — he worships her from afar, but doesn't have the guts to approach her. So when he arrives back home, he does stuff like lurk outside her family's house, waiting for a glimpse of her. When he talks about her, he says things like, 'In my dreams I breathe her in. I feel her in the blood in my heart,' and the female characters (among them a longtime friend played by Nikki Blonski) swoon, while the male characters — wisely — go 'Eeww!' At least someone's got the right idea in this godforsaken movie."
James Rocchi from MSN Movies doesn't mince words either:
"'Waiting for Forever' isn't just bad; it's fascinatingly bad. Sturridge's every line of dialogue is delivered in a hesitant, hushed, heartfelt tone with his eyes half-closed and his mouth half-open. This does not make Will look like a sensitive dreamer; it makes him look like he's constantly on the verge of a sneeze, a stroke, or an orgasm."
I guess you could say the acting in this film was orgasmic, then. I don't want to, but you could. Tell me more, Nick Schager from Slant:
"Keach expects us to delight in Will, a happy-go-lucky innocent who sees only the joy and magic in life, an attitude he expresses via his pajama pants, his sappy declarations of love (he analogizes his feelings for Emma as a desire to literally enter her aorta), and his habit of randomly hopping and flittering about like a bohemian sprite. Whereas Will's simpleminded optimism is meant to be endearing, it instead tests one's gag reflex, and proves all the more maddening for being embraced by virtually everyone he encounters, including the featureless Emma, who is soon unable to resist Will's indefatigable good cheer and so-so juggling skills."
Yeah, in real life women are not impressed by juggling. And don't ask me how I know that.
Currently, "Waiting For Forever" has a single positive review on Rotten Tomatoes and it's from Pete Hammond at Box Office Magazine, who was quite taken with Will's pajamas-wearing pursuit:
"While Emma is bitten by the harsh realities of life, the ever-idealistic Will is an eternal optimist. Having lost both his parents in an accident when he was only ten, the childlike Will has never emotionally grown up, but he's innocent rather than disturbed, a true believer rather than a stalker. How refreshing to see this movie doesn't drift into stereotypical areas similar flicks have, but instead keeps the focus on ideas and the harsh divide between the realities of life and the frustrations that remind you things could be so much more."
Hammond also adds that "box office prospects could be bright if the right audience is aware of it." From deep on the outer fringes of the movie bell curve, I'm doing my best.
If you're still on the fence, here's the film's trailer. It opens today in New York City.