Valentine's Video: Disturbing Movie Kisses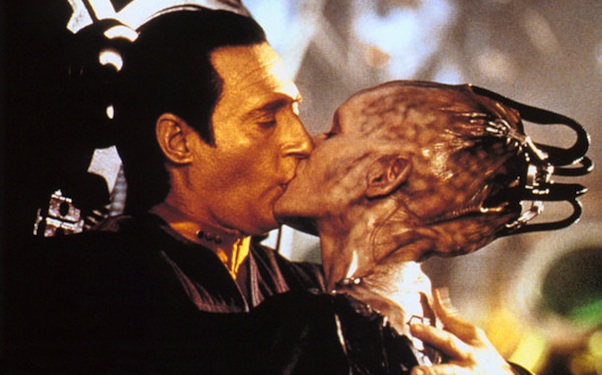 Posted by Matt Singer on
I already got my obligatory sentimental Valentine's Day post out of the way, so now it's time to have some fun. To celebrate the heart-shaped box industry's favorite day of the year, Filmdrunk assembled a montage of the most disturbing kisses in movie history:
Certainly not Filmdrunk's most authoritative compilation, but a good start anyway. To which I strongly believe needs to be added:
–"Batman Returns," when Michelle Pfeiffer simultaneously French kisses Christopher Walken (euww!) and a taser (ouch!).
–"Kissed," Molly Parker as a necrophiliac mortician. Creepy. Unless you're into making out with corpses. Then this movie is totally hot.
–"The Specialist," naked Sylvester Stallone making out with Sharon Stone while grinding all over her. And they're wet too.
–"Dumb and Dumber," when it looks like Jim Carrey is trying to surgically remove Lauren Holly's lungs by sucking them out through her mouth.
–"Savage Grace,"Julianne Moore and Eddie Redmayne player mother and son. And have sex. Yeah.
–"Salò, or the 120 Days of Sodom," I'm too scared to rewatch it to pick any specific moment. Throw a dart at this movie and you'll hit someone disturbingly kissing someone (or something).