"Trapped In The Closet" With R. Kelly Forever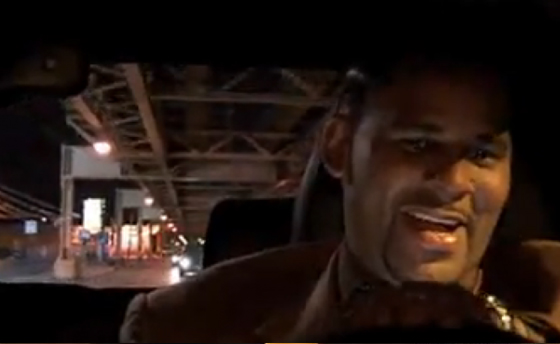 Posted by Melissa Locker on
In 2005, multi-platinum recording artist R. Kelly launched a cultural phenomenon with the mega-hit urban operetta "Trapped in the Closet." The show defies categorization. Part contemporary movie musical, part urban soap opera, part epic music video, part independent film, this groundbreaking series unfolds like a juicy tabloid story, full of suspense, mystery, drama and packed with unexpected twists and turns.
Fans and critics alike applauded the unique series filled with over-the-top characters and complex story lines, all set to a sexy R&B groove. Viewers demanded more, and R. Kelly delivered again and again with brand new characters and plot twists and 22 chapters of whatever was going on inside R. Kelly's rich interior world.
As you can see in the above clip, the show was so oddly watchable and eminently captivating that "Trapped in the Closet" quickly became the show that launched a thousand parodies. Everyone from Jimmy Kimmel to MadTV to Saturday Night Live honored the show by gently mocking it. Even "The Daily Show with Jon Stewart," stepped into the fun covering the scandal that ensued when Senator Larry Craig allegedly solicited sex in the men's restroom with a segment called "Trapped in the Men's Room" featuring an R. Kelly look- and sound-alike singing a version of the song. Then, of course, the infamous South Park episode where a certain celebrity was "Trapped in the Closet" and wouldn't come out. Here's what the lawyer left on the internet:
When "Trapped in the Closet" premiered on IFC, our intrepid reporter, Matt Singer, went to R. Kelly's house and watched the show with him. Here are his reminiscences of the interview:
"I will never forget the day I spent at the Chocolate Factory. You've never seen "Trapped in the Closet" until you've seen it sitting next to to R. Kelly while he lip syncs every line, occasionally bursts into song, and laughs at his own jokes. I had no idea what to expect from our interview. I was very relieved he did not take the project too seriously. When I asked him where these insane ideas came from, he replied something to the effect of "From the aliens." He got it. He was having fun. Also, he has the coolest house I have ever seen. And I only got to see like half of it."
Don't you wish you could have watched "Trapped in the Closet" with R. Kelly too? Well maybe someday you will wake up, not in your own bed, trapped in a closet, and that dream will come true.